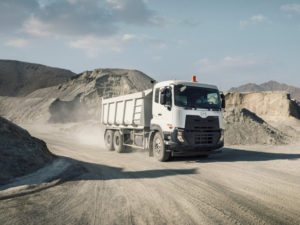 Al Masaood Commercial Vehicles and Equipment, part of Abu Dhabi's leading conglomerate–the Al Masaood Group, has recently sealed a mega contract with Gulf Ready Mix (GRM) to provide the UAE-based ready-mix company with eight units of UD Trucks' Quester CGE 420 – 8X4 equipped with concrete mixer with a capacity of 12 cbm.
Quester is the first in a new generation of UD Trucks specifically developed for the world of heavy-duty transportation. It is designed based on the Japanese quality heritage with insights from the local markets.
The agreement is a significant milestone for Al Masaood and UD Trucks, as it formally marks their strong entry into the booming local construction segment. It is also the first deal by UD Trucks through its Abu Dhabi dealer Al Masaood that involves one of the toughest superstructures in construction field.
Provision of holistic solutions
As a part of Al Masaood Commercial Vehicles and Equipment's holistic solution, the division's sales team conducted detailed studies into GRM's technical & commercial aspects in order to provide them with the Quester units that will fully support their needs and requirements.
Additionally, the division's after-sales team has extended support to the company through training and scheduling of consistent maintenance checks for the delivered Quester units. The training covered the proper care of the units to maintain their optimal condition and performance and the use of telematics system, which allows users to keep an eye on the fleet through easy monitoring and tracking of the vehicles.
Furthermore, Al Masaood Commercial Vehicles and Equipment's spare parts department was on hand to guarantee and secure the availability of parts, whenever and wherever they are required. Al Masaood's post-sales and related services are renowned in the industry and are delivered in line with its commitment to enhanced customer experience and satisfaction, a press statement indicated.
"The deal reflects the local market's trust in Al Masaood's ability to deliver high-performing products and comprehensive solutions according to global standards," affirmed Mohamed El Zeftawi, General Manager, Al Masaood Commercial Vehicles and Equipment Division.
Going the extra mile
"It confirms our commitment at Al Masaood, together with our partners at UD Trucks, to support customers in 'Going the Extra Mile' as we always promise," he added.
"Since the introduction of the New Quester reaching to 46 Ton GVW on 8X4 chassis back in 2016, we have been able to penetrate new segments that were previously only dominated by European manufacturers," asserted Mourad Hedna, President, UD Trucks Middle East, East and North Africa.
"The Middle East conditions are tough and very demanding with various rugged terrains and high temperatures and payloads. Consequently, before the launch of these models, we tested them in real conditions for over a year in Qatar to ensure the new trucks meet the needs of our customers," he added.
Vital collaboration
"Since its establishment in 1998, GRM has been deploying the latest production technology in line with the highest quality standards. This collaboration is vital to our goal to expand our presence in the region as one of the fastest-growing providers of ready-mix concrete," observed Eng. Ahmed El Hadidy, General Manager, GRM.
Al Masaood Commercial Vehicles & Equipment Division provides sales and after sales for an extensive range of franchises. The Division is the sole distributor in Abu Dhabi for UD-Trucks, Renault Trucks and Unicarriers Forklifts, and in the UAE for Oshkosh Fire Trucks, together with other well-known brands of heavy equipment and ancillary products.
UD Trucks is a transport solution provider expert in fuel efficiency and uptime, offering a range of medium and heavy-duty trucks, and special vehicles. As one of the leading Japanese truck brands, UD Trucks was established in Japan in 1935, and in 2007 became part of the Volvo Group.
Want to stay updated on the latest industry news and trends? Subscribe today to receive your monthly news highlights directly in your inbox!