MBR Solar Park Phase IV to generate 950 MW of clean energy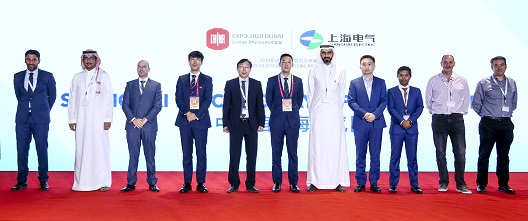 The China Pavilion at EXPO 2020 recently ushered the 'Shanghai Electric Day'.
Shanghai Electric is building the Phase IV of Mohammed Bin Rashid Solar Al Maktoum Park that aims to be the world's largest and biggest solar power project.
The AED 12bn (US$ 3.27bn) project that is constructed by Shanghai Electric on a landscape of 44 square kilometers is a combination of three Technologies, the Central Tower Concentrated Solar power plant (CT CSP), Parabolic Trough Concentrated Solar power plant (PT CSP) and Photovoltaic solar power plant (PV) comprising a total of 950 megawatts (MW) of clean energy.
"This project represents the values, vision and message of UAE in gathering the world for a better future. And we assure to provide clients with the best energy solutions for a greener planet," commented Zhao Hui, Project Director, Shanghai Electric.
With only 62 meters shorter than Paris's famous Eifel tower, The CSP constructed tower in Mohammed Bin Rashid Al Maktoum Solar Park project is considered to be the tallest in CSP with 262 meters high. And the total area of Phase IV is equal to 6,162 football fields is being implemented by Noor Energy 1 PSC. After the project is into operation, it will reduce 1.6mn tons of carbon emissions every year.
The Construction of the Phase IV project began in 2018, making it the largest phase built in the Mohammed bin Rashid Al Maktoum Solar Park, the largest single-site solar park in the world based on the Independent Power Producer (IPP) model.
The Park has a planned production capacity of 5,000 MW by 2030, with investments totaling AED 50bn (US$ 13.61bn) . When completed, it will save over 6.5mn tons of carbon emissions annually.
Want to stay updated on the latest industry news and trends? Subscribe today to receive your monthly news highlights directly in your inbox!