The new facility double's the group's food storage capacity with room for further expansion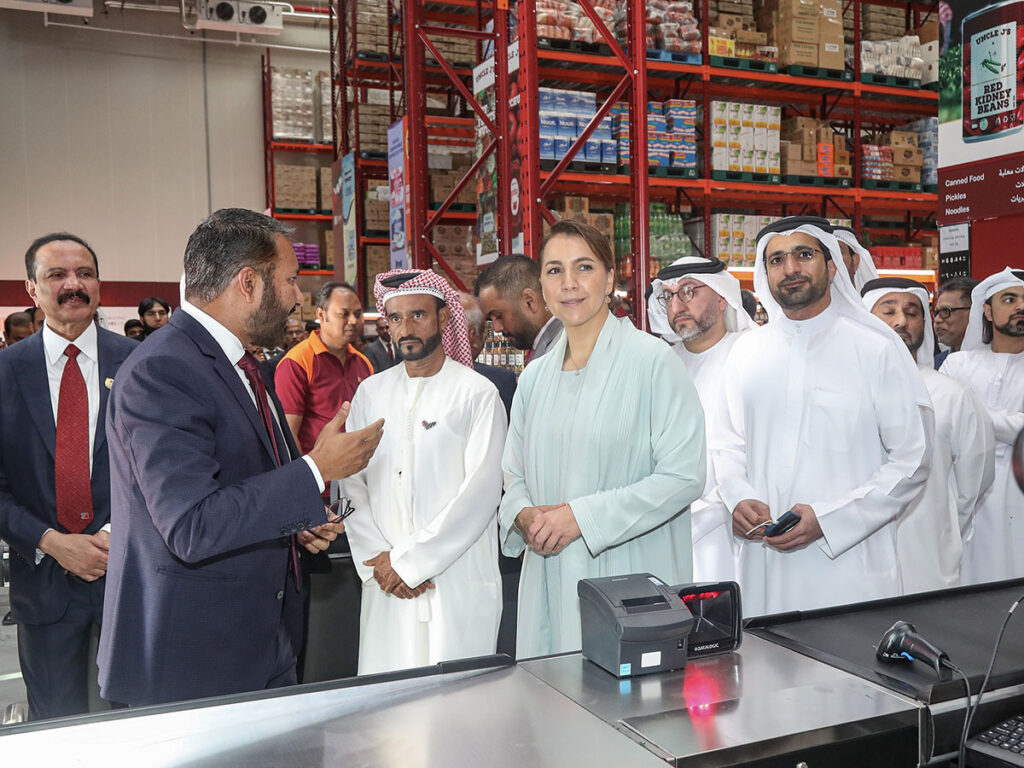 Jaleel Holdings, one of the leading UAE-based investment companies, has opened its new US$ 24.5mn (AED 90mn) facility at Dubai Industrial City, a member of TECOM Group.
As a part of the region's largest industrial hub, the facility comprises the latest store of UAE's largest consumer goods wholesaler, Jaleel Cash & Carry and the integrated logistics centre of Crosswell Logistics.
The ceremony was presided over by HE Mariam Bint Mohammed Almheiri, Minister of Climate Change and Environment. Also in attendance was Abdulla Belhoul, CEO, TECOM Group, and Saud Abu Alshawareb, Executive Vice President, Industrial Leasing, TECOM Group; MV Kunhumohammed, Chairman, Jaleel Holdings; Sameer K Mohammed, Managing Director, Jaleel Holdings, among other dignitaries including government officials and VIPs.
Jaleel Holdings owns and operates retail, wholesale, distribution and processing companies in the fresh food and Fast-Moving Consumer Goods (FMCG) sectors. With a presence in the UAE, Saudi Arabia, Oman, Bahrain and Ghana, the group is one of the largest consumer goods distributors in the region.
Crosswell Logistics
The facility also includes Crosswell Logistics, a fully-owned subsidiary of Jaleel Holdings and Contract Logistics Services provider. It offers more than 28,000 palletised tons of multiple-temperature controlled storage ranging from ambient to -20 C and transport services.
This Facility allows Jaleel Cash and Carry to ensure a 30-day stock for all customers and fulfil the daily requirements of hotels, restaurants, caterers, retailers, offices, and bulk-buying families. The 30-day stock is also large enough to serve 5% of UAE's population.
"The opening of the new facility of Jaleel Holdings is a significant step in this direction, which will go a long way in supporting a sustainable supply chain and marketing homegrown products," observed HE Eng. Mohammed Mousa Alameeri, Assistant Undersecretary for the Food Diversity Sector at the Ministry of Climate Change and Environment.
"Food security and sustainability rely on advanced manufacturing. Government strategies and initiatives such as 'Operation 300bn' and 'Make it in Emirates', are attracting significant investment with benefits in key sectors like fresh food and FMCG, while providing a roadmap for sustainable and innovation-led operations.," stated Alshawareb.
"Apart from the Cash and carry store we have our new integrated logistic venture in the same facility with a 28,000 MT storage capacity. We will be offering world class 4PL Services to the market through this facility," noted Sameer K Mohammed.
UAE's largest consumer goods wholesaler
The facility will be the company's largest in the region, with a total built-up area of 281,000 sqft and an investment of more than US$ 24.5mn. Benefiting from Dubai Industrial City's proximity to key transport networks, including land, sea, air, and soon Etihad Rail, Jaleel Holdings will be able to cater to customers across the GCC and Africa.
The new facility will enable the group to double its storage capacity, currently built for 19,000 pallets (approximately 28,000 tonnes).
Built for sustainability
The new facility features an ammonia plant to manage the temperature in the facility and prevent harm to the environment. An average of 9,000 litres of water from the cooling equipment is recycled daily for all irrigation, sanitation, and flushing requirements.
Want to stay updated on the latest industry news and trends? Subscribe today to receive your monthly news highlights directly in your inbox!