Company lays the foundation stone for the first electric vehicle manufacturing facility in the UAE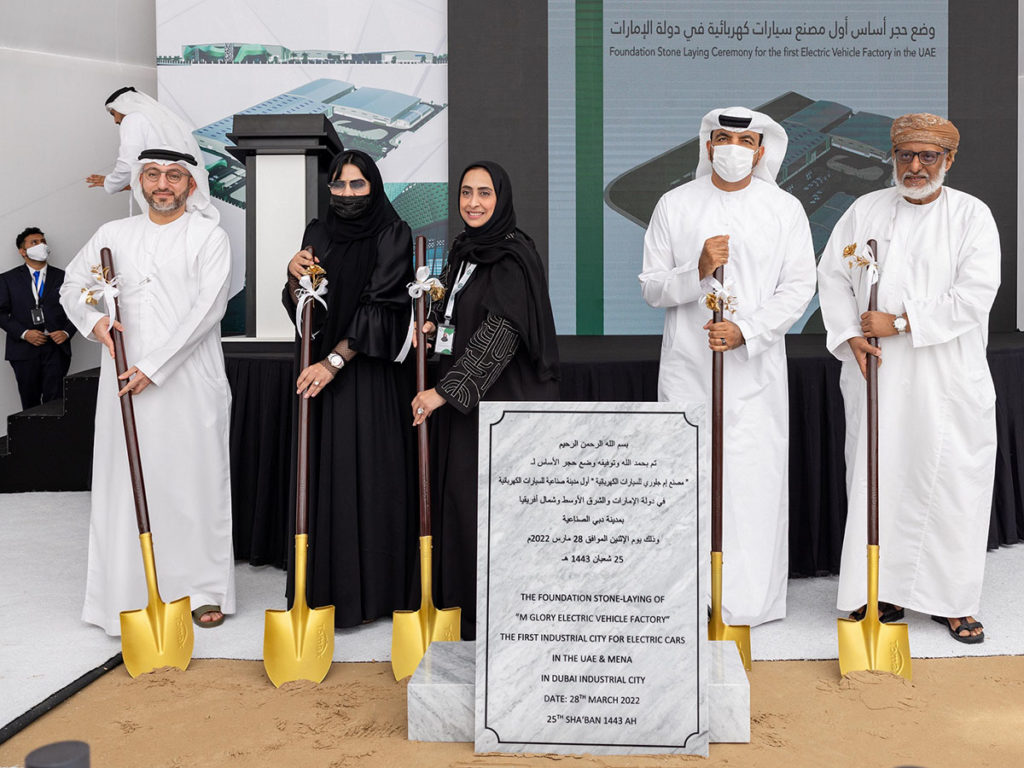 M Glory Group recently laid the foundation stone for the United Arab Emirate's first industrial facility to manufacture electric vehicles (EV) at Dubai Industrial City, one of the largest industrial hubs in the region, and worth an investment of AED1.5 bn (US$ 408.38mn).
The factory's official opening was presided over by Omar Suwaina Al Suwaidi, Undersecretary at The Ministry of Industry and Advanced Technology (MoIAT); Dr. Magda Al-Azazi, Chairman of the Board of Directors of M Glory Holding Group, and Saud Abu Al-Shawareb, Managing Director, Dubai Industrial City.
The sustainable industrial facility, with advanced capabilities will be the UAE's first plant of its kind and is expected to produce 55,000 cars per year to meet a rising demand for green mobility to reduce global carbon emissions.
Benefits
M Glory Holding aims to benefit from the Fourth Industrial Revolution and sustainability by employing future technologies and robotics in the manufacture of EVs. The corporation's new facility will be an extension to their portfolio, which includes robotics engineering and artificial intelligence as well as sustainable real estate.
The new factory at Dubai Industrial City will create more than 1,000 jobs and is built on a total land area of 1mn sqft to accommodate future expansion plans. The electric cars will be exported to the wider GCC region, Egypt, Tanzania, Senegal, Mali and Kenya, a press communique stated.
At the event, M Glory unveiled their first fully electric car called 'Al Daman' DMV300. With two different models built using European specifications, the car has a battery capacity of 52.7 kWh and can cover more than 405km on a single charge.
Competitive advantages
"The establishment of a factory to produce electric vehicles in the country is in line with the ministry's efforts to create new competitive advantages for advanced industries," stated Al-Suwaida.
"M Glory's addition to our community demonstrates our commitment to boosting the manufacturing industry, as well as supportive environment that empowers local manufacturers," observed Al-Shwareb.
"The M Glory factory for the manufacture of electric cars will be the first of its kind in the UAE and will operate through two production cycles per year. It will employ the technologies and techniques of the Fourth Industrial Revolution, including a welding line, a dyeing line and a final assembly line using the latest robots in the manufacturing processes." Noted Al-Azazi. She emphasized that the industrial sector in the UAE is on the verge of a great renaissance thanks to the 50 principles announced by the national government. Such foresight has accelerated the development of the sector by boosting national industrial institutions and companies, developing their businesses and capabilities, and opening new markets for them to expand globally.
Want to stay updated on the latest industry news and trends? Subscribe today to receive your monthly news highlights directly in your inbox!