New partnership will enable refinancing of 31 solar power plants with a capacity of 39 megawatts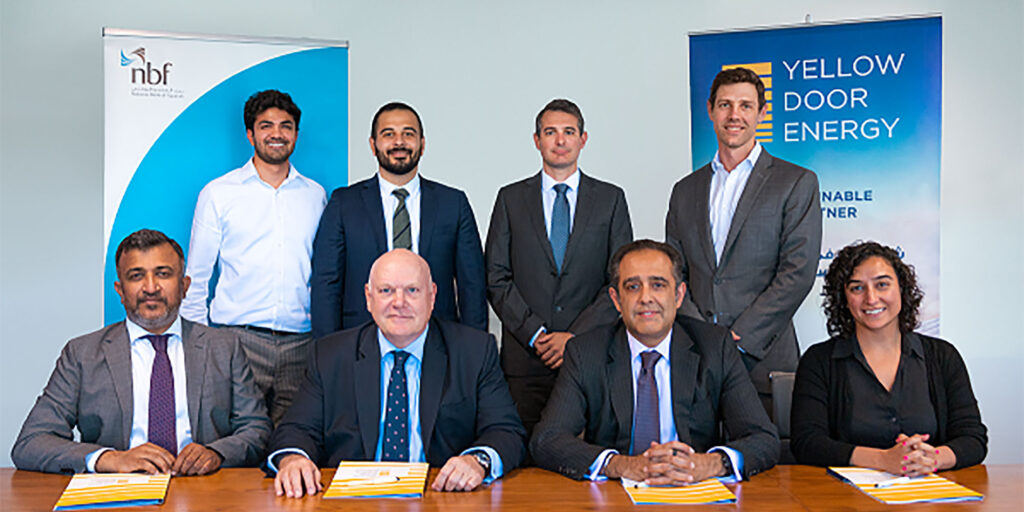 National Bank of Fujairah (NBF), a full-service corporate bank in the UAE, has today announced the signing of a facility agreement with Yellow Door Energy, the leading sustainable energy partner for businesses in the Middle East, Africa and South Asia.
In line with COP28's objectives, the Year of Sustainability and the UAE's Clean Energy Strategy 2050, the facility will refinance 31 operational solar power plants with a total capacity of 39 megawatts in the UAE.
Through this mutually beneficial partnership, Yellow Door Energy continues its commitment to provide solar leases and renewable energy expertise to commercial and industrial businesses, helping them significantly reduce energy costs and meet sustainability targets. For its part, National Bank of Fujairah continues to realise its Environmental, Social and Governance (ESG) commitments to the nation and expand its provision of services to businesses with strong financial foundations and sustainability goals.
Vince Cook, Chief Executive Officer of National Bank of Fujairah said: "NBF continues to support businesses in their ESG endeavours and contribute to the UAE's COP28 ambitions and clean energy strategy. We welcome the signing of this facility agreement with Yellow Door Energy which is aligned with our goal of promoting lending to sustainable projects, entrepreneurs, and industries. We trust that through this partnership, Yellow Door Energy will continue its growth and strengthen its sustainability leadership with businesses in the UAE."
Jeremy Crane, CEO of Yellow Door Energy, said: "We wholeheartedly applaud NBF and its leadership team for this visionary initiative, made especially meaningful during the Year of Sustainability. Yellow Door Energy was founded in the UAE, and today we reaffirm our commitment to the nation by signing this landmark agreement with NBF, one of the leading financial institutions in the country. We are honoured to continue providing sustainable, affordable and reliable electricity to leading businesses, contributing towards the UAE's Net Zero by 2050 target."
NBF recently announced year-on-year growth of 195.3% to close the year 2022, at a net profit of AED 340.4 million compared to AED 115.2 million in 2021. The bank is continuing to progress with a number of significant ESG initiatives and is maintaining an enhanced focus on environmental, social and governance activities, which remain fundamental for a sustainable future.
Yellow Door Energy also recently announced its successful completion of a USD 400 million capital raising to continue developing sustainable energy projects in the Middle East, Africa and beyond. By working with Yellow Door Energy, leading businesses can reduce their energy costs without any upfront investment, operational risk or expense, while maintaining focus on their core business and enjoying the benefits of clean, affordable energy.
Want to stay updated on the latest industry news and trends? Subscribe today to receive your monthly news highlights directly in your inbox!