ADNOC and Reliance sign new strategic agreement on Upstream collaboration and decarbonization of operations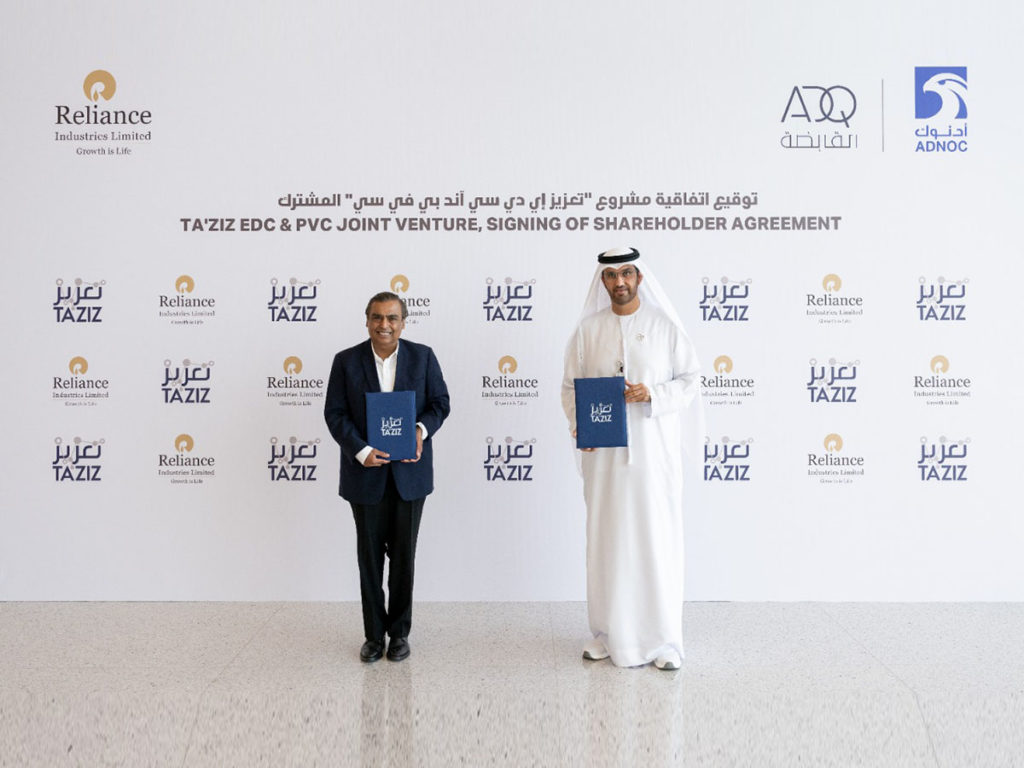 Masdar and Reliance will discuss collaboration in new energies as UAE and India seek to grow their leadership positions in renewable energy and green hydrogen
To this end Abu Dhabi Chemicals Derivatives Company RSC (TA'ZIZ) and Reliance Industries Limited (RIL), recently signed a formal Shareholder Agreement for the TA'ZIZ EDC & PVC project, it was announced via a press communique.
Reliance is India's largest diversified conglomerate and a strategic partner with Abu Dhabi National Oil Company (ADNOC) and ADQ, an Abu Dhabi-based investment and holding company, in TA'ZIZ EDC & PVC, a world-scale chemicals development at the TA'ZIZ Industrial Chemicals Zone in Ruwais.
The TA'ZIZ EDC & PVC joint venture will construct and operate a Chlor-Alkali, Ethylene Dichloride (EDC) and Polyvinyl Chloride (PVC) production facility, with a total investment of over US$ 2bn (AED 7.34bn). These chemicals will be produced in the UAE for the first time, unlocking new revenue streams and opportunities for local manufacturers to 'Make it in the Emirates'.
Official visit
The formal shareholder agreement was signed by senior executives during a visit of Mukesh Ambani, Chairman and Managing Director, Reliance, to ADNOC headquarters.
During the visit, Ambani met with HE Dr. Sultan Al Jaber, Minister of Industry and Advanced Technology and ADNOC Managing Director and Group CEO, and discussed opportunities for partnership and growth in Upstream, new energies and decarbonization across the hydrocarbon value chain, the press statement continued.
HE Dr. Al Jaber and Ambani exchanged a signed framework agreement between ADNOC and Reliance to explore collaboration in the exploration, development and production of conventional and unconventional resources in Abu Dhabi as well as in decarbonization of operations, including in carbon dioxide (CO2) sequestration.
"We are building on this partnership and the progress at TA'ZIZ to unlock more opportunities to drive the UAE's industrial and manufacturing growth, while advancing cooperation on decarbonization, new energies and upstream production," commented HE Dr. Al Jaber.
The TA'ZIZ EDC & PVC project is making solid progress towards the detailed design phase in advance of the Final Investment Decision (FID) which is expected to be taken later this year.
Joint Venture
"This joint venture is a testimony to the strong and growing ties between India and the UAE and will be a benchmark for more such projects built on strengths of the two nations," remarked Ambani.
Ambani also met with Mohamed Jameel Al Ramahi, CEO, Masdar, to explore potential opportunities for collaboration in renewable energy and green hydrogen, both of which are key priorities for the UAE and India.
During his visit in Abu Dhabi, Ambani was also briefed on strong progress made at the TA'ZIZ Industrial Chemicals Zone. The development of TA'ZIZ continues at pace, supporting the UAE's national strategy to empower its industrial sector, driving growth and diversification of the country's economy for many years to come.
Chemicals is a priority sector for the UAE's industrial growth strategy, championed by the Ministry of Industry and Advanced Technology. The chemicals set to be produced by the TA'ZIZ EDC and PVC joint venture with Reliance have a wide range of industrial applications, enabling local supply chains and meeting growing demand in key export markets, the press note concluded.
Want to stay updated on the latest industry news and trends? Subscribe today to receive your monthly news highlights directly in your inbox!