Partnership between AD Ports Group and Ghassan Aboud Group to develop 3.3sqkm regional Food Trading and Logistics Hub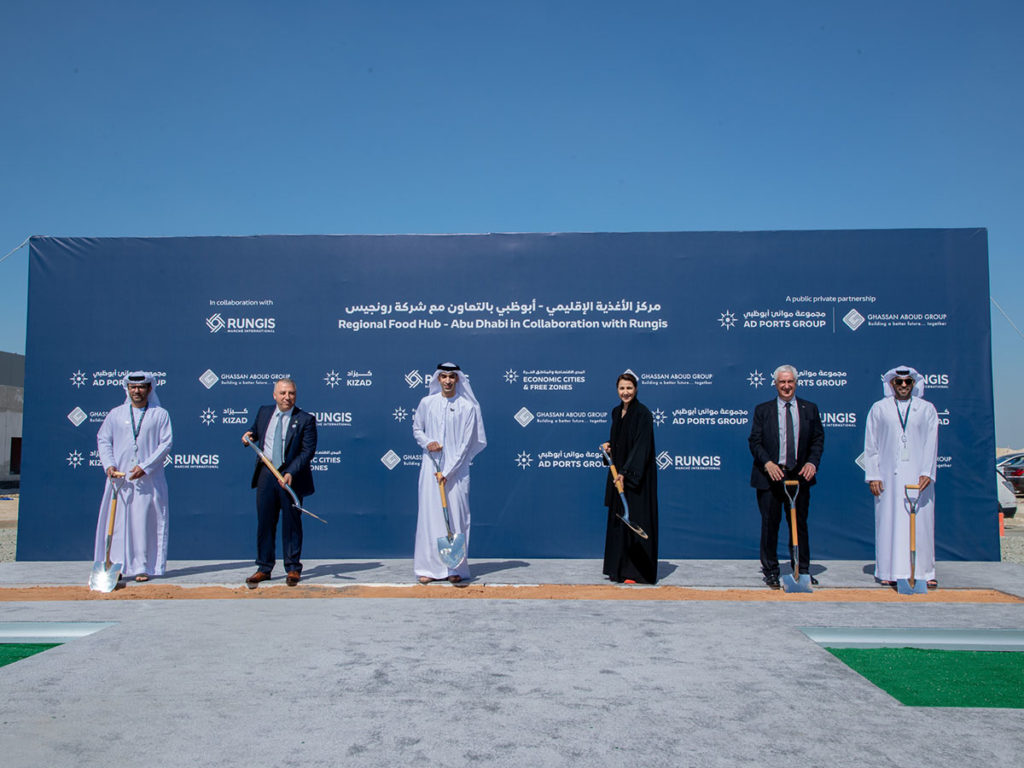 AD Ports Group has partnered with UAE-based, multi-business conglomerate Ghassan Aboud Group to establish one of the region's largest multi-category wholesale food trading and logistics hub in KIZAD in collaboration with Rungis. The project was announced at the official project launch ceremony held on-site in KIZAD.
The 'Regional Food Hub-Abu Dhabi, in collaboration with Rungis, will bring together wholesale buyers, sellers, logistics players, consolidators, and distributors from across the world, enhancing the diversity of all food categories available for consumers in the UAE and wider region.
Rungis International Market is the largest wholesale fresh food market in the world. It currently hosts 1200 companies, serves 18 million consumers, and has a turnover of EUR 10bn (US$ 11.34bn).
Partnering
The project will partner with the world's leading wholesale market players to ensure the services, facilities and systems are world-class and the site is sustainable, hygienic and a zero-waste ecosystem to cater to post-pandemic requisites.
It will facilitate trade across proteins, seafood, pulses and rice, fruits, vegetables, dairy products, dry foods and fresh flowers. Food companies from all countries can offer their products and buyers will have a selection of thousands of fresh items managed in a safe, clean environment positioning the UAE as an important part of evolving global food supply chains.
Covering a land area of 3.3 sq km in KIZAD, the Regional Food Hub, Abu Dhabi will be one of the largest of its kind in the region. Its ecosystem will feature trading pavilions, logistics services, refrigerated and ambient warehouses, critical government services, waste recycling facilities and various other support amenities and services.
The project is designed to accelerate the government's National Food Security Strategy and enhance food trade flow through Abu Dhabi. By lowering the overall supply chain costs of food products, the food hub will provide a competitive ecosystem for both local and global players.
Priorities
"Food security and safety are among the top priorities of the UAE, and this major new trade hub will drive efficiencies in food supply chains and help improve safety, affordability and sustainable access for wholesalers in the UAE," remarked Rashed Abdulkarim Al Blooshi, Undersecretary of the Abu Dhabi Department of Economic Development (ADDED), Chairman of Logistics Sector Development Committee in Abu Dhabi.
"The development of new resources such as this will bring together leading local and global suppliers, supporting them with advanced innovation and world-class infrastructure," commented Captain Mohamed Juma Al Shamisi, Managing Director and Group CEO, AD Ports Group.
"We are confident that our partnership with the AD Ports Group will mark a pioneering step in the UAE's food processing and distribution sector," noted Ghassan Aboud, Founder and Chairman, Ghassan Aboud Group.
Our ambition, working with strong and recognized public and private partners in Abu Dhabi over the years, is to create a network of wholesale markets able to connect with each other in a very unique global network," observed Stéphane Layani, Chairman & CEO Rungis International Market, the largest wholesale fresh food market in the world. Ghassan Aboud Group is an international conglomerate engaged in several key business sectors, including FMCG Distribution, logistics, supermarkets, catering and business-to-business digital platform for food and FMCG distribution.
Want to stay updated on the latest industry news and trends? Subscribe today to receive your monthly news highlights directly in your inbox!