A new 13,300sqm Cold Storage facility will be designed to handle 8,000 FFEs 168,000 pallet positions annually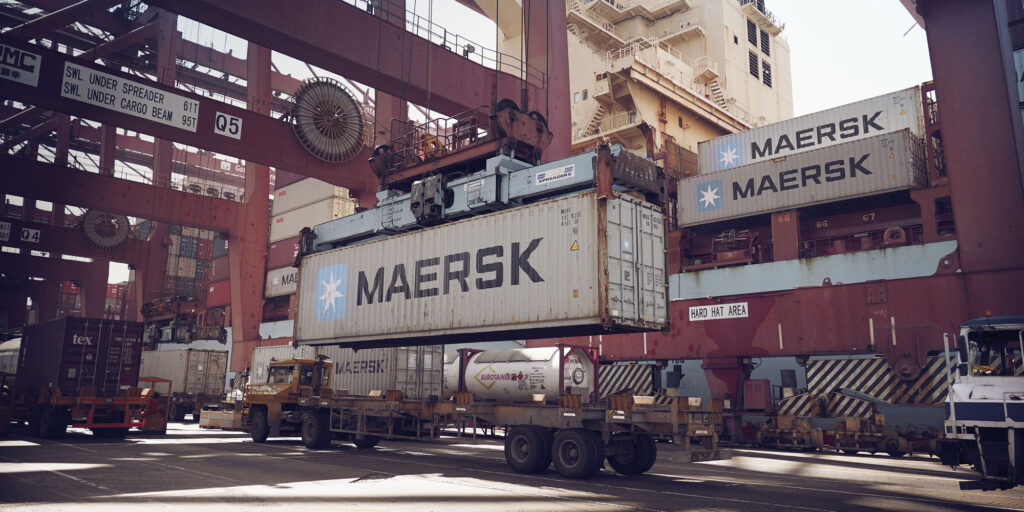 AP Moller-Maersk (Maersk) recently signed an agreement with Refad Real Estate to operate a brand-new Cold Storage facility at Mawani's King Abdulaziz Port in Dammam, Saudi Arabia's second-largest port for refrigerated containers (reefers). Maersk will open the doors to the facility in March 2023 for its customers.
The agreement was signed in the presence of HE the Minister of Transport and Logistics, Chairman of the Board of Directors of the Authority, Engineer Saleh bin Nasser Al-Jasser; HE The President of the Saudi Ports Authority, Omar bin Tala Hariri; Mohammad Shihab, Managing Director, Maersk Saudi Arabia and the Chairman of the Board of Al Qahtani Holding; Sheikh Abdulaziz Abdelhadi Al-Qahtani, a press communique stated.
The agreement was signed by Sheikh Abdelhadi Abdulaziz Al Qahtani, Group Director, Refad Real Estate and Mohamed Sedeek Hashish Director of Products and Services, Maersk Saudi Arabia.
"Saudi Arabia is a significant market for us. With more than a fifth of the country's food imports coming through King Abdulaziz Port in Dammam, we wanted to establish a state-of-the-art cold storage facility that will help us serve the food industry better", asserted Mohammad Shihab during the signing ceremony.
"Our ambition is to connect and simplify our customers' supply chains. To achieve this, we must be close to our customers, collaborate with trusted and reliable partners and build a network that truly enables global trade. With our new facility in Dammam, we are setting ourselves up to achieve all three goals," he affirmed.
Strategic Location 
Dammam enjoys a strategic location in more than one way. Several food processing manufacturers in the different industrial zones and residential communities are based around King Abdulaziz Port in Dammam. This means that there is manufacturing as well as consumption of food items in and around Dammam.
Moreover, Dammam lies in close proximity to neighbouring Gulf countries like the UAE, Kuwait, Bahrain and Qatar, making it a significantly important distribution hub for several markets. On the other side, King Abdulaziz Port is also strongly connected to the hinterland through a robust road and rail network, making it the location of choice for many.
A state-of-the-art facility 
Maersk's Cold Storage facility at King Abdulaziz Port in Dammam will primarily serve the requirement to store frozen commodities such as poultry, meat, vegetables, confectionary and processed food. The facility will also house chilled cargo such as dairy products and seasonal fruits.
To ensure top-notch quality of service, the facility will be equipped with world-class standards when it comes to temperature and humidity control. This will help ensure minimum to no food wastage during its storage at the facility. The customers will also get complete visibility on these parameters, thus creating transparent and trusted operations, the press statement continued.
Sustainability at the core 
ESG, especially decarbonisation, is at the core of every decision Maersk takes. In line with that, several considerations have been made to ensure that greenhouse gas emissions are kept to a minimum through various actions such as:
A 600 kWp solar panel plant will be installed on the facility's roof to generate at least 15% of the power requirement at the start of operations. This power plant can be extended to cover most energy requirements in the future.
An on-site water treatment plant will be installed to cater to all facility water requirements. This will avoid transporting water in trucks from external water treatment plants, thus eliminating the carbon emissions from driving these trucks for almost 87,600 km per year.
In the near future, the trucks shunting between the facility and King Abdulaziz Port's terminal will also be replaced with electric ones to reduce carbon emissions further, the press note concluded.
Want to stay updated on the latest industry news and trends? Subscribe today to receive your monthly news highlights directly in your inbox!