Targets US$ 300mn revenue from the new terminal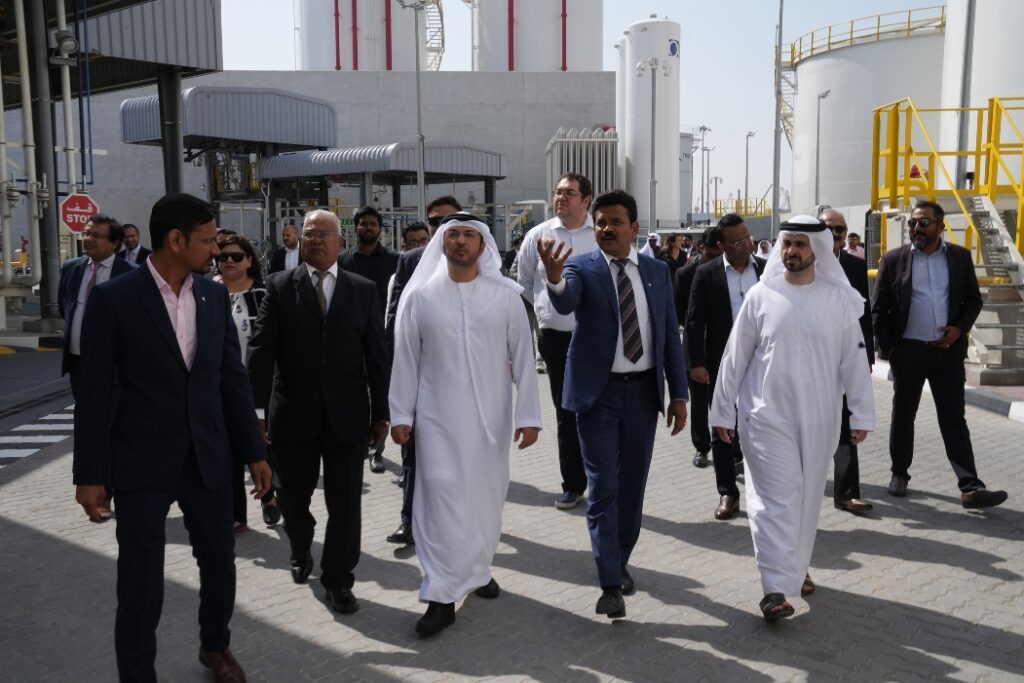 AquaChemie Middle East, a leading regional player for process industry chemicals in the GCC region and part of the UAE-based AquaChemie Group, has formally inaugurated its world-class Petrochemical Terminal in DP World's Jebel Ali Port in Dubai.
The advanced US$ 50mn (AED 184mn) terminal will be one of the most functional and versatile bulk liquid terminals in the GCC region serving as a vital gateway to facilitate and boost the growing petrochemical trade between manufacturers and end-users across the Middle East and globally, a press release indicated.
The facility was recently officially inaugurated on by the chief guest, Abdullah Bin Damithan, CEO & Managing Director, DP World UAE & JAFZA. Also present on the occasion were Dr. Aman Puri, Consul General of India, Dubai & Northern Emirates together with Subrato Saha, Managing Director, AquaChemie and Anand Kumar, Managing Director, AquaChemie, alongside other officials.
The Chemical Terminal covers an area of 20,000sqm and is located some 500m from Chemical Berth 4 in Jebel Ali Port. The new facility is linked by five SS pig-gable jetty pipelines, making it one of the most functional and versatile bulk liquid terminals in the GCC region.
Fully monitored
The terminal is fully monitored and controlled from a central control room. AquaChemie's corporate headquarter building is located on the same site as the terminal facility, so as to allow the leadership team to stay in close proximity.
"AquaChemie group's revenue target for the new terminal over the next three years is US$ 300mn The storage facility has been built primarily for AquaChemie's captive distribution of products. It strengthens the business case for chemical supply by increasing economies of scale, lowering freight costs, and expanding into new industries and geographies," commented Subrato Saha.
Petrochemical manufacturers and end-users are located globally, meaning that chemicals must constantly move between them. In terms of packing volumes and the geographic location of the manufacturer and end-user industry for petrochemical products, there is a significant supply chain gap. The new terminal, which is essentially a break-bulk facility, now fills the supply chain void by serving as a strategic hub for the liquid petrochemical trade and distribution, the press statement continued.
With the new facility the petrochemical sector also gets to avail of expanded opportunities in the local ecosystem involving logistics, transportation, and other service providers. The sector can now also enjoy the benefit of increased competition and professional players, while customers can additionally benefit from improved cost efficiency and services and higher end-user companies' access to international markets.
Advanced Terminal
"Our new state-of-the-art terminal is a step towards backward integration of our current oil and gas offering for the upstream and downstream petrochemical sectors. The supply reliability and lower supply chain cost will immensely benefit our existing customers as chemicals will be delivered on time so that the customers' operations are not disrupted," explained Anand Kumar.
"Our new facility now enables the storage of several new products with improved pricing and availability for end-users," noted Snehal Karia, VP Business Development, AquaChemie.
"The new terminal is also extremely adaptable and reliable in terms of asset availability and operability. Furthermore, outsourcing operations to MDR's professional team, internationally recognised for process facility operation, has simplified my job," remarked Vishal Patel, GM, AquaChemie.
Want to stay updated on the latest industry news and trends? Subscribe today to receive your monthly news highlights directly in your inbox!