Shipping giant's business solutions to meet Luberef's various logistics and transportation requirements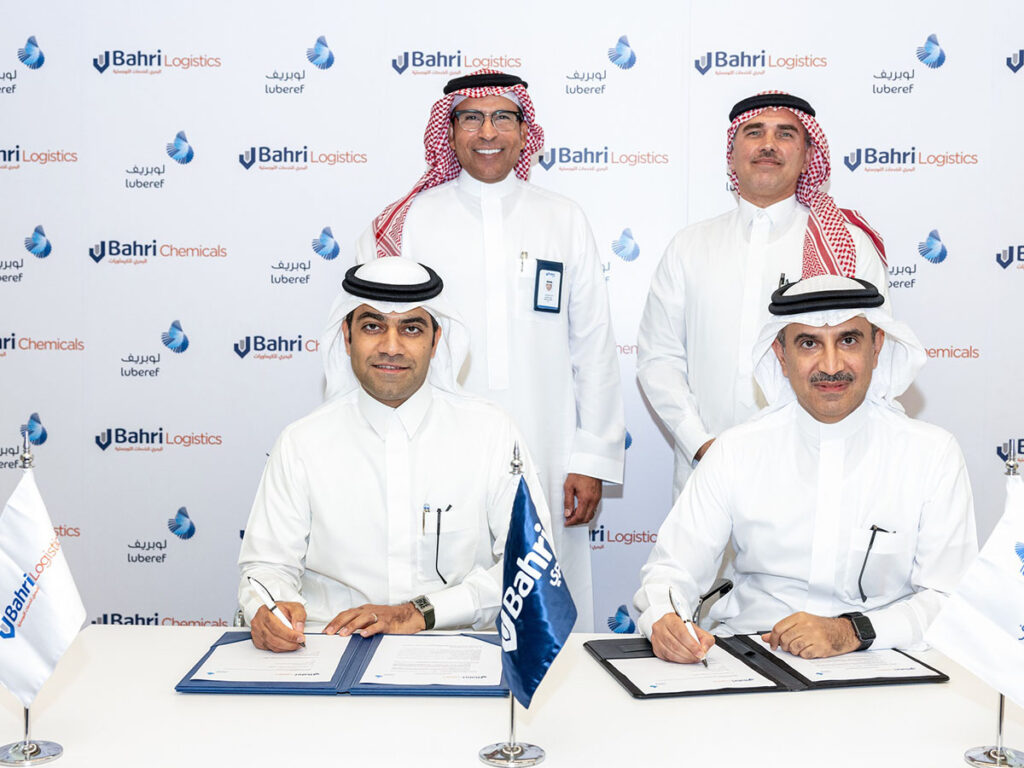 Bahri recently announced that its business units Bahri Chemicals and Bahri Logistics have recently signed Memorandums of Understanding (MoUs) with Saudi Aramco Base Oil Company (Luberef).
The agreements are aimed at establishing and enhancing cooperation between Luberef and the two Bahri companies.
Building on the new partnership, Bahri Chemicals and Luberef will create a mutually beneficial Shipping Framework Agreement that will also impact positively the national economy. Under the terms of the MoU, Bahri Chemicals will provide distinguished logistics solutions and services to Luberef, which will assist by providing details of available shipments that align with vessel dates at load ports.
MoU signed
The MoU was recently signed by Faisal Al Husseini, Acting President, Bahri Chemicals, and Eng. Tareq Alnuaim, President & CEO, Saudi Aramco Base Oil Company–Luberef, during a special ceremony held at Bahri Dubai office.
Following the signing, the two parties exchanged mementos and posed for group pictures. Bahri Logistics inked the MoU with Luberef during a signing ceremony recently at Bahri. President Eng. Soror Basaloum represented Bahri Logistics while Eng. Tareq Alnuaim, signed on behalf of Luberef.
"We look forward to working closely together to provide world-class logistics services that will drive greater efficiency and ensure smoother operations for our distinguished partners," observed Al Husseini.
"The products and services stipulated in the agreement include inland transportation within Saudi Arabia from Luberef plants to local customers for base oil main products; ISO tank container and Flexi-bag logistics solutions for Luberef's local and export customers; storage hubs around the globe; and tanker storage solution within the local market," asserted Eng. Soror Basaloum, President, Bahri Logistics.
Perfect alignment
"The services provided by the two Bahri companies align perfectly with our commitment to delivering greater efficiency and sustainability throughout our operations and we look forward to a long and fruitful partnership with both companies," affirmed Engr. Alnuaim.
Saudi Aramco Base Oil Company – Luberef is one of the world's leading suppliers of high-quality base oils and the only virgin base oil producer in the Kingdom of Saudi Arabia.
Bahri Chemicals is currently managing 59 vessels comprising 36 owned vessels, including 31 IMO2 medium range (MR) and five product tankers; 14 time charter vessels including one long-range (LR), nine MRs, and four Japanese DWT 19,000 MT vessels; and handling the operations of nine vessels for SABIC.
Want to stay updated on the latest industry news and trends? Subscribe today to receive your monthly news highlights directly in your inbox!