The Saudi Ports Authority (Mawani) has announced the inclusion of Dammam on the India-South Africa freight route run by container giant MSC.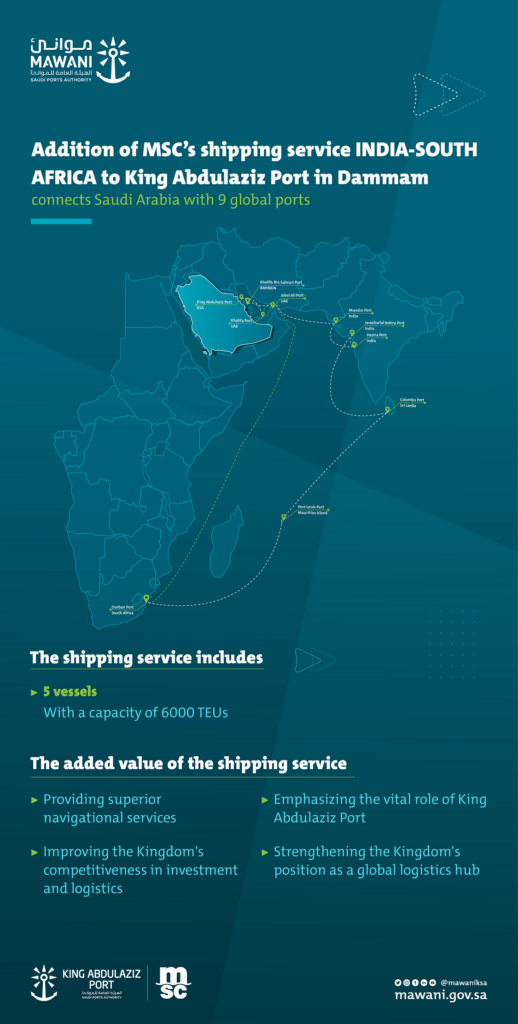 The new weekly rotation, which kicked off in early May from King Abdulaziz Port, links Dammam to major hubs that include Mundra, Hazira, Nhava Sheva, Colombo, Port Louis, Durban, Khalifa, Jebel Ali, and Khalifa bin Salman on board five vessels with an average holding capacity of 6,000 TEUs.
It also marks the twelfth such shipping service to call at the Kingdom's ports since the beginning of the year, an achievement rooted in Mawani's endeavors to boost the country's maritime connectivity with the rest of the world besides strengthening the nation's competitive position as an all-inclusive logistics hub in tandem with the ambitions set by the National Transport and Logistics Strategy (NTLS).
As shipping lines increasingly choose Saudi Arabia as a regular stop for their cargo links, the Kingdom was able to secure its highest score to date on UNCTAD's Liner Shipping Connectivity Index (LSCI) during Q4 2022 at 71.33 points. With the addition of yet another key shipping connection to its network, the Arabian Gulf port continues to consolidate its credentials as a state-of-the-art maritime facility equipped with modern capabilities and cutting-edge technologies. Fresh off a record-breaking 2022, the Dammam-based hub created history once again last March by handling 18,533 TEUs aboard a single ship.