The Authority seeks to achieve an effective regulatory and commercial environment supported by an operating model that enables growth and innovation in the Kingdom's maritime industry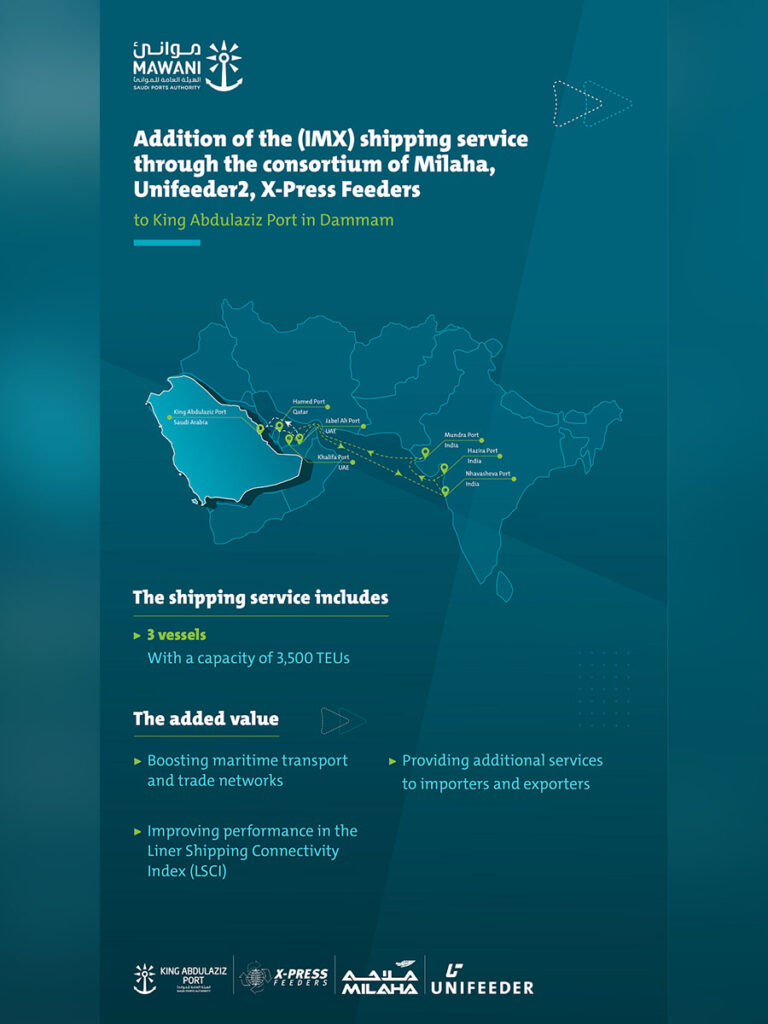 The Saudi Ports Authority (Mawani) has announced the addition of King Abdulaziz Port to the IMX service run by a maritime consortium that includes Qatar-based shipping and logistics conglomerate Milaha, vessel operator X-Press Feeders, and short-sea carrier Unifeeder.
The newly-introduced service at the Dammam based hub is set to broaden the Kingdom's scope of trade as well as its maritime connectivity with the rest of the world, which represents a key objective of the National Transport and Logistics Strategy (NTLS).
Besides King Abdulaziz Port, the IMX route will also call at the ports of Jebel Ali, Khalifa, Nhava Sheva, Hazira, Mundra, and Hamad onboard three vessels holding a capacity of 3,500 TEUs each.
A total of five shipping services were added to the trade hubs of Jeddah, Jubail, and Dammam over the span of January this year, thereby opening new trade avenues between the Kingdom and 43 global ports.
A top-ranked hub facing the Arabian Gulf, King Abdulaziz Port features world-class infrastructure and cutting-edge equipment that offers the highest degree of operational efficiency, scale, and reliability.

Established in 1976 to oversee the operations of the Saudi ports, Saudi Ports Authority (Mawani) has been keen on transforming the Saudi ports into investment platforms and facilitating the Kingdom's trade with the rest of the world.
Mawani also envisions developing a sustainable and prosperous ports sector to consolidate the Kingdom's position as a leading global logistics hub. Mawani strives to realize Saudi Arabia's economic and social ambitions by ensuring reliable and efficient logistics operations, as well as creating a safe and sustainable maritime environment. Developing the Kingdom's industrial capabilities to fulfill the objectives of the National Transport Strategy in line with Saudi Vision 2030, has and will always be one of Mawani's main objectives, thus contributing to making Saudi Arabia a pioneer in the ports sector.
Mawani had recently signed the agreement with the Jeddah Chamber to build an Integrated Logistics Park.