Collaboration aims to advance and elevate customer and business partners' reputations and experience with quality and reliability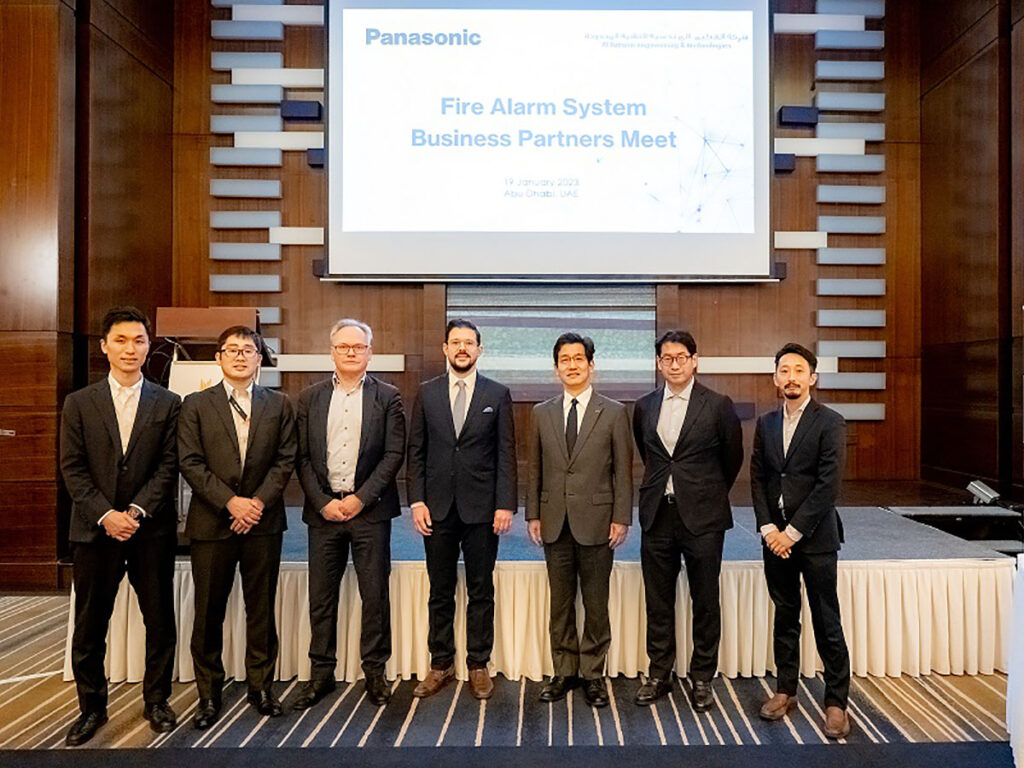 Al-Futtaim Engineering & Technologies (AFET), the leading provider of holistic and 360-degree engineering and technology solutions in the building industry, and part of the Al-Futtaim Group, partnered with Panasonic Electric Works Middle East & Africa (PEWMEA), to introduce the latest cutting edge technologies in fire alarm systems (FAS).
Building on an already successful and established partnership, the two firms conducted a seminar in Abu Dhabi aimed at propelling the local FAS business toward the next stage of growth, while advancing a shared goal of providing customers the highest level of safe and reliable fire detection and prevention solutions.
The event gathered businesses, consultants, engineers and other professionals from across industries including construction, hospitality, fire and safety, as well as representatives from various government agencies. New products were introduced at the seminar including multi-functional display units as smoke control panel, aspect aspirating detector for clean rooms data centres, cold storage freezers, logistic hubs, dusty, corrosive, humid environments, as well as wireless fire detection hybrid system and more.
Murali Serpakkam, Managing Director of Al-Futtaim Engineering & Technologies said, "At AFET, we always strive to partner with like-minded brands that strengthen our capabilities, continously innovate and are committed to offering the highest quality standards and offerings to their customers. By partnering with Panasonic, their expertise in fire detection and alarm systems have allowed us to deliver cutting edge fire protection solutions in the UAE across key sectors including healthcare, education, retail, hospitality, government, and logistics, among others."
Mr. Eiji Ito, Managing Director of PEWMEA said, "Ever since 2021, we are on a dedicated mission to advance innovations in fire detection and protection technology. With our strong commitment to bring industry-leading, highly-reliable and Japan-quality solutions to the country, we are thrilled to work with a partner like Al-Futtaim Engineering & Technologies to push the boundaries on how our technology is delivered to customers. We believe that we can continue to push those boundaries and take this important mission to the next level to empower and uplifit communities and businesses we work to protect."
Mr. Bjorn Svensson, Managing Director of Panasonic Fire and Security Europe AB, and his team presented the Panasonic FAS features and benefits to customers and attendees. "We are excited about the industry-leading capabilities that these new products bring," affirmed Mr. Svensson.
Al-Futtaim Engineering & Technologies, one of the region's leading system integrators, does more than simply invest in tomorrow's business solutions. It helps them grow, perform, and succeed by bringing together the right experience, infrastructure, and opportunities to turn great ideas into business value.
Want to stay updated on the latest industry news and trends? Subscribe today to receive your monthly news highlights directly in your inbox!