First electric adventure in the Arctic Trucks re-engineered SUV, Nissan Ariya AT39, to showcase the capability of Evs, highlighting positive action against the climate crisis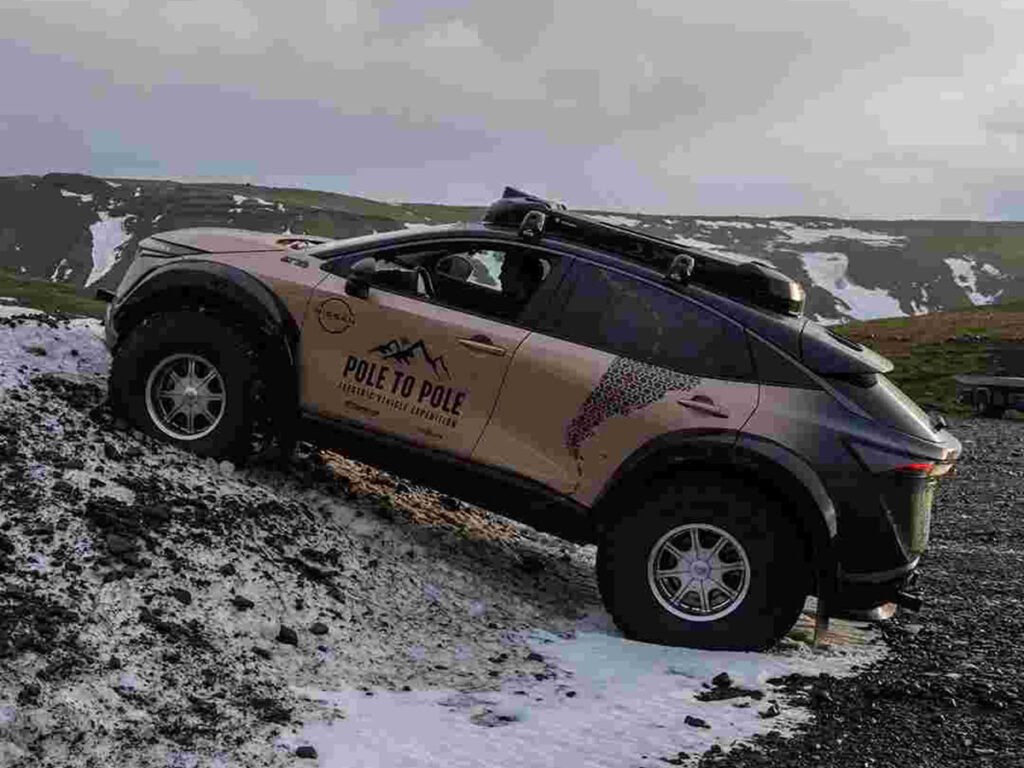 The Nissan Ariya AT39, the first EV constructed by world-leading extreme vehicle specialists, Arctic Trucks, will embark on a 17,000-mile trip from the Magnetic North Pole to the South Pole. British adventurers Chris and Julie Ramsey will undertake the ten-month journey, taking them through 14 countries, starting on March 23, 2023.

The Ariya AT39 is a professionally re-engineered high mobility platform that balances the performance and efficiency of Nissan's electric vehicle architecture with adaptations and enhancements to the body, suspension, steering, wheels, brakes, and more. Key features of the vehicle include: Arctic Trucks re-engineering, BFGoodrich KO2 All-Terrain tires, Arctic Trucks strengthened underbody armour, and multiple Arctic Trucks hitches.
Founder of Arctic Trucks, Emil Grímsson, said: "For over 25 years we have specialised in providing logistical support, engineering expertise and expedition planning for projects in both polar regions. Our vehicles have proven over five times more fuel efficient than traditional alternatives and we are continually looking for further improvements. We acknowledge that battery-based electric vehicles have important hurdles to overcome for use in the extreme cold, a challenge for which we are excited to be a part of developing solutions."
Additionally, he noted: "The polar regions are very important to us all for a variety of reasons, so operations there will only increase. This project will provide important information about how we develop our future vehicles. We're very excited to be working alongside Chris and his team to offer our support to this timely and unique adventure."
Arctic Trucks are providing key consultation, route planning, and logistical support for the expedition, with a focus on the polar extremes. The expedition will provide important information about how vehicles can be developed for use in the polar regions and will demonstrate the real, everyday capabilities of EVs.
Chris Ramsey, Pole to Pole EV Expedition Leader, commented: "One of the things that underpins all the adventures we do is that we take a standard production EV and aim to make minimal changes to clearly demonstrate its real, everyday capabilities, regardless of where you are driving it. Our Nissan Ariya is no different as the vehicle's drivetrain and battery has remained factory standard, demonstrating just how capable and versatile the production Ariya is. I'm incredibly excited to get behind the wheel of what was already a brilliant vehicle, but now feels equipped to reach the ends of the earth in style!"
Julie Ramsey, co-driver on Pole to Pole, commented: "The planning and preparation for Pole to Pole has been such a big part of our lives over the past four years so I am really looking forward to getting the expedition underway in March. We're going to discover so many interesting initiatives from communities and individuals who are taking positive action against climate change and I'm looking forward to sharing these experiences and stories with everyone. We are doing something that has never been attempted before, a world-first, and ultimately that is what makes it so exciting."

For over 20 years, Arctic Trucks have been breaking barriers worldwide. Whether at the extremes of the Arctic, performing in the countryside, or driving in the city, their vehicles give drivers the freedom to explore. Globally based in 11 locations, the first base in the entirety of Asia is in the United Arab Emirates, Dubai.
The company, known for its expertise in building specialised vehicles for harsh environments, has established a strong presence in the region and continues to expand its operations to meet the increasing demand for its rugged and reliable vehicles. With its strong focus on innovation and customer satisfaction, Arctic Trucks has become a leading provider of vehicles for challenging terrains in the UAE and other parts of Asia.
Want to stay updated on the latest industry news and trends? Subscribe today to receive your monthly news highlights directly in your inbox!