Expands its operations in MEENA; Sales of HD Trucks up 35% in Qatar and 32% in Saudi Arabia
UD Trucks has continued its journey of exceptional growth and performance throughout the Middle East, East, and North Africa (MEENA) region by registering an average of 30 per cent growth for the second year in a row.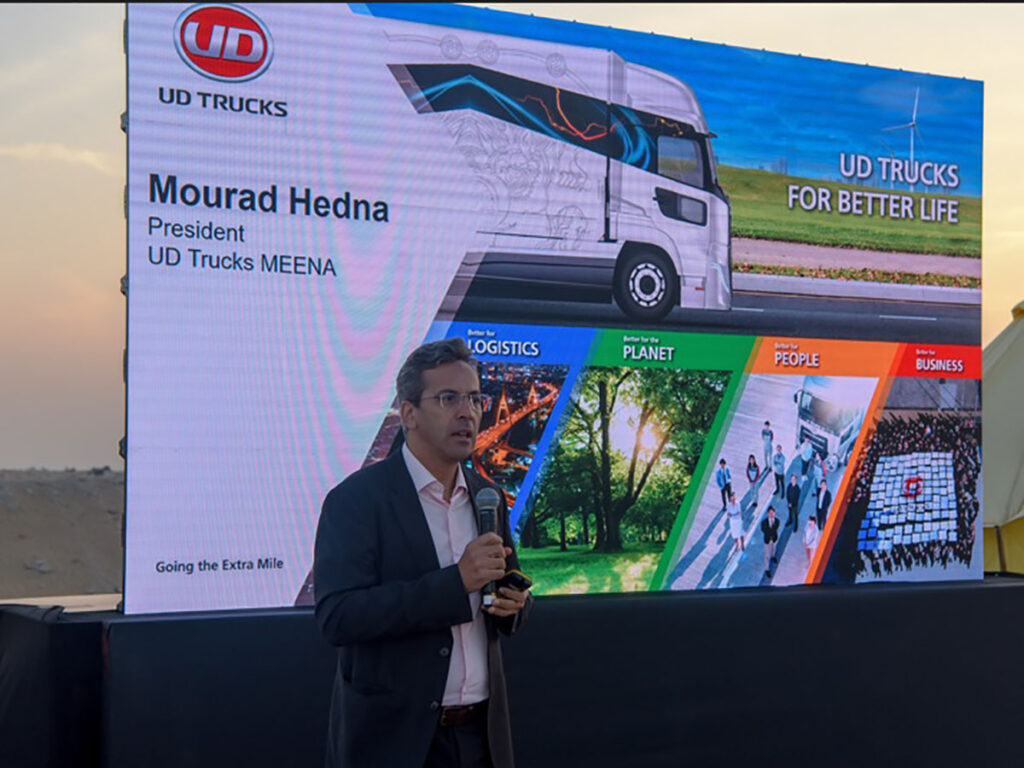 This boost for the Japanese truck manufacturer strengthens its position as a market leader in a largely European-dominated regional truck market. UD Trucks continues to place its 'Better Life' Strategy for people and the planet at the core of its objective to become the Japanese Sustainability Leader by 2025, a press communique stated.
There were positive stories for UD Trucks right across the region over the past 12 months. Sales of heavy-duty trucks in Qatar were up by 35 per cent thanks to the brand's reputation for producing robust and modern trucks. This also contributed to UD Trucks' steady performance in other key segments, including the waste management and construction sector in the UAE.
Saudi Arabia, UD Trucks' largest market by volume, enjoyed a 32 per cent increase in sales, and the brand has now expanded into every segment, from construction and logistics to waste management. The brand is now involved in several Kingdom-wide projects – many of its partners are involved with the visionary NEOM project.
Sustainability strategy
Further contributing to this growth and supporting its 'Better Life' sustainability strategy for the planet, UD Trucks has entered other key segments in the region.
Irrigation vehicles were used to clean up waste oil contamination from the soil in Kuwait as part of the second soil remediation project, while water tankers, vacuum trucks, and jet cleaners were provided by the brand to the Babil Municipality (Babylon, a city in central Iraq) in Iraq.
In Abu Dhabi, UD Trucks will lead the waste management project after winning a large portion of the business, helping to position the company as a leader in this field.
In 2022, the brand added the Euro5-compliant Quester model with ESCOT as well as the Croner PKE19 with automatic transmission to its fleet.
UD Trucks versatility
In Africa, specifically in Ethiopia and Uganda, UD Trucks delivered a significant number of vehicles primarily intended for general cargo use, despite the hard economic conditions and currency shortage. In 2023, further countries are set to be added to UD's operations as the brand continues with its plans for expansion on the continent.
With a focus on efficiency, uptime, and customer service, UD Trucks and its partners have invested significant time and resources in developing a network of workshops across the region to meet customers' needs.
UD Telematics, with a penetration of more than 40 per cent in targeted markets, is a key USP for the brand, as it helps customers by providing information in real-time about vehicle location, speed, fuel consumption, driver behaviour and other relevant data to improve uptime and total cost of ownership.
Optimizing Fleet Management
By optimizing its fleet management processes, UD Trucks helps fleet managers to increase efficiency and reduce costs, resulting in improved customer satisfaction.
The company's customers also benefit from the availability of comprehensive Service Agreements, ensuring greater control over costs and easier administration, thus providing full peace of mind to fleet managers. In 2022, the company registered a 35 per cent service contract penetration.
All-round proficiency
The company is dedicated to achieving proficiency in every aspect, not only through improvements in its fleet and the services it offers to customers, but also through investing in the needs of its employees. Some 2,135 hours of technical, soft skills and driver training, for over 1,000 personnel, have been conducted in the past 12 months, both in-person and online.
These sessions were based on blended learning modules and physical training, and were designed to facilitate competence development, while reducing costs.
Positive sentiment
Positive sentiment about the brand has been reinforced by its 'Better Life' strategy. In line with the company's commitment to focus on people, UD launched several initiatives in 2022, including supporting the Arabian Ocean Rowing team to raise awareness of plastic pollution and environmental sustainability, as well as supporting employees and partners participating in Dubai Marathon to promote physical and mental wellbeing.
"2022 has been an excellent year for UD Trucks in the region, a confirmation year that its trucks, services and values are well appreciated by our customers. UD is clearly recognised as a brand providing its customers with efficient, reliable, and cost-effective products and services," affirmed Mourad Hedna, President, UD Trucks MEENA
"With a strong foundation in place, we are on track for another successful year in 2023. We will continue to work on our growth and customer satisfaction in all areas," he concluded.
Want to stay updated on the latest industry news and trends? Subscribe today to receive your monthly news highlights directly in your inbox!