Company dedicated to providing environment friendly options for customers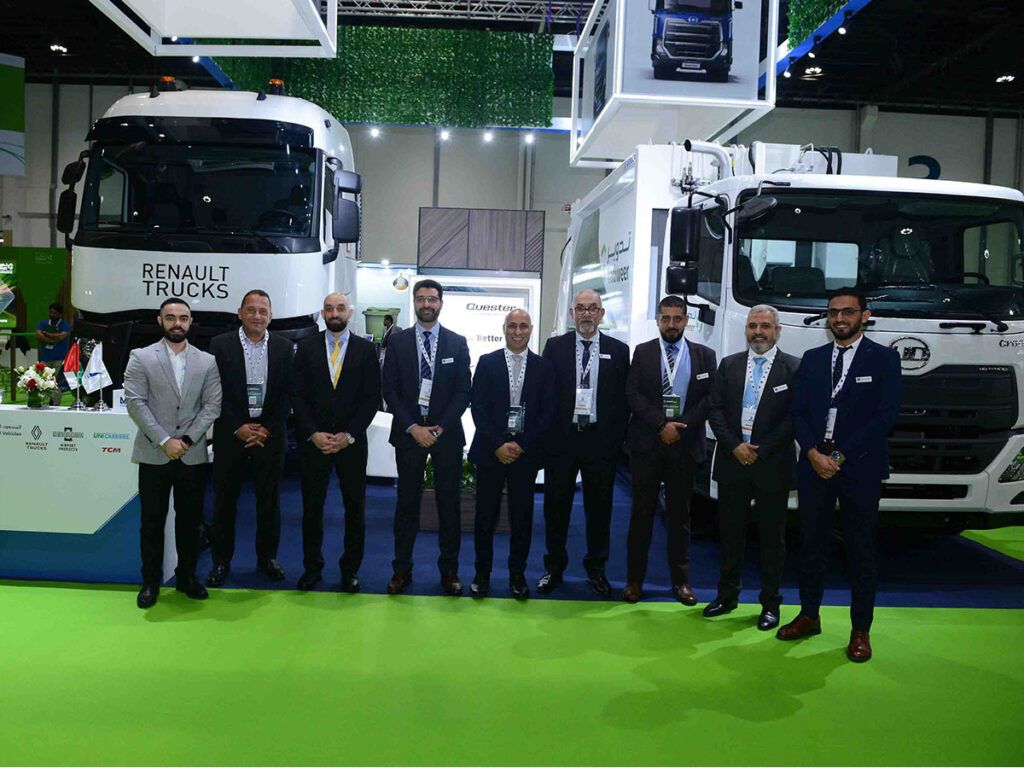 Al Masaood Commercial Vehicles and Equipment (CV&E) participated in the recently concluded EcoWaste Exhibition and Forum 2023 in mid-January 2023 to showcase the latest environmentally friendly trucks from global brands UD Trucks and Renault Trucks that offer sustainable waste management solutions.
The division, part of Al Masaood Group, is the sole distributor of UD Trucks and Renault Trucks in Abu Dhabi.
"As a key player in the waste management sector, Al Masaood CV&E is dedicated to providing sustainable and environmentally friendly options that fulfil the needs and requirements of our customers. The displaying of UD Trucks' and Renault Trucks' products at EcoWaste 2023 directly reflects on our pledge towards a sustainable future," explained Mohammad El Zeftawi, General Manager of Al Masaood CV&E.
TADWEER Partnership
As sole distributor of Renault Trucks, the division is showcasing Renault Trucks K480 Euro 5 Evolution with Optidriver Gearbox, which will soon operate in the national capital as part of Al Masaood CV&E's partnership with Abu Dhabi Waste Management Centre, TADWEER.
Renault Trucks' K-Range Tractor Head 6×4, is a EURO 5 Enhanced Environmentally friendly Vehicle (EEV), producing engine power of 480 HP with a high efficiency of fuel consumption for vehicles operating on tough road conditions.
"Renault Trucks is well-established as one of Europe's leading suppliers of truck solutions for the waste management sector and has been forging a significant presence in the region with over 400+ units already running in the UAE in this segment," affirmed Guillaume Zimmermann, Commercial Director of Renault Trucks Middle East.
New advanced models
Al Masaood CV&E is also displaying UD Trucks' flagship MD Croner model, PKE 19T chassis equipped with 16 CBM Compactor. UD Trucks Croner PKE has latest UD Trucks 250 hp EURO 5 complaint engine with SCR technology generating high torque of 950Nm, coupled with fully automatic transmission with push button gear selector and is also equipped with advanced body builder module control unit.
With these advanced and unique spec, UD Trucks is leading the way to lift the productivity level in waste management from MD Trucks. With these advanced and distinctive specifications, UD Trucks is paving the way to enhance the productivity in waste management.
The division will also be providing the full range of UD Trucks Quester and Croner in the market with Euro 5 emissions, Automated/Automatic transmission, and latest advance driver display, among many other advanced features available for the full range of trucks.
Waste sector leader
"Since few years now, UD Trucks is becoming a leader in the waste management sector in the UAE, and we are proud to be supporting some of the biggest waste management companies in the region along with our long-trusted partner Al Masaood," asserted Mourad Hedna, President, UD Trucks MEENA.
The EcoWaste Exhibition and Forum explored how waste management could become more sustainable, embracing circular principles, and exploring zero landfill options, such as waste to energy initiatives.
The event also examined ways that companies can incorporate circularity into their operations, waste minimization methods, the role of technology in delivering better understanding of waste management, and ideas for generating revenue from waste.
Want to stay updated on the latest industry news and trends? Subscribe today to receive your monthly news highlights directly in your inbox!