The strategic collaboration unlocks more trade opportunities by providing exporters in Saudi Arabia with greater access to the world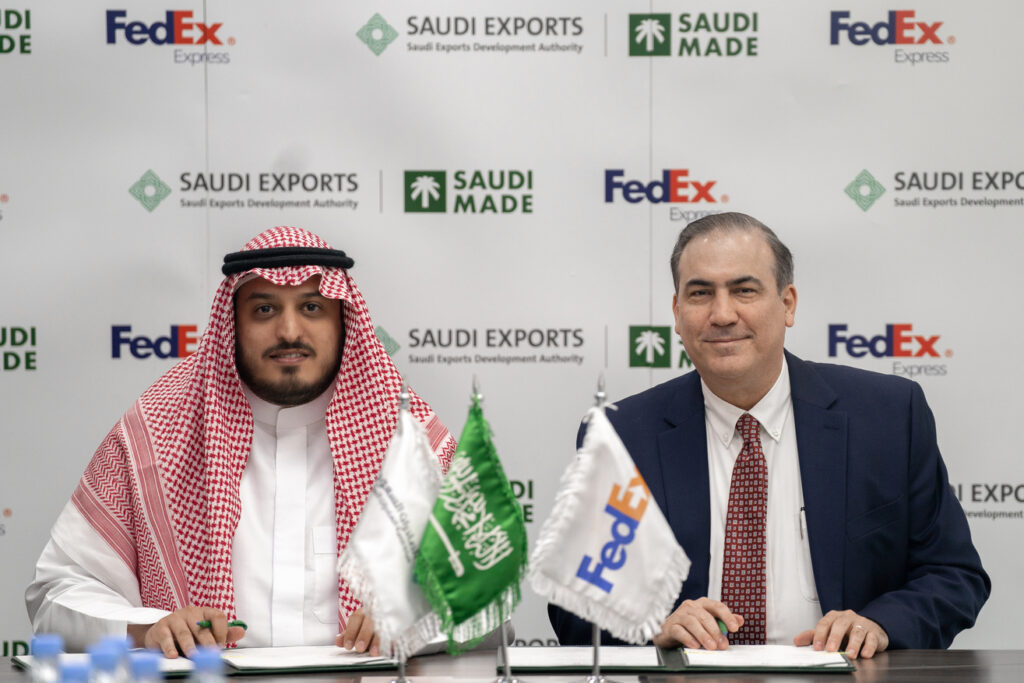 FedEx Express, a subsidiary of FedEx Corp. (NYSE: FDX) and the world's largest express transportation company, signed a collaboration agreement with the Saudi Export Development Authority, represented by the "Made in Saudi" program, to be one of the logistics solutions providers for the authority's customers.
The "Made in Saudi" program is one of the National Industrial Development and Logistics (NIDLP) programs led by the Saudi Export Development Authority. The program aims to enhance the image of the Kingdom's exports and make national products the preferred choice for consumers locally, regionally, and globally. The collaboration underpins FedEx commitment to supporting the Kingdom's non-oil economic growth through international trade, in line with Saudi Arabia's Vision 2030 goals to diversify the country's economy.
Eng. Abdulrahman Althukair, CEO of the Saudi Export Development Authority, indicated that the Authority is keen, through the "Made in Saudi" program, to enhance effective strategic partnerships with the public and private sectors. The aim of such public-private partnerships is to support the Authority's goals to improve the efficiency of exports; help exporters expand and reach new global markets; and contribute to the Kingdom's Vision 2030 to increase the country's non-oil exports to 50% of non-oil GDP.
"FedEx is committed to helping Saudi Arabia transform its economy through its Vision 2030. Our strategic collaboration with Made in Saudi will provide the country's national goods and services greater access to efficient logistics solutions and an enhanced service experience. Our global network, customized solutions, value-added services, and in-depth industry expertise will help manufacturers and exporters expand their business to international markets and connect with a wider customer base. Our goal is to help them grow and transform into powerhouses that drive the growth of the Saudi economy," said Taarek Hinedi, vice president of FedEx Express Middle East Africa operations.
FedEx serves 66 countries across the Middle East, Indian Subcontinent and Africa (MEISA) region, connecting 45% of the world's population. Today, FedEx has direct presence in 16 markets across MEISA, and 58 flights weekly to and from its Hub in Dubai, connecting the region to global markets, and providing customers with faster access. The alliance will provide competitive cross-border logistics services for SMEs and assist Saudi businesses in quickly entering international markets.
FedEx has been facilitating trade in Saudi Arabia since 1994 by providing its international solutions through local service providers. In 2021, FedEx announced its transition to a direct presence in Saudi Arabia, reinforcing the company's commitment to meet the country's growing international shipping demands. Through its extensive Middle East Road Network, FedEx has been connecting Saudi Arabia directly to the UAE, Bahrain, Kuwait, Oman, Qatar, and Jordan.