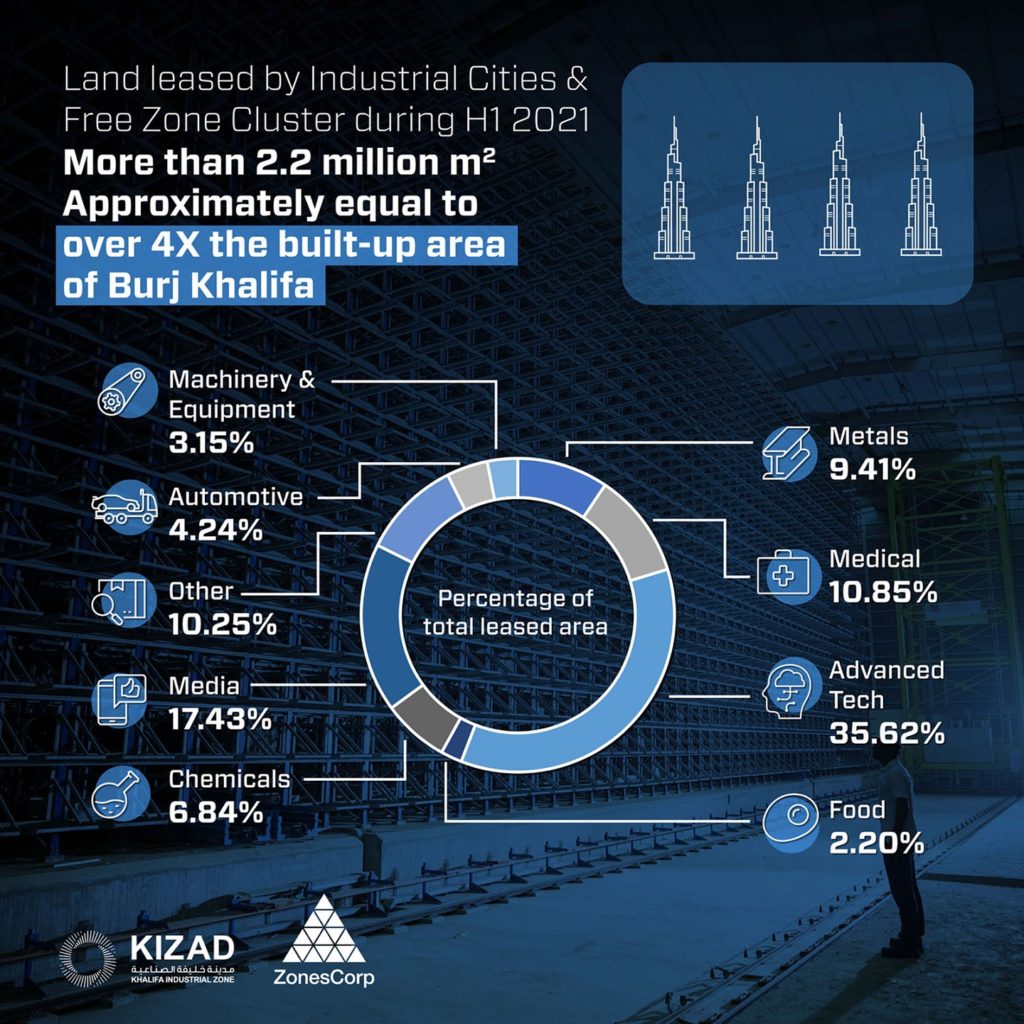 Rising Demand from Manufacturers in Food, Auto, Technology, and Chemical sectors
AD Ports Group has announced that more than 2.2mn square metres of its Industrial Cities & Free Zone Cluster have been leased during the first half of 2021 to local, regional, and international businesses.
AD Ports Group's Industrial Cities & Free Zone Cluster, composed of Khalifa Industrial Zone Abu Dhabi (KIZAD) and ZonesCorp, has a total of 550sqkm of industrial and commercial land. Demand has been growing throughout 2021, particularly from key economic sectors such as metals, food, auto, technology, and chemicals.
Additionally, KIZAD and ZonesCorp reported significant increases in the Foreign Direct Investment in H1 2021, with demand from multiple adjacent sectors including e-commerce, plastics, logistics, and light manufacturing.
"The rising demand on leasable land in Abu Dhabi for trade, logistics, and industrial activities is a clear indication that the business ecosystem in the emirate continues to strengthen and grow," noted Abdullah Al Hameli, Head of the Industrial Cities and Free Zone Cluster, AD Ports Group.
The industrial zones in Abu Dhabi are currently home to more than 1,500 businesses including some of the world's leading global industrial players in a variety of sectors including advanced manufacturing, life sciences and biopharma, food and agri-tech, machinery and equipment, maritime, logistics, chemicals, and plastics.
AD Ports Group's Industrial Cities & Free Zone Cluster has been serving as the catalyst and enabler of sustainable projects in the emirate. In KIZAD, Helios Industry, a privately-owned special project vehicle company (SPV), is set to invest over AED 3.67 billion (USD 1 billion) in the construction of a new green ammonia facility that will produce 200,000 tonnes of green ammonia from 40,000 tonnes of green hydrogen.
Want to stay updated on the latest industry news and trends? Subscribe today to receive your monthly news highlights directly in your inbox!