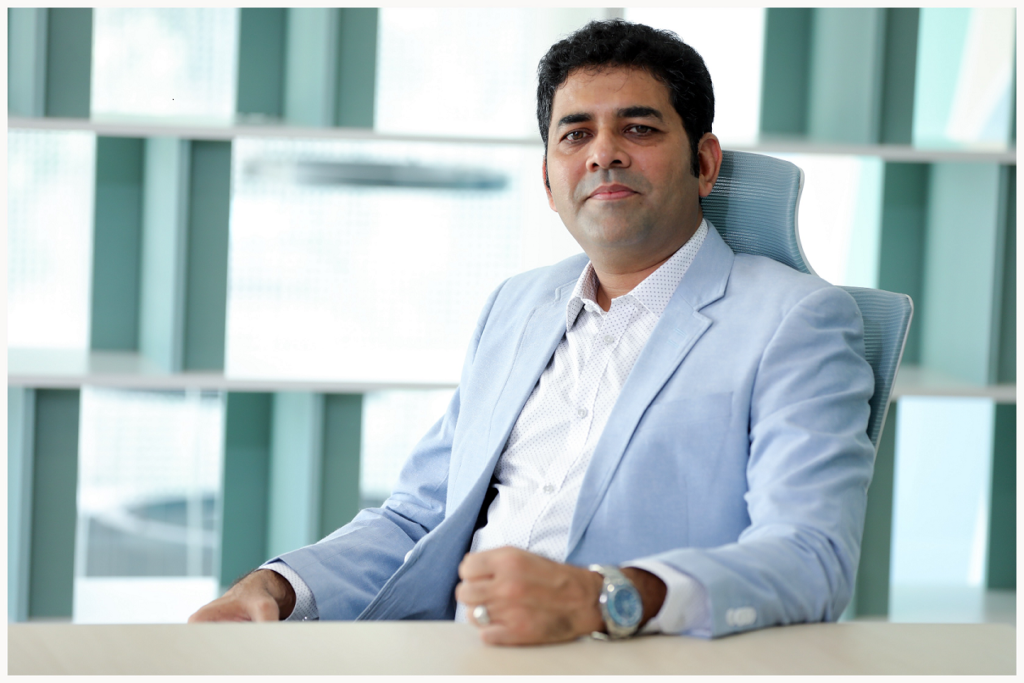 As part of its Corporate Social Responsibility (CSR) and Humanitarian Logistics agenda and with the aim of extending support amid devastating second wave of Covid-19 across India which has resulted in a significant oxygen shortage, Shipwaves recently shipped 500 oxygen cylinders free of cost to the country in a 20ft container from Dubai, UAE.
LogisticsGulfNews conducted an exclusive interview with Mohammed Haris, Managing Director, Shipwaves, following this gracious gesture to get the low down on the decision to support a section of hapless victims in India.
LogisticsGulfNews (LGN): Shipwaves recently undertook a major humanitarian initiative for India-please expand?
Mohammed Haris (MH): The current situation as a result of Covid-19 has profoundly hurt and pained us. As a responsible corporation Shipwaves chose to provide a helping hand by providing oxygen cylinders with great modesty and humility.
We demonstrated our continued support for the country by offering free of cost end-to-end logistics services to individuals, businesses, and non-governmental organizations (NGOs) who support the cause.
LGN: What was the trigger for this gesture?
MH: Oxygen is a basic indispensable need for all humans. We saw and heard reports of how people who weren't able to buy oxygen were dying and unscrupulous individuals were making money by selling oxygen.

To make money by selling something very basic to human need, is definitely a new low, you are making profits at the cost of someone else's life.

As an individual who wanted to help, I was wondering what could be done in this regard.
I then recollected the story of Starfish. So the story goes as follows:
One day a man was walking along the beach when he noticed a boy picking something up and gently throwing it into the ocean. Approaching the boy, he asked, "What are you doing?"


The boy replied, "Throwing starfish back into the ocean. The surf is up and the tide is going out. If I don't throw them back, they'll die."
"Son," the man said, "don't you realize there are miles and miles of beach and hundreds of starfish? You can't make a difference!"
After listening politely, the boy bent down, picked up another starfish, and threw it back into the surf. Then, smiling at the man, he said….."I made a difference for that one."
LGN: How is the pandemic impacting Shipwaves' business?

MH: For technology based platforms like us, pandemic has been a boon in disguise.
To give a simple example, Adoption of Electronic BLs (Bills of Lading) had been work in progress for lot shipping lines across the globe. Today, due to the pandemic landscape is very much different than it was more than a year ago.

Shipping companies are now deploying EBL with help from blockchain technology.
Every setback always comes with a bright side, as in business you should always tap into these opportunities.
LGN: To whom was the 500 oxygen cylinder consignment intended for?
MH: The Oxygen cylinders were primarily intended for the people who are unable to afford it. With the help of government organizations and NGOs we were able to successfully deliver them to the most needy.
LGN: How can the pharma Logistics Services and solutions providers such as Shipwaves better contribute to ensure more streamlined and speedy transportation and availability of badly needed equipment and protective supplies?
MH: Logistics industry has in general lacked transparency and visibility, and it has not been any better for pharma logistics.
We realised very early into the pandemic the potential of filling those grey spots in pharma logistics and we built visibility solutions to address them.
During the pandemic we built systems that can plug into various sources of data including IoT devices that can monitor aspects such as temperature / humidity of the pharma goods that are transported with tracking shipments end to end.
LGN: What opportunities and challenges confront Shipwaves in this pandemic environment?
MH: We see great opportunity for our business growth during this pandemic as we provide digital support to customer with platform in the they can handle all their shipments with real-time visibility.
That being said, we face challenges in reaching out the customers and educating them in the benefit of using digital platforms like ours for the easy management of the shipments.
LGN: What measures has Shipwaves taken to better equip its team and maintain a safe office environment for its employees?
MH: We have ensured a complete safety measures' in our office which includes daily sanitization of the office, work from home option for the employees, bi-weekly Covid check along with social distancing and we have moved majority of our internal work to digital which has helped us ensure safety and complete the tasks faster than before.
Want to stay updated on the latest industry news and trends? Subscribe today to receive your monthly news highlights directly in your inbox!