"The objective is to consolidate the logistics hub and create a value platform,"—LogiPoint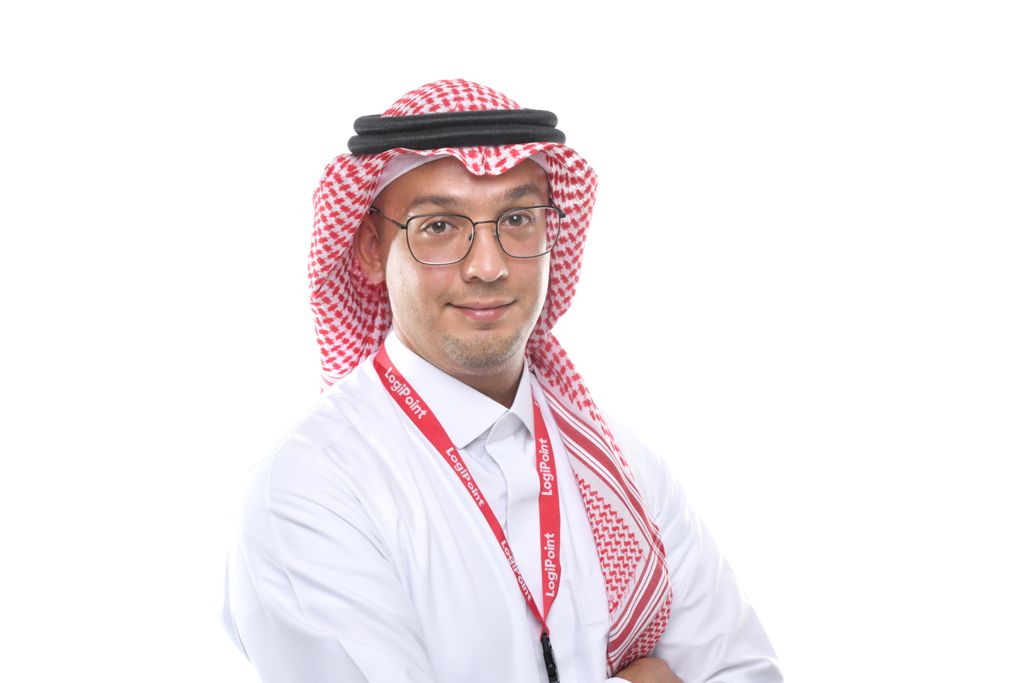 In a candid and wide ranging conversation, Waleed AlKhayyat, Head of Marketing & Corporate Communications, LogiPoint, the long-established Jeddah-headquartered Saudi Arabian logistics services provider, reflects on his professional role, the challenges brought by the pandemic and how the company has not only successfully navigated but grown through the turbulence and the vision for the future.
LogiPoint, located in Saudi Arabia's busiest commercial port on its Western Red Sea coast, is in the forefront of innovation and corporate ambition, harnessing its logistics services, resources and proficiencies in line with the grand Saudi Vision 2030 to catapult the company into the forefront of the industry in the Kingdom and indeed the region.
LogiPoint is the outcome of a joint venture by Saudi Tadawul-listed Saudi Industrial Services Company (SISCO) and the Xenel Group, a large family owned trading conglomerate in the Kingdom.
Q: Briefly describe your professional role at LogiPoint?
Waleed AlKhayyat (WAK): LogiPoint is effectively a Logistics Real Estate Company working as an enabling logistics hub and value creation platform for our clients across a wide range of segments.
We evolve with the markets we serve, we anticipate the needs of our customers and create innovative new solutions which make their supply chains resilient and elastic, and we do it all while adapting and adhering to the requirements of the regulatory bodies and other stakeholders.
In a phrase, we go the extra mile and then a step further to ensure that our clients have the best solutions at their disposal.
My role is two-fold. The first is to translate our company's vision, plans and solutions into a clear and concise message which is readily understood by all our stakeholders.
This starts with our internal stakeholders, our employees and our teams, because first and foremost we need to get a buy-in on our vision and action plans from the very people who will help deliver that vision. It then extends to the external stakeholders–our clients, partners, vendors and even competition.
Once that message is clearly chalked out, the second part of my portfolio is to define and set up communications channels and processes, whether digital or print, conventional or cutting edge, alive with that message.
Q: How are you positioning LogiPoint to be a market leader in the Middle East?
WAK: In essence, a market leading organization gets two aspects right: It builds market leading solutions to succeed in the markets it serves, and it makes sure to announce that success to its current and future clients.
To position LogiPoint as the market leader in the Middle East is to ensure that we communicate to our markets how the LogiPoint value resonates with the world's leading organizations every day and how committed we are to our customers by being an enabler of their supply chain.
On the one hand, it requires us to keep our clients informed on what new products and solutions we are rolling out or how our existing solutions are evolving with the market needs; and on the other, it means that we need to be seen and heard in the spaces where our prospective new clients are looking for solutions for their Middle East logistics.
In a rapidly digitalizing world, this has meant a quick transition from traditional marketing activities to a hybrid model which leverages digital marketing and social media for direct to customer marketing as much as traditional tools. We apply the latest technologies in marketing data analysis to ensure that we optimize our channels and communicate our message to the right customer at the right time.
Q: As a marketer, what are some of the key lessons you have learned from the Covid-19 pandemic in 2020 and how have you been able to adapt yourself in 2021?
WAK: I think the key lesson for all of us has been that market conditions can change overnight for number of reasons; and while we can have all kinds of contingency plans in place, there can always be a situation when we need to come up with a new plan on the go and execute it immediately. We have all learnt the value of adaptability, resilience and elasticity.
For us marketers, events, conferences, meetings and road-shows suddenly became redundant overnight. We needed to devise, learn and practice new ways of engaging with our markets. We adapted by investing in up-skilling digital marketing knowledge and skills in our team.
The digital space operates at warp speed when compared with traditional marketing space – an event can be planned, lined-up, and executed successfully in a much shorter period than a traditional event or a road-show. So, we needed to adapt and adapt lightning fast.

In a world when we were all confined to lockdowns, the importance of effective networking in the real as well as the virtual world was also brought home to us. We learnt that the relationships we had been nurturing for months and years stood us in good stead when we needed our partners to go the extra mile for us, just as we went the extra mile for our partners.
The decision to adapt quickly helped us connect with our clients. With lockdowns and working from home becoming the norm, our customers increased their browsing time during the pandemic which created an opportunity for us to plug into this audience and deepen our engagement with our market.
The fact that despite the lockdown and the slowing business activity, we have increased our revenue by 25%, expanded our teams across the board, and announced new projects like Warehouse Cluster 5 that bear testimony to how well we have adapted to the new norm.
Q: Share some marketing tips that helped you become a leading marketing professional in your industry?
WAK: My advice is—be authentic. Dare to be creative. Live outside the comfort zone. Learn something new every day. Listen intently. Adapt constantly. and most of all and importantly, care! Care for the company you market, care for the client and their business, care for your team, and always care for the message you deliver and how you deliver it. It really is that simple.
Q: What are some of the challenges you face as a marketer in the logistics industry?
WAK: It's a fascinating industry – one which literally makes the world go round by keeping the wheels of global economy turning. But it isn't as glamorous as some of the other industries and so perhaps that can prove to be a challenge for marketers sometimes. We don't work with nearly as interesting budgets as many of our clients do and that means we have to go 'one step further' in getting the most bang for our marketing buck.
Another challenge can be the time it takes between rolling out a marketing campaign and seeing its impact reflected in real numbers. In both cases, it means that marketers, who live for the spotlight pretty much literally, have to create their own new excitement every day. That can be pretty exciting itself when done right.
Q: What opportunities do you foresee in KSA and outside of KSA for LogiPoint?
WAK: Saudi Vision 2030 envisages KSA as a leading global logistics hub enabling trade and value creation. As a pioneering logistics hub in the Kingdom, we like to look at ourselves as the pilot project transforming that vision to reality.
Having proven our value to our clients through our Bonded and Re-Export Zone and our Logistics Parks in Jeddah, we are gearing to expand our footprint across the Kingdom with some exciting new projects in the pipeline.
We know that we can leverage our experience as an internationally recognized logistics real estate company and a multi-award-winning logistics and supply chain hub in Jeddah to build the logistics infrastructure of tomorrow across the Kingdom. We see great opportunity to attract foreign investment to the Kingdom's logistics landscape through our initiatives.
LogiPoint's success at home creates opportunities abroad for collaborations, partnerships and joint ventures also – especially so as we grow into the Kingdom's flagship logistics real estate company. Indeed, we are sailing into some exciting times ahead.
Q: What are the key trends you see happening in 2021 in the logistics industry?
WAK: The key trends in the logistics industry during this pandemic have been adaptability, resilience and elasticity in supply chains, and LogiPoint as an enabling logistics platform creating value for its clients will have a great role to play in catering to these trends.
The pandemic has brought the role of the shipping and logistics industry into sharp focus. The container shipping industry is experiencing an unprecedented windfall, equipment shortages at export origins is creating all kinds of challenges for multiple industries from foodstuff to automotive to construction, changing consumption patterns have already forced many industries to adapt quickly and it looks like everyone will need to continue to adapt until we can put the Covid-19 genie back in the bottle.
Meanwhile, resilient supply chains will come out tops and such resilience will only come if there is elasticity built into those supply chains. It's hard to see how this will all pan out in the short term or the long term, but what we do know is there isn't going to be a dull moment in this industry for a long time. What else can a marketer ask for?
Q: How is your corporate vision aligned with LogiPoint goals and objectives?
WAK: The goal is always perfect alignment. You cannot create an effective communication strategy or a marketing campaign without first aligning perfectly with the goals and objectives of an organization.
LogiPoint's goal is to prove itself as an enabling logistics platform which creates value for its clients through eliminating waste and delivering efficient solutions consistently. That is our visions as marketing as well–lock, stock and barrel.
Q: How important is teamwork at LogiPoint?
WAK: It's a cliché but it rings true every day. Teamwork is everything. Especially so, when we have had to adapt so quickly to so much and as we have made the transition from a largely conventional marketing team to one that thrives on the cutting edge of digital marketing.
I am thrilled and grateful at the same time that we proved to be a team that could make this transition smoothly and seamlessly – and have loads of fun too while we were at it.
Want to stay updated on the latest industry news and trends? Subscribe today to receive your monthly news highlights directly in your inbox!