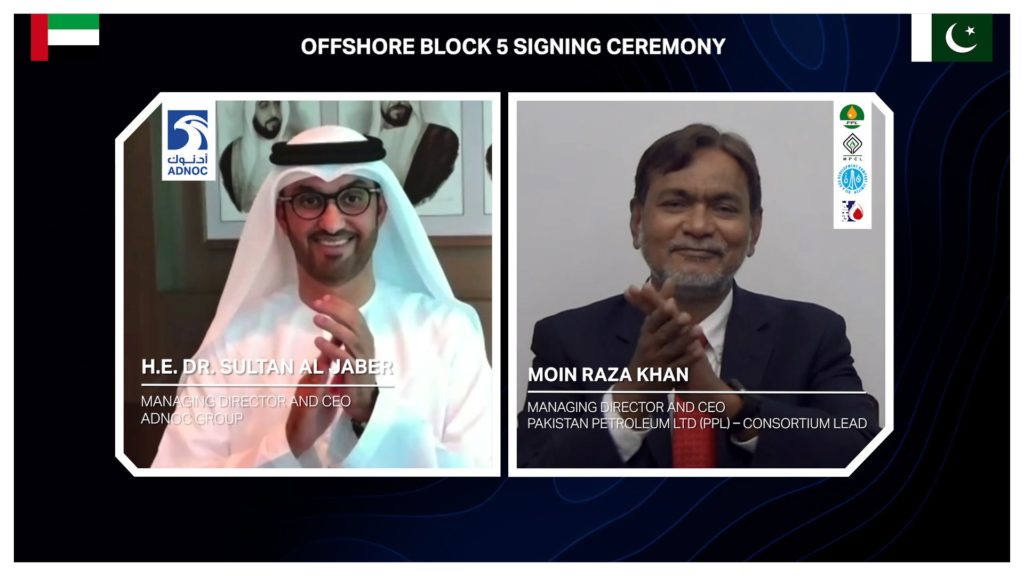 Pakistan led consortium awarded concession for Offshore Block 5:
These are Pakistan Petroleum Limited (PPL), Mari Petroleum Company Limited (MPCL), Oil and Gas Development Company Limited (OGDCL), and Government Holdings Private Limited (GHPL) in Abu Dhabi's second competitive block bid round. The consortium is led by PPL.
The award marks the first time Pakistani companies invest in and explore for oil and gas in an Abu Dhabi concession as well as the first time ADNOC partners with Pakistani energy companies. The exploration concession agreement was signed by HE Dr. Sultan Ahmed Al Jaber, UAE Minister of Industry and Advanced Technology and Managing Director and Group CEO, ADNOC, and Moin Raza Khan, Managing Director and CEO, PPL.
"We are delighted to partner with Pakistan Petroleum Limited and the other members of the consortium on Offshore Block 5," commented HE Dr. Sultan Al Jaber. Under the terms of the agreement, the consortium will hold a 100% stake in the exploration phase, investing up to US$ 304.7mn (AED1.12bn) towards exploration and appraisal drilling, including a participation fee, to explore for and appraise oil and gas opportunities in the block that covers an offshore area of 6,223sqm and is located 100km NE of Abu Dhabi city.
"We are particularly excited that this consortium is fully geared to support ADNOC and the Emirate of Abu Dhabi in reinforcing its leading position in the global energy sector," remarked Khan.
Want to stay updated on the latest industry news and trends? Subscribe today to receive your monthly news highlights directly in your inbox!