Joint venture to create a dedicated platform targeting global investments in technology-enabled oilfield and energy service companies. An innovative partnership underpins ADNOC Drilling's market-leading position as an integrated drilling services provider, powering its growth and expansion strategy.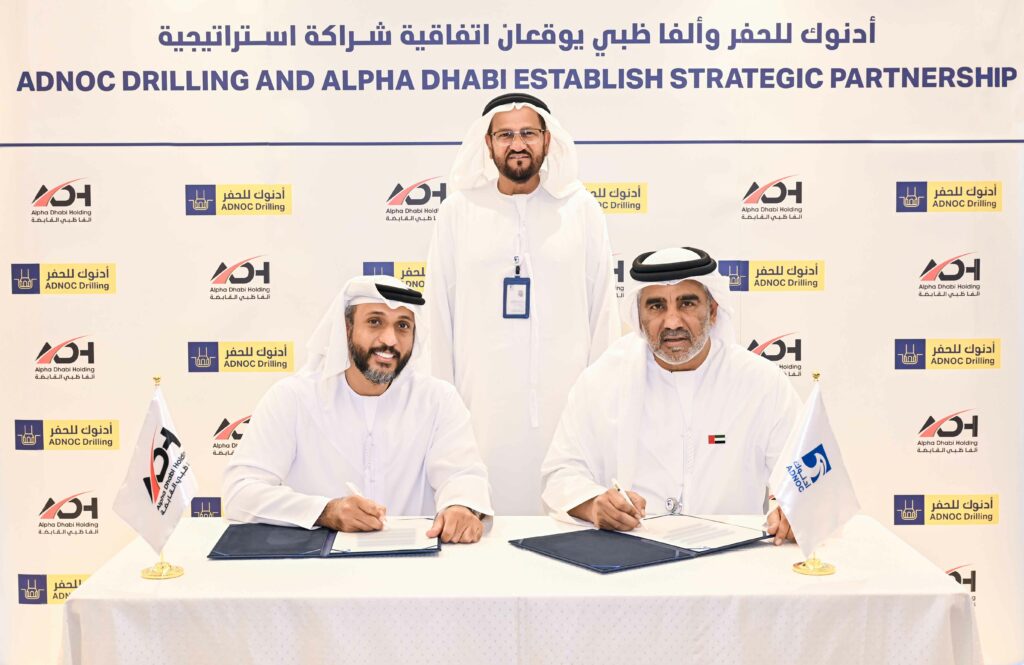 ADNOC Drilling Company PJSC ("ADNOC Drilling" or the "Company") (ADX symbol: ADNOCDRILL/ISIN: AEA007301012) and Alpha Dhabi Holding PJSC (''Alpha Dhabi'') (ADX: ALPHADHABI) have agreed to establish a strategic investment joint venture ("JV'') to invest up to $1.5 billion to acquire technology-enabled companies in the oilfield services ("OFS") and energy sectors.
ADNOC Drilling will own 51% of the JV, with Alpha Dhabi holding 49%, bringing together a market-leading drilling and OFS expert and a prominent UAE conglomerate with a proven track record of fueling business growth in diverse sectors. Lunate Capital Limited will provide asset management support to the JV.
Leveraging ADNOC Drilling's scalable technology ecosystem, the JV will be jointly controlled by ADNOC Drilling and Alpha Dhabi and is empowered to invest in value-accretive businesses globally across the OFS and energy value chain. This will further develop and scale up ADNOC Drilling's integrated drilling and OFS offerings and enhance operational efficiencies.
Abdulrahman Abdulla Al Seiari, Chief Executive Officer of ADNOC Drilling, said: "We are excited to enter into this strategic partnership with Alpha Dhabi that will drive further growth for ADNOC Drilling and its shareholders, enable economic diversification, and support ongoing decarbonization efforts, benefiting all stakeholders. The JV will invest in innovative technology, enhancing our services while adding depth to our offering and further expanding our business."
The JV will identify an actionable pipeline of potential transactions that are value-accretive to both shareholders. Eng. Hamad Al Ameri, Managing Director and Group CEO of Alpha Dhabi, commented, "This joint venture with ADNOC Drilling marks a significant milestone in our commitment to driving growth and fostering innovation in the energy domain. Pooling our collective expertise, we are poised to unlock new opportunities, delivering sustainable value to our stakeholders. Diversification and innovation are critical pillars in today's dynamic global economy. This partnership not only underscores our dedication to these principles but also positions us to significantly boost the UAE's domestic growth, laying the foundation for sustained national prosperity."