Al Masaood Commercial Vehicles and Equipment (CV&E) has further strengthened its partnership with Lavajet by providing a fleet of 134 UD Trucks to enhance the waste management sector in the Al Ain region.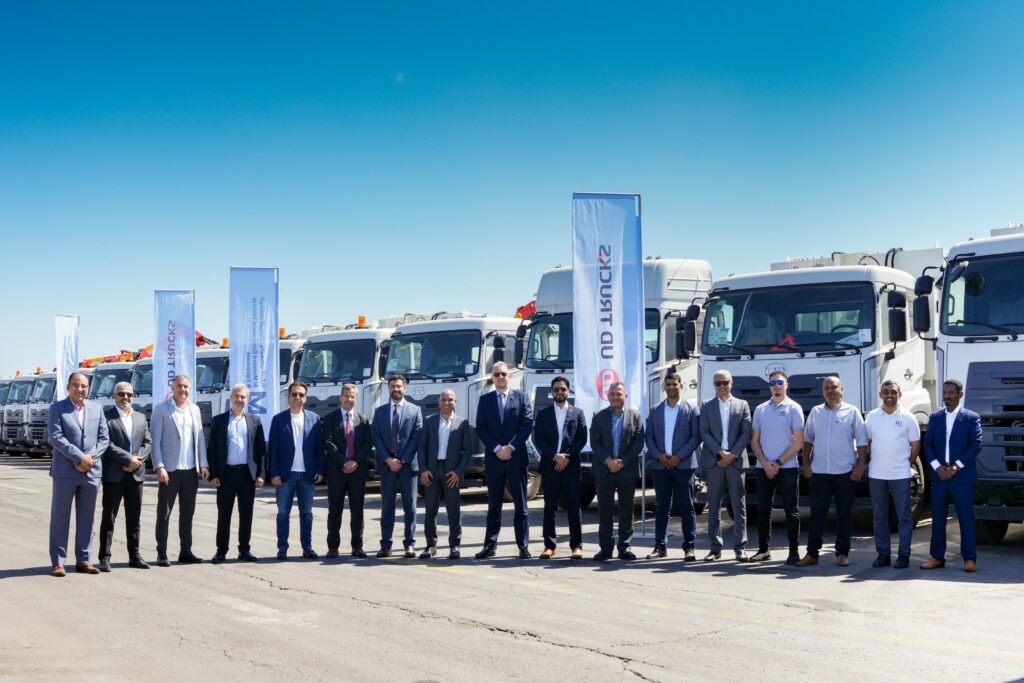 Al Masaood CV&E has been collaborating with Lavajet for the last four years to provide aftersales services for Croner and Quester Trucks in the waste management segment, which is utilized by TADWEER, Abu Dhabi Municipality's Waste Management Centre. The division, which is part of Al Masaood Group, is the sole distributor of UD Trucks in Abu Dhabi.
As part of the new contract, Euro 5 versions of Quester and Croner trucks will soon operate in the Al Ain region. These UD trucks are equipped with features designed to reduce their environmental impact, increase efficiency and uptime, improve profitability, and optimize the Total Cost of Ownership (TCO).
Mohammad El Zeftawi, General Manager of Al Masaood CV&E, said: "Our strengthened partnership with Lavajet, focusing on the integration of UD Trucks, demonstrates our commitment to enhancing the waste management sector in Al Ain. These new vehicles, with their advanced features, will significantly reduce the environmental impact of waste management and promote sustainable practices. We are proud to continue our collaboration with Lavajet and UD Trucks, contributing to a more efficient waste management sector in Abu Dhabi."
Elie Salem, Area Manager of Lavajet, said: "We are excited to further reinforce our partnership with Al Masaood CV&E and UD Trucks, as we share a common vision for a greener future. The addition of these cutting-edge UD Trucks to our fleet will play a crucial role in achieving our long-term sustainability goals and creating a cleaner environment. By leveraging advanced technology and safety features, we will enhance the efficiency and safety of our waste management operations, contributing to a cleaner Al Ain City. We are eager to continue working closely with Al Masaood CV&E and UD Trucks to achieve our shared sustainability objectives."
The UD Trucks Quester comes with an automated transmission, whereas the UD Trucks Croner is furnished with an automatic transmission. Along with the newest advanced driver display, both trucks showcase a variety of other innovative features, including an advanced body builder module control unit and a flexible chassis for all waste management applications.
Mr. Mourad Hedna, President of UD Trucks MENA, said: "Our collaboration with Al Masaood CV&E and Lavajet has allowed UD Trucks to become a key player in the waste management sector in the UAE. Our extensive range of products, tailored to address the unique challenges faced by our customers, has contributed to our remarkable success. Al Masaood CV&E's exceptional aftersales services further enhance the efficiency and uptime of our trucks. As a result, UD Trucks now offers the best Euro 5 value proposition for the waste management segment, solidifying our leadership position in the UAE and the GCC region."
Al Masaood CV&E has formed partnerships with prominent global companies to bring innovative products and solutions to the country, ensuring that local industries have access to the most advanced technologies. By prioritising such collaborations, the division reaffirms its dedication to achieving sustainability through the provision of innovative products and solutions.