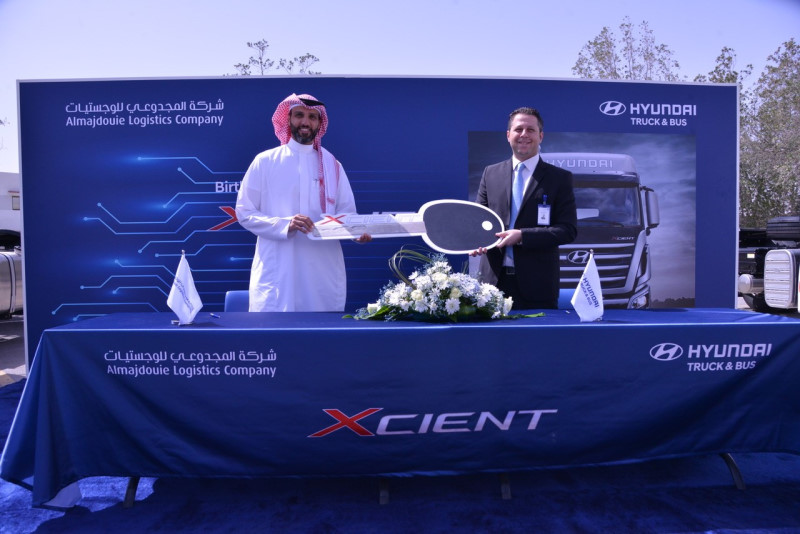 Procurement to boost Saudi company's logistics services capabilities across Kingdom
Saudi Arabia's Almajdouie Logistics recently enhanced its fleet with 30 new Hyundai Xcient trucks, which are equipped with advanced technology to improve efficiency and sustainability.
The heavy-duty vehicles will support the company's ongoing efforts to expand its business and implement large-scale regional projects. Almajdouie Motors Company, the authorized distributor of Hyundai Commercial Vehicles in the eastern and northern regions of Saudi Arabia, delivered the trucks in line with an existing contract.
"We are pleased to deliver this large fleet of heavy trucks to one of our sister companies after they tested 50 trucks in operation for more than 4 years. The new order comes under the company's strategy to renew its fleet and help in carrying out its construction and logistical work," remarked Eng. Sherif El Gohary, Managing Director, Almajdouie Motors-Hyundai.
"As an asset-based company offering a range of services spanning diverse sectors, effective asset management plays a key role at Almajdouie Logistics. The new trucks are a valuable addition to our expansive fleet and will help us to increase efficiency and further improve our high levels of service," commented Mohammad Bin Ali Almajdouie, CEO, Almajdouie Logistics
Hyundai Xcient trucks are available in a variety of configurations, including dual, triple, or four-axle chassis versions. All models feature automatic transmissions and advanced suspension systems that provide stability under all operational conditions.
The high roof cabin and air suspension make the journey more comfortable for the driver. The trucks are equipped with aluminum air tanks which help to reduce condensation and create cleaner air inside the tanks.
The engine produces 440 horsepower, making the Hyundai Xcient one of the most powerful heavy-duty trucks globally.
Hyundai Xcient models feature advanced technologies that improve performance and lower operating costs. The innovative design and low centre of gravity make the Xcient ideal for transporting huge volumes, further enhancing the fleet's efficiency.
Primary Sidebar


Get LogisticsGulf News Updates
Latest News
Interviews
Industry Appointments
Want to stay updated on the latest industry news and trends? Subscribe today to receive your monthly news highlights directly in your inbox!