The enhanced Amazon Fulfillment Center will better serve customers through faster and even more efficient delivery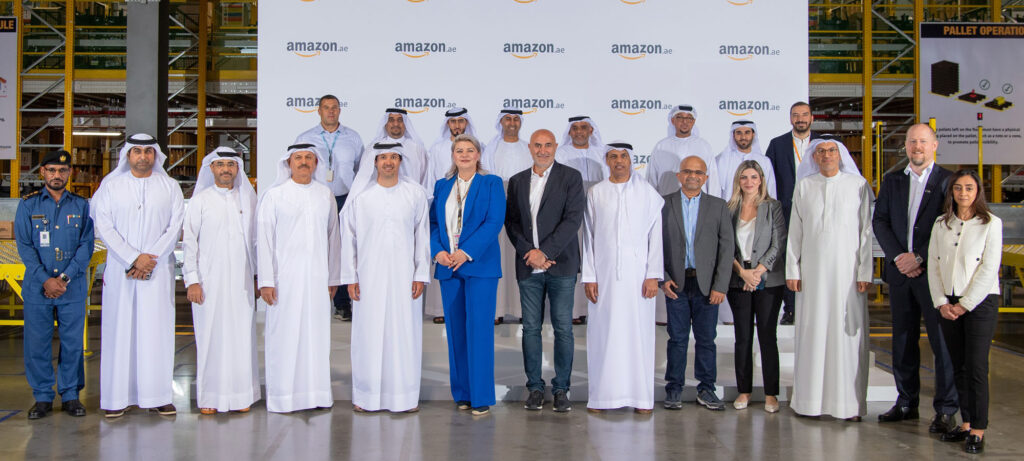 HE Khalifa Al Zaffin, Executive Chairman of Dubai Aviation City Corporation and Dubai South; HE Helal Saeed Al Marri, Director General of the Dubai Department of Economy and Tourism (DET); HE Ahmed Mahboob Musabih, Director General of Dubai Customs; and HE Mohsen Ahmad, CEO of the Logistics District – Dubai South; and HE Mohamed Shael Alsaadi, CEO of the Dubai Corporation for Consumer Protection and Fair Trade today witnessed the inauguration of Amazon's latest fulfillment center in the UAE. Following the inauguration, the dignitaries were given a tour of the facility by Ronaldo Mouchawar, Vice President of Amazon Middle East and North Africa (MENA), Prashant Saran, Director of Operations for Amazon MENA, and Zeina El Kaissi, Director of Public Policy and Government Affairs for Amazon MENA.
Capacity
The Amazon Fulfillment Center has a storage capacity of 2.1 million cubic feet, which will increase Amazon's total storage capacity in the UAE by 70%. As the company gears up for increased customer demand during the holy month of Ramadan, the investment will enable Amazon to delight customers with a wider selection of products across electronics, appliances, groceries, fashion, books, and more. Amazon brings 25+ years of logistics technology and innovation to support the country's e-commerce ecosystem. The new facility will house innovative solutions for its operations, with close to three kilometers of conveyance equipment spread across five floors and covering an area of more than 350,000 sq ft.
Supporting Dubai and the UAE's agenda for a digital economy, the enhanced capacity will provide entrepreneurs and small and medium-sized businesses (SMBs) access to Amazon's fulfillment capabilities and world-class logistics expertise. In order to reach a wider customer base faster and more efficiently, SMBs can take advantage of the Fulfilled by Amazon offering that allows them to store, pick, pack, and ship customer orders through Amazon. The company recently announced its commitment to host products from 100,000 businesses, including local SMBs, on its UAE website Amazon.ae by 2026, in support of the Dubai Economic Agenda D33 to make Dubai a global digital economy.
Location
The Amazon Fulfillment Center is located in Dubai South's Logistics District, enabling efficient services, speed, operations, and uninterrupted access to Jebel Ali Port and Al Maktoum International Airport (DWC). The district comprises multiple zones that facilitate distribution, including a freight forwarding zone, EZDubai, a fully dedicated e-commerce free zone strategically located in the heart of the district, and a contract logistics zone.
UAE's Economic Growth
H.E. Khalifa Al Zaffin, Executive Chairman of Dubai Aviation City Corporation and Dubai South, commented: "At Dubai South, our mandate is to support the government's economic diversification efforts through the different services and solutions that we provide to local and international companies.
We have created a world-class logistics, supply chain, and warehouse infrastructure ecosystem, making it an ideal location for Amazon's new facility. We are thrilled to welcome the company's second fulfillment center in our Logistics District, as hosting a global e-commerce company like Amazon expanding its investment in the UAE brings us closer to our mission to catalyze the UAE's economic growth."
Speaking at the inauguration, H.E. Helal Al Marri, Director General of the Dubai Department of Economy and Tourism (DET), said: "Dubai's leadership has outlined a clear economic growth roadmap for the coming decade that capitalizes on the emirate's business enabling infrastructure and highly developed global logistic network to deliver accelerated expansion opportunities for both international and local companies, whilst offering a strong competitive advantage to those choosing Dubai.
In line with our Economic Agenda 2033's (D33) strategic objectives, we welcome the ongoing expansion of Amazon here and its catalyzing role in the wider development of an economy centered on innovation and technology that enables talent."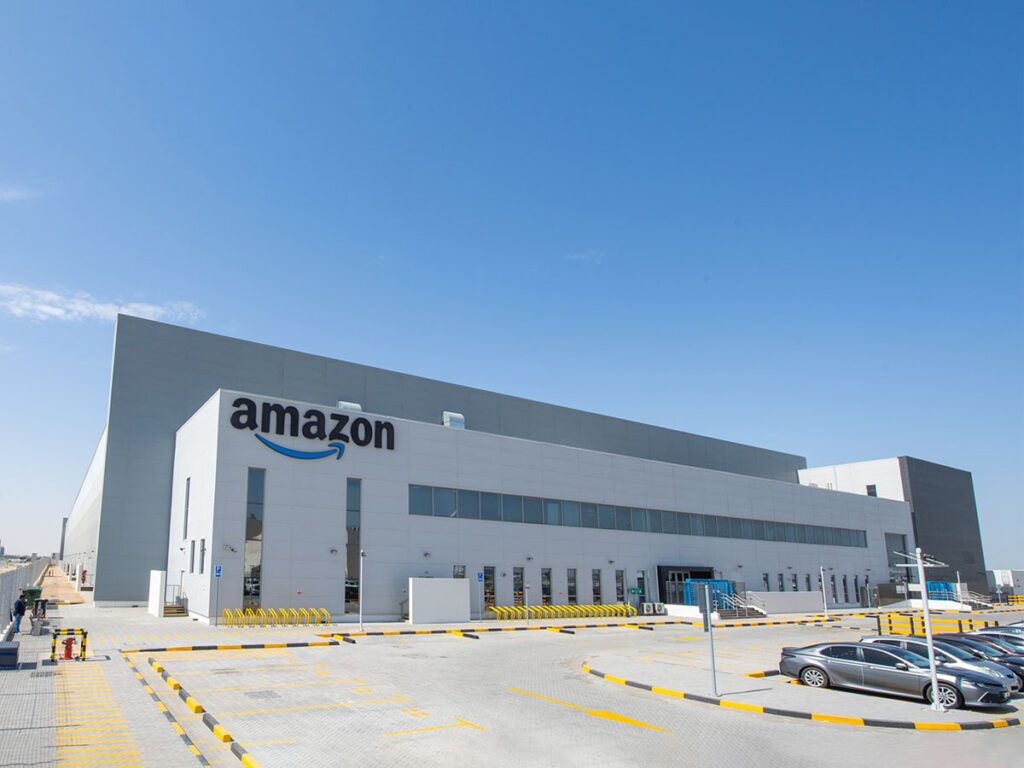 According to H.E. Ahmed Mahboob Musabih, Director General of Dubai Customs and CEO of Ports, Customs, and Free Zone Corporation, "Dubai has transformed into a significant hub for the world's largest e-commerce companies. The city's exceptional infrastructure and logistics capabilities have propelled it to become a launchpad for e-commerce worldwide. The launch of Amazon's new shipping center in Dubai South is a testament to Dubai's unwavering commitment to achieving global leadership in cross-border e-commerce. This achievement adds another remarkable milestone to Dubai's already impressive record of accomplishments in the field.
Ronaldo Mouchawar, Vice President of Amazon MENA, said, "At Amazon, we continue to emphasize our focus on providing the best and fastest selection of products to our customers in the UAE. Fulfillment centers have a ripple effect across the economy, contributing significantly to the growth of e-commerce sales, building capacity, and accelerating entrepreneurship by allowing sellers and start-ups to leverage Amazon's world-class fulfillment offerings to reach more customers with a wider selection of products. At the same time, we continue to invest in building the UAE's talent capabilities, creating diverse career paths in an industry-leading workplace."
As a responsible employer, Amazon nurtures a diverse and inclusive workplace where every individual is encouraged to grow and advance their careers. Many of the leadership roles in the new Fulfillment Center are held by women. With access to a variety of roles ranging from operations and analytics to health and safety and supply chain, all employees have access to training, upskilling, and mentoring programs that benefit the country's wider talent pool and equip them for the evolving labor market.
Prashant Saran, Director of Operations for Amazon MENA, said, "We are excited to partner with Dubai South once again. With the opening of this facility, we are geared up to offer even more products to more customers during the busy time of Ramadan. The new Fulfillment Center will be equipped with Amazon's latest global innovations to ensure speed, safety, and reliability with every order. As a good corporate citizen, we always strive to create opportunities for employees, partners, and the community while growing sustainably and responsibly."
Amazon
Amazon is committed to embedding sustainable practices across all its operations as it expands its presence across the UAE. The new facility incorporates carbon-friendly design concepts, efficient control systems, and data and analytics to improve energy efficiency. Amazon continues its relentless focus on the safety and well-being of its employees, deploying cutting-edge technology to assist employees and keep them safe while delivering for customers.
Since its launch in the UAE, Amazon has been investing in strengthening its presence and launching various service offerings to enhance the order fulfillment experience for customers in the UAE. Today, Amazon Operations' network across the UAE comprises three fulfillment centers, three sort centers, eight delivery stations, and a network of small and medium businesses working as Delivery Service Partners.
Want to stay updated on the latest industry news and trends? Subscribe today to receive your monthly news highlights directly in your inbox!