New service meets growing demand for diverse and cost-effective shipping solutions.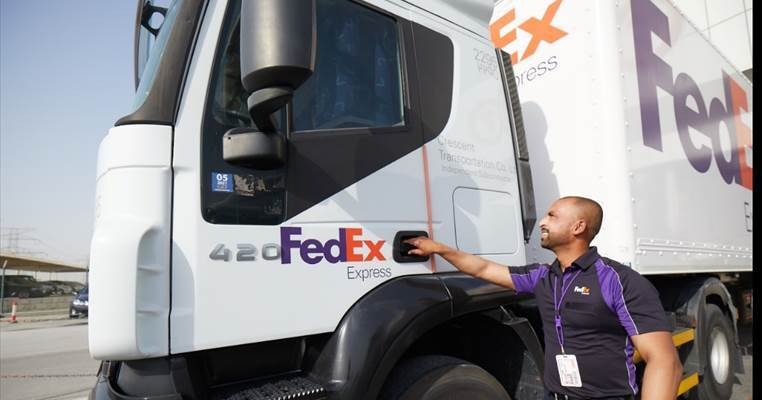 FedEx Express, a subsidiary of FedEx Corp. (NYSE: FDX) and the world's largest express transportation company, has launched FedEx® Regional Economy and FedEx® Regional Economy Freight services to cater to the increasing demand for cross-border trade in the Middle East region. The deferred, day-definite road services offer businesses including small and medium-sized enterprises (SMEs) cost-effective shipping solutions for less urgent shipments within key countries in the Middle East.
FedEx® Regional Economy and FedEx® Regional Economy Freight utilize the Middle East Road Network (MERN) to offer seamless connectivity between Bahrain, Jordan, Kuwait, Oman, Saudi Arabia, and the United Arab Emirates, while ensuring the safe and secure transportation of goods using real-time track and trace via fedex.com. With this service, shipments will have express clearance with competitive transit times between three to five business days* for Regional Economy and four to six business days* for Regional Economy Freight between key Middle East markets.
The customs-cleared, door-to-door intra-Middle East economy road services allow customers to save significant costs on less time-sensitive deliveries of shipments up to 68kg using FedEx® Regional Economy, as well as shipments above 68kg using FedEx® Regional Economy Freight, without compromising reliability. In addition, customers can take advantage of the suite of digital tools to streamline their intra-Middle East cross-border deliveries, including creating shipments, managing pick-ups, billing and more.
The FedEx Regional Economy services are ideal for businesses across diverse industries, including automotive, electronics, oil and gas, fashion and retail, chemicals, e-commerce, and healthcare. These industries have different shipping requirements ranging from lightweight parcels to heavyweight shipments. Businesses can use the economy road service to ship palletized or irregular-sized goods or goods that cannot fit in standard-size air shipping containers.
"At FedEx we are constantly strengthening our service offerings to meet evolving customer demands. We are seeing businesses prioritize day-definite delivery over speed, recognizing that not all shipments are urgent and require next-day delivery," said Taarek Hinedi, vice president of FedEx Express Middle East and Africa operations. "The launch of our Regional Economy services is part of our continuous efforts to equip businesses with differentiated shipping solutions that offer more value, contributing to the growth of businesses and regional industries."
According to GSci Transport Intelligence, the Middle East and North Africa GDP is expected to grow at a steady Compound Annual Growth Rate (CAGR) of 3.1% over the next five years (2023-2028).  With this projected economic growth, businesses in the region are seeking more robust logistical support.