New service will boost trade volumes in Dammam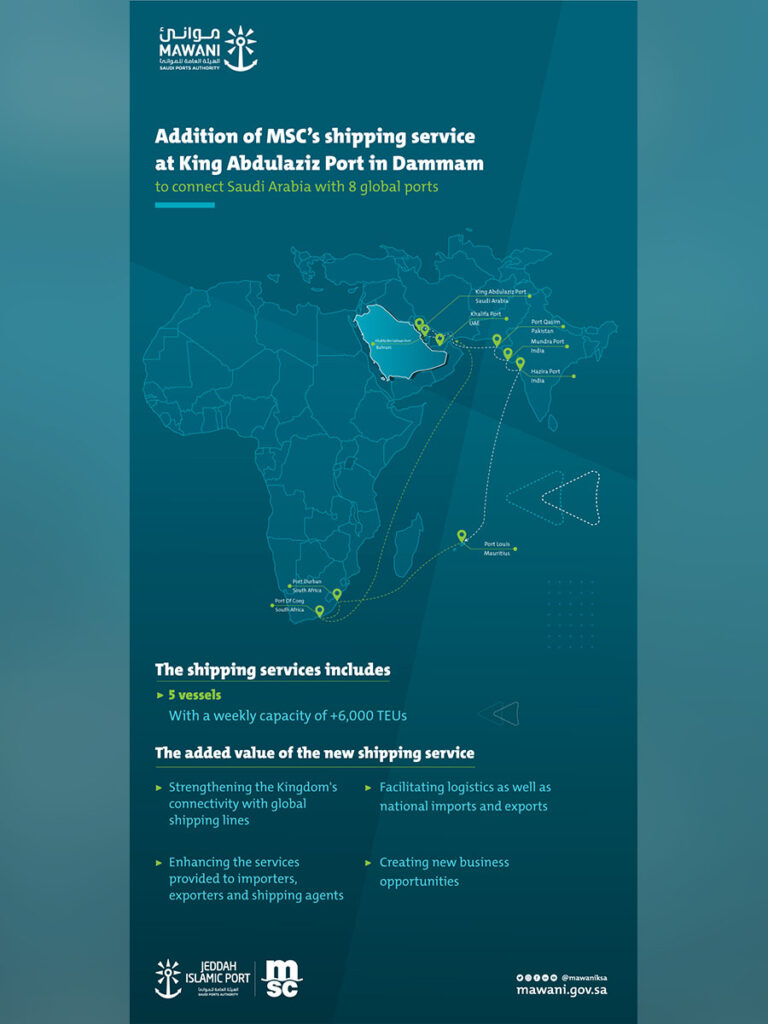 The Saudi Ports Authority (Mawani) recently announced the addition of King Abdulaziz Port to a new freight service operated by Swiss-based container group MSC.
The latest connection is set to bolster the Dammam based port as a focal point for regional and global trade while strengthening the Kingdom's hub credentials in fulfilment of the ambitions of the National Transport and Logistics Strategy (NTLS).
The capital of the Kingdom's Eastern Province will enjoy weekly sailings to eight maritime destinations spanning the Arabian Gulf, South Asia, and Southern Africa. They include the ports of Khalifa Bin Salman in Bahrain, Khalifa in UAE, Qasim in Pakistan, Mundra and Hazira in India, Port Louis in Mauritius, and Durban and Coega in South Africa.
The service, which started on 21 January 2023, will feature five vessels with an average carrying capacity exceeding 6000 TEUs.
As a world-class logistics center boasting top-tier infrastructure and capabilities, King Abdulaziz Port was an obvious choice for shipping liners looking to expand their routes in 2022. Notable examples include SeaLead Shipping's Far East to Middle East (FAM) service, Emirates Shipping Line's Jebel Ali Bahrain Shuwaikh (JBS) service, Gulf-India Express 2 (GIX2) service by Aladin Express, and Maersk's Shaheen Express service, the press release concluded.
Want to stay updated on the latest industry news and trends? Subscribe today to receive your monthly news highlights directly in your inbox!