The Zone will be operated by SPARK Logistics, a JV between SPARK and Hutchison Ports and will handle ten million metric tons of cargo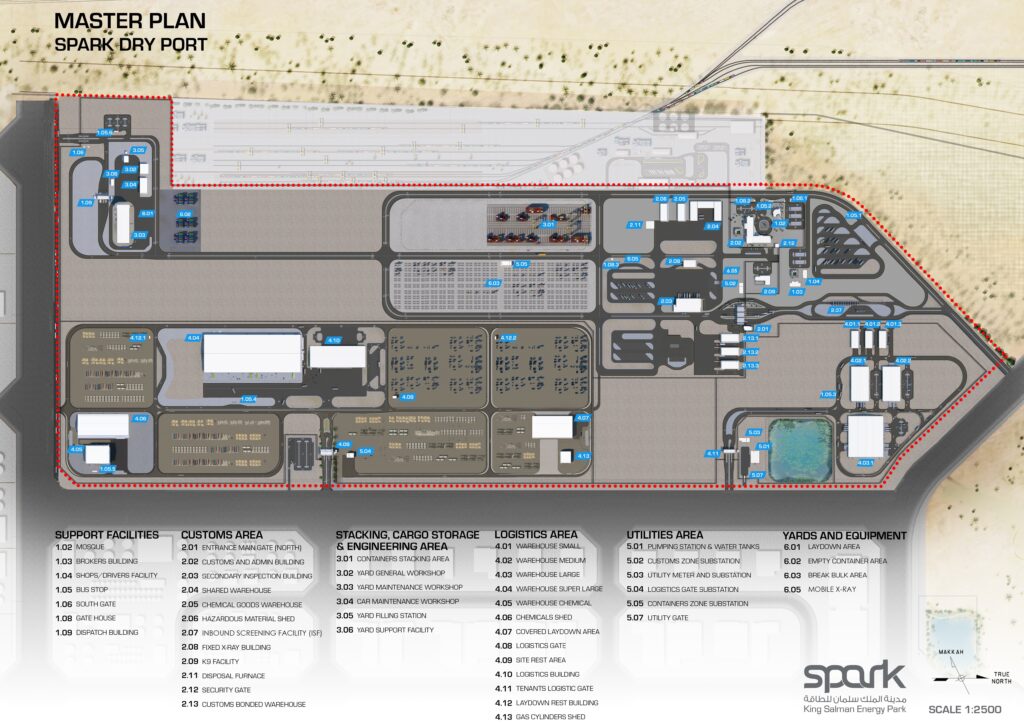 King Salman Energy Park (SPARK) announced today that its Logistics Zone will begin operations in 2024. The Logistics Zone, a state-of-the-art, fully automated district, will feature the first and largest private dry port in the region, on-site customs clearance services and bonded warehouses. It will be operated and maintained by SPARK Logistics, a joint venture established between SPARK and Hutchison Ports, the leading global ports operator.
The Logistics Zone will leverage SPARK's strategic location in the Eastern Province, serving as a gateway for the regional energy sector. It will ease access to global markets and enable businesses to capture the growing demand for energy-related products through a seamless and efficient supply chain. Once fully operational, the Zone will handle up to ten million tons of cargo utilizing fully automated RTG's (Rubber Tyred Gantry Yard cranes) and gates, along with the latest dedicated non-invasive scanning equipment to expedite the clearance of cargo.
Saif Al Qahtani, President, and CEO of SPARK said, "The establishment of the Logistics Zone marks an important milestone for SPARK as we work towards building an integrated, world-class ecosystem in the heart of energy demand for investors and tenants. Through the Zone, we aim to attract significant investment, drive economic growth and create new opportunities for businesses by providing unmatched access and connectivity to the region. This step advances our commitment to build a leading industrial ecosystem that connects the world to opportunities in the Saudi energy sector and beyond."
The Logistics Zone is included as one of the designated logistics zones within the National Transport and Logistics Strategy's Logistics Masterplan. It was developed as part of SPARK's commitment to foster a vibrant energy ecosystem and world-class energy hub that drives economic growth and innovation in the MENA region, while advancing the Vision 2030's ambitions to transform the Kingdom into a global logistics hub and increase local manufacturing.