The Saudi Ports Authority (Mawani) has announced the addition of the India Gulf Express freight service, operated by the French container carrier CMA CGM, to King Abdulaziz Port.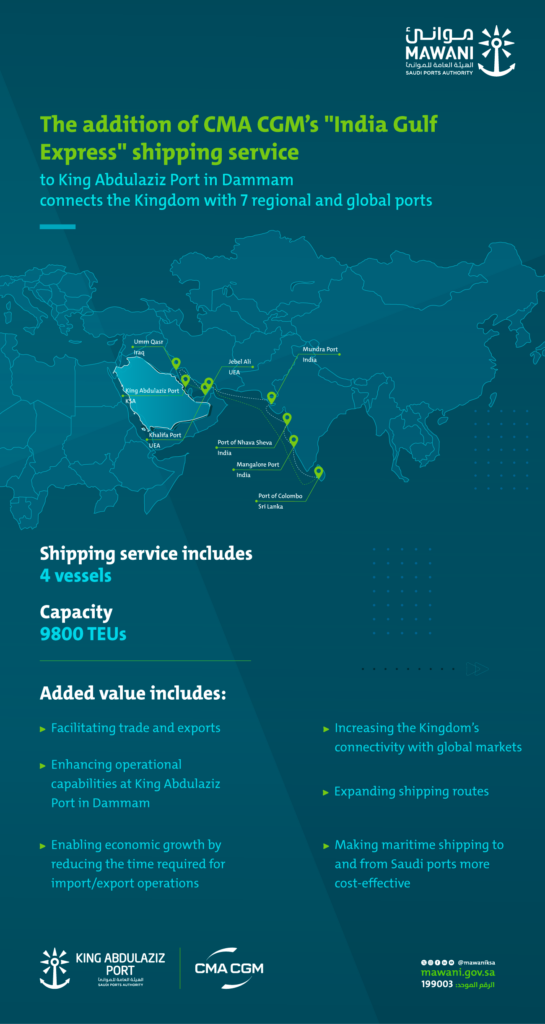 This strategic move aims to further strengthen Saudi Arabia's maritime links and enhance the Kingdom's position as a leading logistics and economic powerhouse.
This direct route will link Dammam with seven major maritime hubs: Nhava Sheva, Mundra, Mangalore, Colombo, Jebel Ali, Khalifa, and Umm Qasr. Weekly sailings will be conducted using a fleet of four vessels, each with a capacity of up to 9,800 TEUs.
The new rotation is expected to amplify the trade capacity, competitiveness, and connectivity of the globally renowned King Abdulaziz Port, as well as the Kingdom as a whole. The goal is to provide faster transit times and more cost-effective solutions for local exporters, aligning with Vision 2030's objective of establishing Saudi Arabia as a leading logistics and economic powerhouse.
The introduction of the India Gulf Express service marks the 25th addition to the Kingdom's rapidly expanding network of maritime links by Mawani since the start of the year. This effort has contributed to the country's score of 77.66 points in the UNCTAD's Liner Shipping Connectivity Index (LSCI) during Q3, marking an increase from Q2's score of 76.16 points."