Thermo King Advancer Spectrum A-500 units ensure precise temperature control of MTL's refrigerated trailers fitted for transport of pharmaceutical products.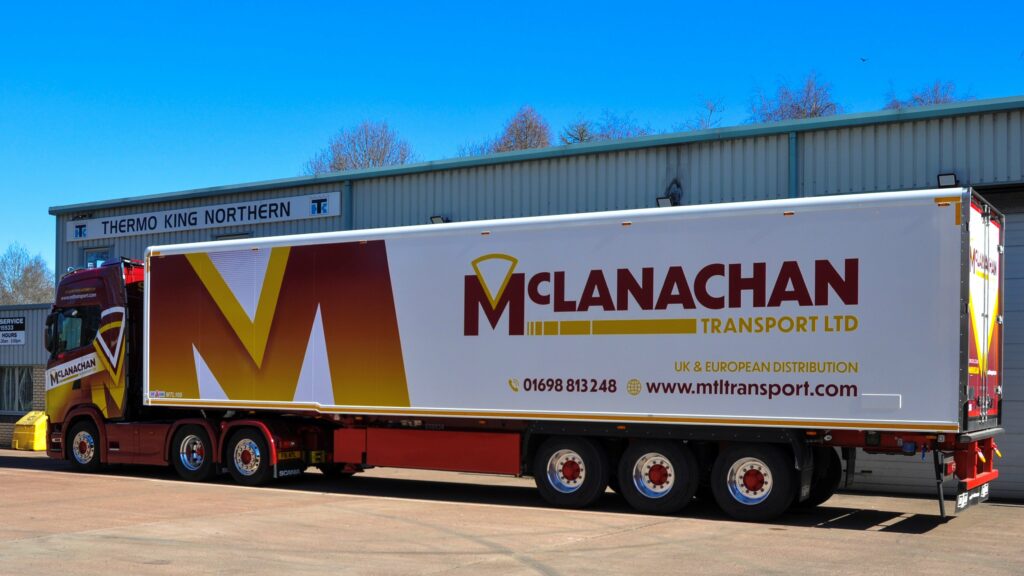 McLanachan Transport Limited (MTL), a Scotland based provider of structured logistics services to companies around the UK and Europe, started deliveries with the first of ten new trailers featuring Advancer Spectrum A-500 units. Advancer Spectrum is the latest and most advanced multi-temperature refrigeration system from Thermo King®, a leader in transport temperature control solutions and a brand of Trane Technologies (NYSE: TT).
The new bespoke multi-temperature refrigerated trailers are manufactured for MTL by Gray&Adams and delivered by TIP on a long-term hire basis with the support of Thermo King Northern, one of Thermo King's dealers in the UK.
"As we support many temperature-controlled GDP Cold Chain solutions for leading pharmaceutical companies' logistics throughout Europe, we place great emphasis, commitment, and investment into our fleet," said Damian McLanachan, managing director at MTL."The temperature-controlled trailer is a great addition to our fleet and takes us to the next stage in our journey as a company. Temperature-controlled trailer units can be complex. However, working in partnership with long-term suppliers makes it successful. I want to thank Gray & Adams, Thermo King Northern, and TIP for all their support."
"Advancer Spectrum trailer units give our customers precise multi-zone temperature control of their trailers along with reduced fuel and operating costs," said Jon Jerrard-Dinn, area sales manager UK at Thermo King. "MTL can be certain that their customers' sensitive cargo, such as pharmaceuticals, will be kept in a tight, meticulously controlled environment. Advancer Spectrum will also allow them to tailor the conditions for different types of cargo in different parts of the trailer, from freezing cold at the back and only slightly chilly in the front to frozen solid all the way across.
Thermo King Advancer Spectrum units introduce a new level of performance to the multi-temperature trailer market, offering industry leading refrigeration, temperature recovery, and temperature pulldown performance. Advancer Spectrum units are up to 30% more fuel efficient than the previous generation, reducing time off the road for planned maintenance by 30% and unplanned maintenance by up to 60%.
Advancer Spectrum is the first multi-temperature trailer unit on the market, offering complete transparency of fuel levels and consumption. Customers can access fuel consumption and other data both on the unit and remotely via telematics, enabling them to optimize their fleet more innovatively. Fleet intelligence is standard, as Advancer Spectrum comes with two years of full, two-way telematics connectivity service.
The new Advancer Spectrum features a 48V DC mild-hybrid technology now available for temperature configurations of two distinct zones during the same journey, with precise temperature management and set point control.
The new remote evaporators bring additional capacity to the remote zone, maximizing the flexibility and efficiency of customers' operations. Combined with the Advancer multi-temp controller, customers can precisely manage the temperature while gaining real-time insight into how the unit is running, how the temperature zones are performing, and how much fuel the unit is using.
The Advancer Spectrum's unrivaled system efficiency significantly lowers customers' CO2 footprint, with engine emissions substantially lower than the maximum allowed by the latest NRMM Stage V emission standards. Advancer Spectrum units are fully compatible with Thermo King alternative power sources like the AxlePower smart power recovery system and HybridDrive, seamlessly switching between diesel and electric.
All Thermo King Advancer units are manufactured in Thermo King's state-of-the-art, carbon neutral (ISO 14064-1) production line in Galway, Ireland.