Ras Al Khaimah Economic Zone (RAKEZ) organized a workshop in collaboration with its strategic government partners, including the Ministry of Defense, the Ministry of Foreign Affairs (Executive Office for Control and Non-Proliferation), and the Federal Authority for Nuclear Regulation. The workshop was aimed at RAKEZ clients operating in the defense industry and focused on providing them with essential knowledge and updates crucial for their business in this strategic sector.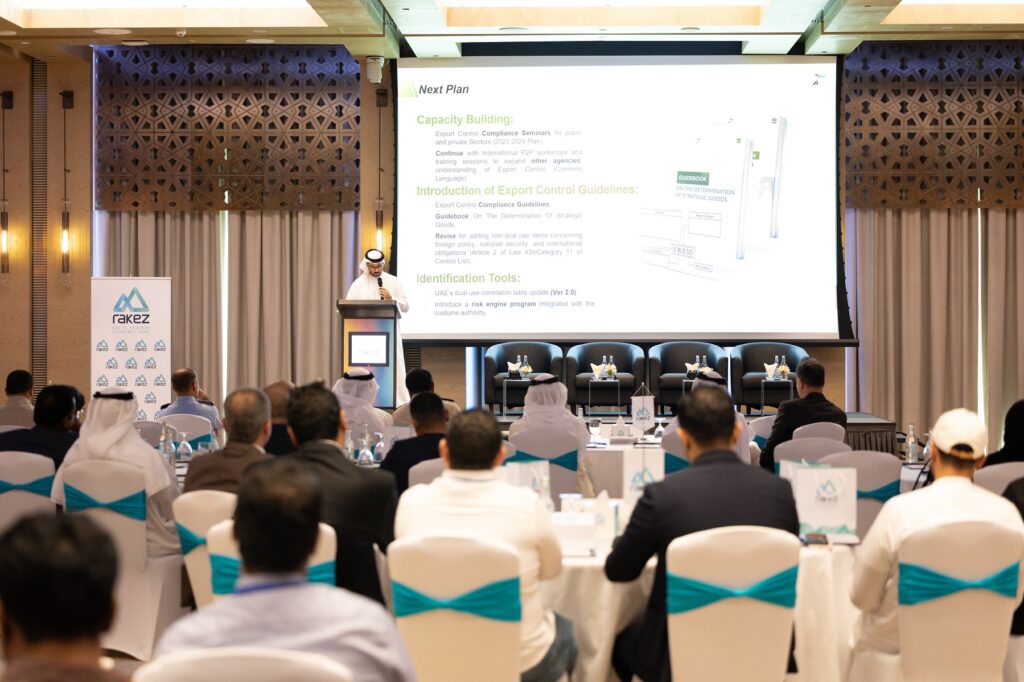 The defense sector holds a unique and significant place within the UAE's economic landscape, experiencing remarkable growth and success over the years. It has become synonymous with innovation, resilience, and an unwavering commitment to the nation's security. Recognizing the critical role played by its clients in this sector, RAKEZ is dedicated to fostering their sustained growth.
The workshop served as a platform for clients and stakeholders to gain comprehensive insights into various aspects of the defense sector. These ranged from licensing and regulatory requirements to details of export processes, as well as importing and supplying military-grade products and equipment. By facilitating knowledge sharing, expertise exchange, and sharing experiences and guidance in partnership with other government entities like the Weapons and Hazardous Substances Office and the Ras Al Khaimah Customs Department, RAKEZ aims to create an environment conducive to the sector's ongoing development.
Ramy Jallad, RAKEZ Group CEO, expressed the organization's unwavering commitment to supporting businesses across all sectors. He emphasized the significance of this workshop in enhancing the support provided to clients operating in the defense sector and actively contributing to the nation's economic growth.
"At RAKEZ, we are dedicated to fostering an ecosystem where innovation, growth, and prosperity flourish. Our collaboration with esteemed ministerial, federal, and local government entities is pivotal in achieving this objective. We believe that by empowering our clients with the right knowledge and resources, we can contribute to their success and the growth of the nation," he said.
In a rapidly changing world, the synergy of knowledge and collaboration becomes the cornerstone of growth. RAKEZ's initiatives, such as this workshop, showcase its dedication to equipping businesses with tools for tomorrow, ensuring the UAE remains at the forefront of defense innovation.
The workshop was attended by His Excellency Talal Al Teneiji, Director of the Executive Office for Control and Non-Proliferation; Brigadier General Yacoub Yousef Al Hammadi, Director of the Directorate of Industrial Security and Licensing; and a number of officials from other entities.