Concrete supplier has invested in ten new Renault Trucks K 380 units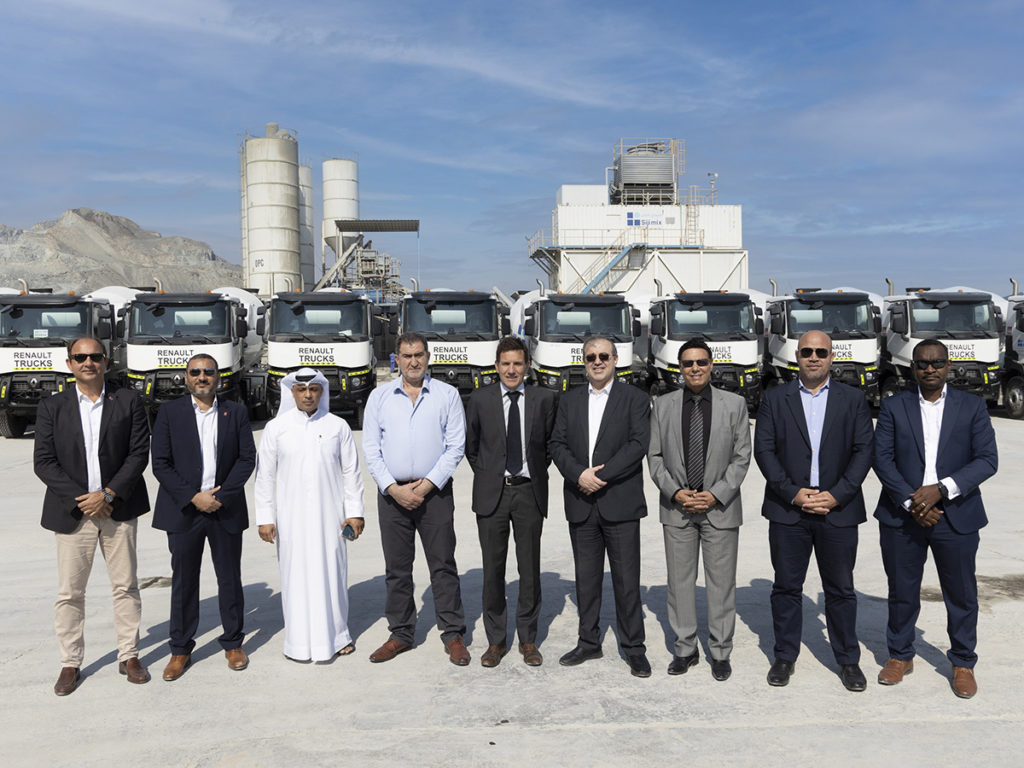 Renault Trucks has announced the brand's first deal Renault Trucks has announced the brand's first deal with Sijimix, a leading ready-mix concrete supplier in the Eastern UAE, to supply a total of ten new K 380 trucks, which will be used to transport concrete across the eastern UAE.
Sijimix's ten new Renault Trucks, supplied by the brand's partner in Dubai, United Diesel, will expand the company's existing fleet of over 140 units. The K 380 P6x4 Rigid Chassis models, which meet Euro 5 emission standards and are equipped with a wide range of technological features as well as 9 CBM transit Concrete Mixers, are set to optimise Sijimix's local operations thanks to the K range's functionality and fuel efficiency.
The K 380 P6x4 Rigid Chassis models have a reputation for robustness, exceptional reliability and optimal fuel efficiency. They are equipped and designed to ensure maximum productivity and safety for their drivers, as the new models meet concrete suppliers' operational needs.
The K 380 models, in addition to their robust build, also reduce operational costs by minimising fuel consumption by combining a Euro 5 380hp engine, the Optidriver AT 2612F gearbox with automatic clutch, and a 445-litre tank.
Sijimix's new K 380 P6x4 trucks, which will mainly be operating from Fujairah, are also driver-centric as they feature numerous advanced technological and safety features.
"Our deal came through numerous studies we've conducted, where Sijimix concluded that Renault Trucks are the best choice in terms of financial cost of operation and quality and reliability of the product, which are ideally suited for our operations across Fujairah," remarked Mahmoud Attourah, CEO, Sijimix.
"The quality of our trucks along with their features, technological advancements and efficiency, in addition to United Diesel's services and strong network, are key factors that contribute to the high demand for Renault Trucks in the UAE," commented Guillaume Zimmermann, Commercial Director, Renault Trucks Middle East. "Renault Trucks offers an excellent range of trucks that is perfectly suited to the varied requirements of our customers across the United Arab Emirates," stated Mike Mokhles Makary, General Manager, United Diesel.
Want to stay updated on the latest industry news and trends? Subscribe today to receive your monthly news highlights directly in your inbox!