Saudi Arabia ranked 17th globally out of 64 countries that are the most competitive in the world, becoming one of the top 20 countries for the first time in the World Competitiveness Yearbook 2023, published by the World Competitiveness Center of the International Institute for Management Development (IMD).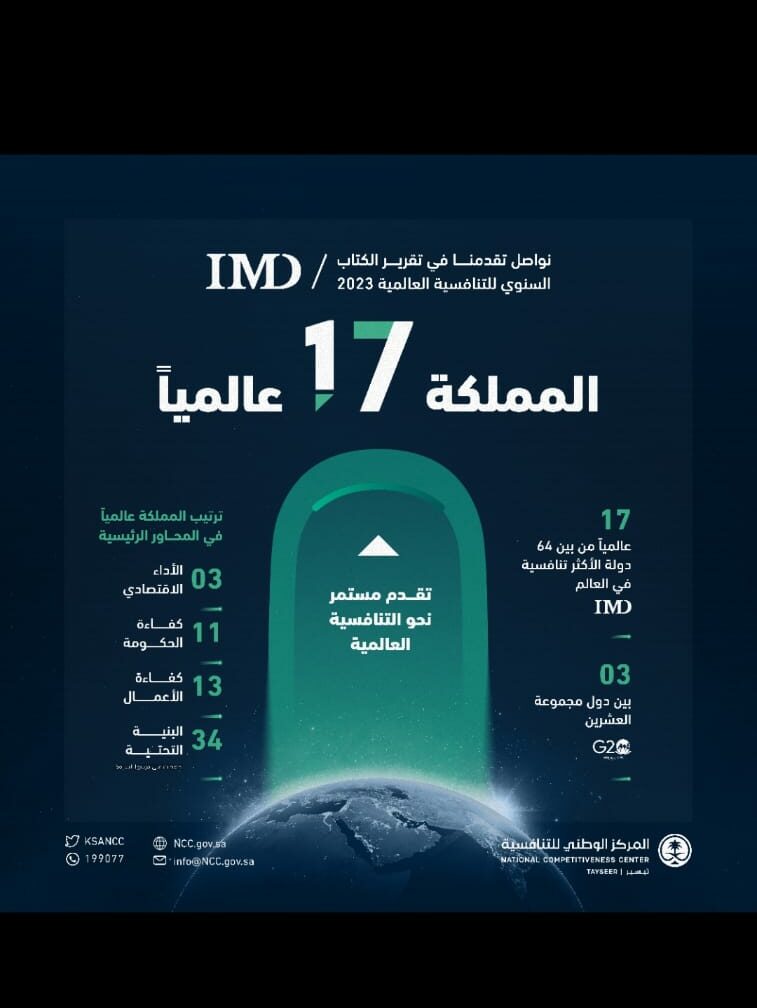 Among its G20 peers, the Kingdom is ranked as the 3rd most competitive economy, ahead of countries such as South Korea, Germany, France, Japan, Italy, India, the United Kingdom, China, Mexico, Brazil, and Turkey. The report is one of the major competitiveness reports that the National Competitiveness Center follows up on and analyzes in collaboration with the relevant government entities.
Reacting to the Kingdom's positive performance, H.E. Minister of Commerce and Chairman of the Board of Directors of the National Competitiveness Center (NCC), Dr. Majid Al-Kassabi, confirmed that the Kingdom's positive results in the World Competitiveness Yearbook 2023, as well as other prestigious international reports, are a reflection of the economic transformation process implemented by the Kingdom's government in accordance with HRH Crown Prince, Prime Minister, and Prince Mohammed Bin Salman's directives.
The Kingdom made progress in three out of four main Competitiveness Factors assessed by the report: from 31st to 6th position in economic performance; from 19th to 11th in government efficiency; from 16th to 13th in business efficiency; while maintaining its previous infrastructure ranking (34th).
The economic reforms implemented in the Kingdom contributed to reaching the first three ranks in 23 indicators, including 1st rank in the world in indicators, such as: public finances; understanding the need for economic and social reforms, financing technical development, public-private partnerships support for technical development, and ranked 2nd in the world in indicators: real GDP growth rate, employment-long-term growth, government's ability to adapt to economic changes, social cohesion, unemployment legislation, cybersecurity, and legal environment support for the development and application of technology, while it achieved the 3rd rank in indicators like the resilience of the economy, inflation rates for consumer prices, digital transformation in companies, the market capitalization of the stock market, and venture capital availability.
In this regard, the International Institute for Management Development (IMD) lauded the Kingdom's capacity to adjust its policies in response to economic changes.
The World Competitiveness Yearbook is a yearly report published by the International Institute for Management Development (IMD), based in Switzerland. It assesses the competitiveness of national economies on four main Competitiveness Factors, 20 sub-factors, and 330 sub-indicators.