Sheikh Ahmed bin Saud Al Qasimi, Chairman of Ras Al Khaimah's Public Services Department, inaugurated the state-of-the-art stainless-steel and non-ferrous scrap recycling facility, Ni Met Recycling.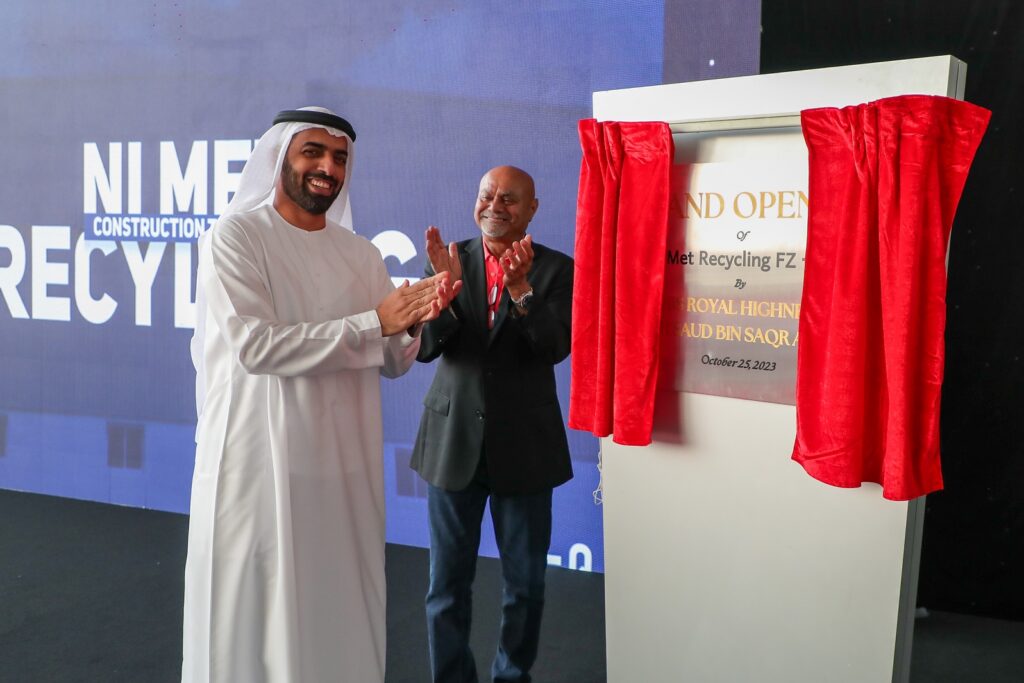 Present at the ceremony were Anil Shah, Chairman and Managing Director of Ni Met Recycling, Sheikh Mohammed bin Humaid Al Qasimi, RAKEZ Managing Director, and other senior officials from various entities to witness the opening of the cutting-edge establishment. The facility boasts an investment of around AED 40 million and spans a vast area of 29,900 m2 within RAKEZ's Al Ghail Industrial Zone.
Ni Met Recycling adopts a comprehensive approach to recycling, covering not only stainless steel but also ancillary metal scraps. With a primary focus on recycling stainless scrap, low and high nickel alloys, chrome, molybdenum, and various other recyclable metals, the company plays a pivotal role in sustainable resource utilization. Their commitment to environmental responsibility extends to the global market, as the final recycled products find their way to numerous end-users, particularly in regions like India, Europe, and various Southeast Asian countries.
This commitment to sustainability goes hand in hand with Ni Met Recycling's dedication to contributing significantly to Ras Al Khaimah's and the UAE's broader sustainability and environmental goals. The company's vision aligns with the UAE Net Zero 2050 strategic initiative, emphasizing the transition to a circular economy. In doing so, Ni Met Recycling not only benefits the global market but also plays a crucial role in contributing to the UAE's ambitions for a more sustainable and environmentally conscious future.
Mr. Shah stated: "Ras Al Khaimah is witnessing rapid development; in such a short period of time, the Emirate, with the support of RAKEZ, has achieved remarkable progress and prosperity in this region. Ni Met Recycling is proud to be a part of this journey, contributing to the circular economy and aspiring to become one of the largest manufacturers in the region, producing quality products for export worldwide."
"The decision to establish our recycling facility in Ras Al Khaimah was influenced by various factors, including the availability of large industrial plots and the streamlined support provided by RAKEZ. The efficient processes and timely issue resolution by the economic zone played a pivotal role in the swift establishment of Ni Met Recycling's operations," he added.
Ramy Jallad, RAKEZ Group CEO, said: "At RAKEZ, we are committed to fostering growth, innovation and sustainability. Ni Met Recycling's inauguration in Ras Al Khaimah, coinciding with the UAE's Year of Sustainability and its preparations for hosting COP 28, is a clear testament to our shared vision and commitment to a sustainable and prosperous future. The company's decision to establish its facility here in Ras Al Khaimah underscores the strategic advantages our emirate offers. We are genuinely excited about their long-term prospects and the potential they hold to significantly contribute to the continued growth of our region and its sustainability goals."
With a vision to bolster the UAE's green recovery, Ni Met Recycling is planning to expand its recycling capacity and explore the possibility of setting up a melt shop, which would lead to the production of stainless steel in Ras Al Khaimah—an opportunity that has the potential to revolutionize the region's industrial landscape and contribute to enhancing its sustainability.