Stroetmann trials several different vehicle powertrain technologies in combination with Frigoblock units, continuing decades-long collaboration with Frigoblock and Thermo King.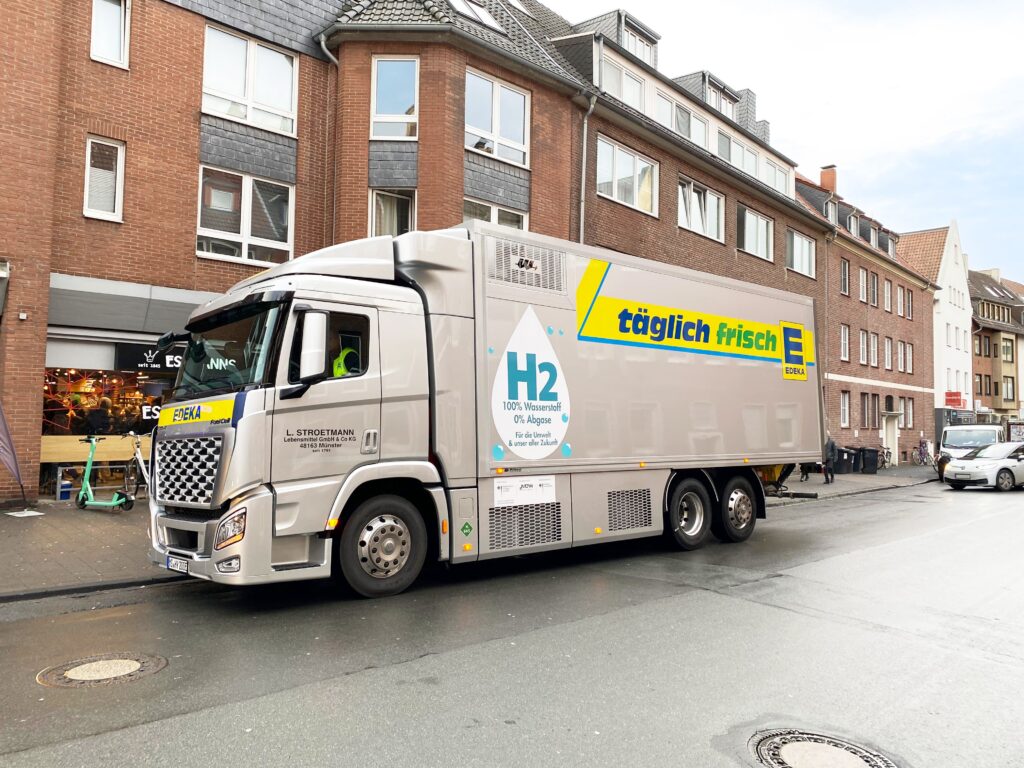 L. Stroetmann Lebensmittel, a German food retailer, wholesale distributor and partner of EDEKA Group, a major German supermarket group, is testing delivery vehicles with different powertrain technologies and electric Frigoblock refrigeration systems as part of the effort to decarbonize its supply chain and select solutions for their future fleet.
Frigoblock, one of the leading manufacturers of transport refrigeration units in Europe and a brand of Thermo King®, is a decades-long partner of Stroetmann and has worked closely with the retailer to provide the right electric transport refrigeration for their new vehicles. The trucks being evaluated by Stroetmann are hydrogen-powered Hyundai XCIENT Fuel Cell and electric Mercedes-Benz eActros, both featuring Frigoblock FK25i units, and a trailer equipped with a Frigoblock HKe unit and Thermo King AxlePower energy recovery system.
"The Stroetmann Group has taken a strong focus and a very comprehensive approach to sustainability," said Franz Gerhard Jungkamp, division manager
L. Stroetmann Lebensmittel "When designing our new fresh food logistics center, currently under construction, we planned for the use of different vehicle powertrain technologies and adopted different charging and tank infrastructure. By testing these new vehicles, we want to establish which technology works best for our operations and for what types or routes."
"To find the right solutions that would seamlessly work with these trucks and trailers, ensuring reliable, efficient and purely electric refrigeration, we worked with our long-standing partners at Thermo King and Frigoblock," continued Jungkamp. "Their expertise in electrification, bespoke approach and commitment helped us put these vehicles on the road and hopefully find what we hope to be flexible and future-proof solutions for our fleet."
"We're proud to be a trustworthy partner for Stroetmann and all our customers that want to lead the way in decarbonizing transport and the cold chain," said Andreas Schmid, Frigoblock Sales Leader. "Technology already enables transport companies to move goods in vans, trucks and trailers with no direct emissions from refrigeration. We're excited that, together with Stroetmann, we can demonstrate the efficiency and reliability of these solutions in combination with different types of sustainable and environmentally friendly vehicle power technologies."
The Hyundai XCIENT Fuel Cell powered by hydrogen and equipped with a nose-mounted
The Frigoblock FK25i unit started operations in late 2022. Using integrated inverter technology, the Frigoblock unit minimizes the number of energy-consuming components and doesn't require any additional space. This allows for optimal use of the vehicle's battery capacity and contributes to maximizing the truck's range. It can be used for single-temp and multi-temp applications.
The hydrogen-powered rigid truck will also operate as a road train with a drawbar trailer, which will be equipped with a Frigoblock EK25 L undermount unit connected to the new Thermo King e-Coolpac battery pack for all-electric refrigeration.
Stroetmann's electric Mercedes-Benz eActros with the Frigoblock FK25i unit has been operating food deliveries since April 2022 in the market. To meet the electrical requirements of the new eActros, the Frigoblock-designed CAN-Bus-Gateway system allows direct communication between the truck and the cooling system. The intelligent control efficiently manages the energy demand of the unit, using only the minimal energy needed to maintain the set-point temperature.
The last one to enter operations for Stroetmann is the refrigerated trailer with the light and powerful Frigoblock HKe unit, capable of single and multi-temp operations and combined with the Thermo King AxlePower system. Developed in partnership with BPW Bergische Achsen KG, the AxlePower is a fully integrated, tractor-independent system that combines BPW's ePower axle with a Thermo King or Frigoblock refrigeration unit and power management technology. The AxlePower's smart energy-generating system delivers the electric power needed to run the trailer refrigeration unit by converting energy recovered by the trailer's axle during the vehicle's routine operation.
The system stores the energy generated while the vehicle is rolling or braking in a high-voltage battery and reuses it to power the refrigeration unit, enabling fully electric, low- or zero-emission and autonomous trailer refrigeration. The battery pack, which is charged while the trailer is moving, also powers the unit autonomously while the trailer is stopped.
Featuring smart power management that controls the engagement and disengagement of the generators, AxlePower minimizes the resistance on the tractor and its impact on its fuel consumption. The driver and fleet manager have insight into real-time battery charge visibility to avoid 'charge anxiety'.
This collaboration aligns with Thermo King's and Trane Technologies' bold Gigaton Challenge commitment to reduce one billion metric tons of greenhouse gas emissions (CO2e) from our customer's carbon footprints by 2030.