The Future Menus Trend Report 2023 draws on insights from more than 1,600 global chefs, including Unilever's Executive Chef – Gulf & Indian Ocean Islands, Chef Joanne Limoanco Gendrano.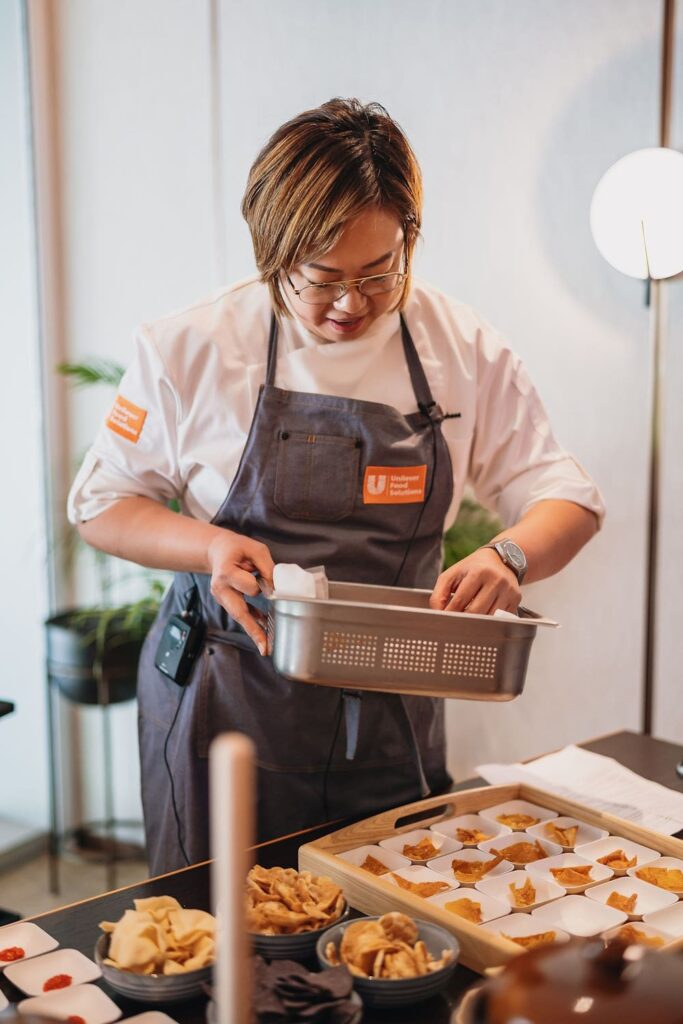 Unilever Food Solutions, a leading global professional food service company, has released its inaugural Future Menus Trend Report 2023. The report offers a comprehensive overview of the latest culinary trends, providing valuable insights and input from over 1,600 chefs across 25 countries.
Over 60 prominent chefs and food industry experts gathered at the W Dubai-Mina Seyahi in the Middle East for the local launch of a new report. The event featured a culinary showcase where attendees had the chance to sample innovative menus and gain insights into future trends in the food industry.
A recent report has identified the top eight food trends. These include modernised comfort food, irresistible vegetables, wild and pure ingredients, flavour contrasts, feel-good food, the new sharing trend, mindful proteins, and low-waste menus.
Hanneke Faber, President of Nutrition at Unilever, emphasised the importance of identifying global trends for chefs facing various challenges such as labour shortages and sustainability concerns like food waste.
Unilever Food Solutions has released the Future Menus Trend Report 2023, providing chefs with future trends, solutions-based insights, and adaptable recipes. The report aims to inspire chefs and equip them for the future.
Unilever Food Solutions has released a report that focuses on eight core themes. These themes were developed using global data, input from over 1600 chefs, analysis of global social media, and insights from experienced chefs. The report aims to provide practical and real-world applications in the culinary industry.
Unilever's Executive Chef for the Gulf and Indian Ocean Islands, Chef Joanne Limoanco Gendrano, discussed the rise of Low-Waste menus during an event. These menus focus on utilising ingredients efficiently to minimise food waste and expenses, all while ensuring that the dishes remain flavorful.
In a recent statement, she emphasised the importance of learning from diverse cuisines around the world. She highlighted the practise of using the entire animal or vegetable in a dish as a way to promote resourcefulness with available food. In an effort to minimise waste, chefs are now focusing on utilising every part of an ingredient, rather than just the high-quality portions. The positive impact on profit is a win-win situation.
Ancient culinary methods such as fermenting, pickling, and curing are not only effective in preserving ingredients, but also contribute to the development of rich and intricate flavours. Efficiently planning the workflow in both the back and front of house has been found to significantly reduce food waste.
The report includes eight trends that offer practical solutions for chefs and food operators, including suggested recipes, ingredients, and techniques. Chef Joanne has created a new Middle Eastern dish called Mezze Maze. This flavorful dish features a combination of ingredients including a chickpea waffle, avocado hummus, beet pickle juice jelly, and moutabal.
A new food concept has emerged, combining the beloved savoury waffle with popular cold mezze. Mezze is commonly accompanied by a generous portion of saj. A recipe has been modified to offer a gluten-free alternative, where the traditional ingredient is replaced. The waffle is filled with avocado hummus and moutabal, which are piped into the crevices. Chef Joanne describes each bite of the dish as a delightful combination of flavours and textures from the Middle East.
Unilever Food Solutions' Country Head Arabia, Fouad Sherine, has announced the release of the Future Menus Trend Report 2023. This report aims to support chefs in the UAE and the wider Middle East region by providing them with recipes, techniques, and training to stay updated on industry trends and meet customer expectations.
Unilever's Nutrition Business is committed to becoming a leading force for positive transformation in the food industry. In a recent statement, the company highlighted its achievements in various areas, including financial performance, promoting healthier eating habits, reducing the environmental impact of the global food chain, and spearheading the sustainable food service revolution.