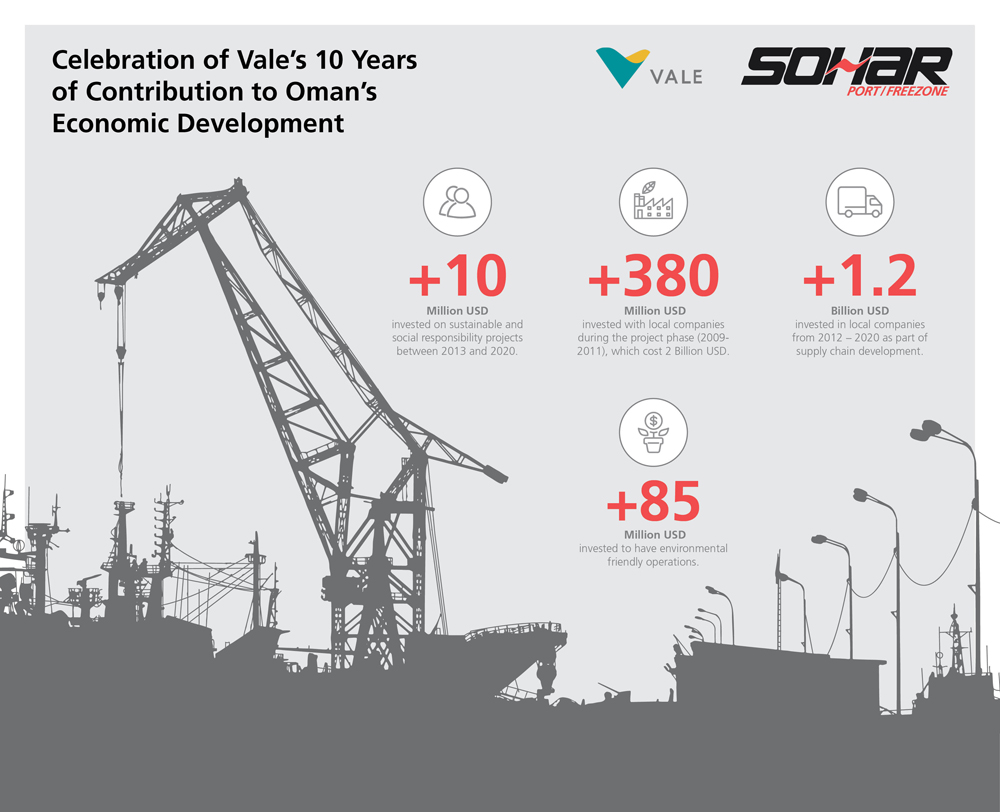 Vale, one of the world's largest mining companies, situated at SOHAR Port and Freezone, is celebrating this month, its tenth year in operation in Oman.
Vale launched the initial stages of its industrial complex at SOHAR in April 2011, marking a high point in an era of big-ticket industrial investments. The project highlighted the Sultanate's strategic geopolitical location in the Middle East and the distinctive advantages of SOHAR as a logistics hub and maritime gateway.
Valemax capacity
SOHAR, a unique deep-water port in Oman, is one of the very few ports in the Middle East capable of receiving even Vale's Largest 'Valemax' Vessels, which have a 400,000-ton transportation capacity.
In addition to making a sizable contribution to the country's Gross Domestic Product, the venture has also delivered significant benefits in jobs, value addition opportunities, in-country value initiatives, and community development projects.
"Vale's operations in Oman are a result of a dynamic partnership with OQ and SOHAR. The Omani government is a strategic partner that has contributed to its success by facilitating a smooth transition into the country and allowing Vale to develop its business operations seamlessly," remarked Adriano Mansk, CEO, Vale Oman.
Big investment
Over the course of 10 years, Vale has invested over US$ 380 million with local companies during the project phase (2009-2011), which cost US$ 2bn and more than US$ 1.2bn investments with local companies from 2012 – 2020 as part of supply chain development.
In addition, it has invested over US$ 10mn in sustainable and social responsibility projects between 2013 and 2020, as well as more than US$ 85mn in ensuring environmentally friendly operations.
"Vale is a transformational company, one that transforms the environment where it operates. Vale is dedicated to sustainable development regardless of where it operates, identifying the countless opportunities for growth that are available while also recognizing the planet's physical limits," said Saleh Al Musalhi, Deputy CEO, Vale Oman.
"We congratulate Vale Oman on the occasion of their tenth anniversary. Together, we continue to position SOHAR as a key logistics hub, both in the region and in the world," commented Mark Geilenkirchen, CEO, SOHAR Port.
Want to stay updated on the latest industry news and trends? Subscribe today to receive your monthly news highlights directly in your inbox!