Abu Dhabi's non-oil economy experiences a significant growth, reaching a 9-year high in Q1 2023.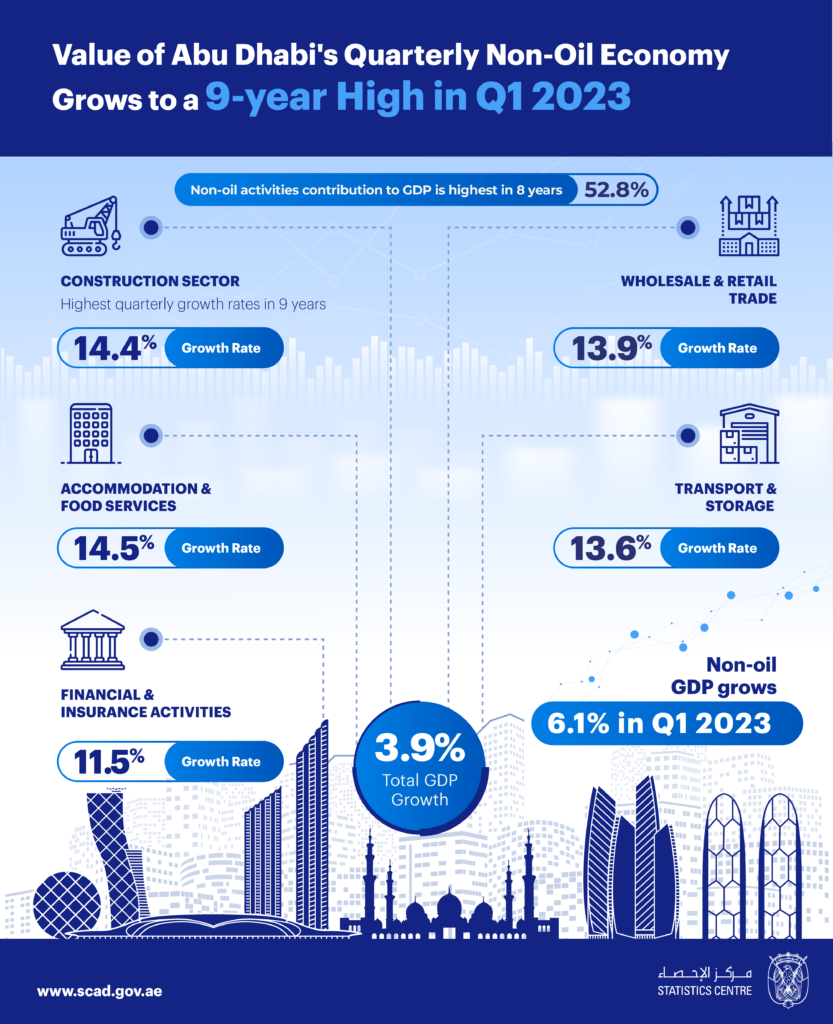 The Statistics Centre – Abu Dhabi (SCAD) has released its latest statistical estimates, revealing a 3.9% increase in Abu Dhabi's Gross Domestic Product (GDP) during the first quarter of 2023, as compared to the same period in 2022. The growth was primarily attributed to the strong performance of non-oil economic activities in the emirate.
Non-oil GDP experienced an impressive 6.1% growth in Q1 2023, according to statistical estimates. This growth was driven by outstanding performances in construction, wholesale and retail trade, transportation and storage, and financial and insurance services. Emirate's economic diversification efforts lead to successful integration of various sectors and the growth reflects the outcome.
Non-oil GDP at constant prices has exceeded the highest quarterly value of the past nine years, reaching AED 146 billion in Q1 2023 compared to AED 137.7 billion in Q1 2022. The total GDP has reached AED 276.6 billion, according to estimates. Non-oil activities have contributed to the total GDP at its highest level in eight years, reaching 52.8% due to outstanding growth.
Abu Dhabi Department of Economic Development (ADDED) Chairman, His Excellency Ahmed Jasim Al Zaabi, has announced the commitment of Abu Dhabi to bolstering its economic landscape. The goal is to establish a robust, secure, intelligent, and sustainable knowledge-based economy. Non-oil sectors continue to exhibit robust growth, with their contribution to the total GDP reaching 52.8%, despite the prevailing challenges in the global landscape.
Abu Dhabi's economy will continue to focus on fostering resilience and diversity, according to H.E. Al Zaabi. The development of human capital, attraction of top talent, investments, and economic partners will remain a priority for decades to come. Abu Dhabi expands its economy to global markets, enhancing its attractiveness to foreign investors, businesses, start-ups, and entrepreneurs worldwide, based on recent statistical data.
Abu Dhabi's economy continues to grow at remarkable rates, according to H.E. Abdulla Gharib Alqemzi, Acting Director General of the Statistics Centre – Abu Dhabi. The quarterly estimates of the Gross Domestic Product statistics confirm this trend. Emirate's global prominence enhanced by ambitious vision, attracting investments and capital.
In a recent statement, His Excellency highlighted the impressive growth rates of non-oil activities during the first quarter of 2023. Sector's contribution to Emirate's GDP reaches unprecedented levels due to significant rate increase. Emirate's success in creating an investment climate that fosters economic awareness among the current and future investor community has been showcased through this accomplishment.
Construction Sector Achieves Unprecedented Growth Rates
Statistics Centre – Abu Dhabi has reported exceptional performance in construction activities, with the highest quarterly growth rates in nine years achieved during the first quarter of 2023 and the fourth quarter of 2022 in a row. Company X reports growth rates of 14.4% and 14.5% for the current period, compared to the same periods in the previous year.
Local and foreign investments have contributed to the impressive growth of the sector, which has achieved high completion rates. The number of newly completed buildings has increased by 37%. Abu Dhabi's construction sector has contributed 8.5% to the Emirate's gross domestic product during Q1 2023.
Accommodation and Food Services Sector Expands
Accommodation and food services have experienced a significant growth of 14.5% in Q1 2023, as per statistical estimates, in comparison to the same period in the previous year. Department of Culture and Tourism reports hotel occupancy rates exceeding 40% during the mentioned timeframe. Emirate's successful implementation of visions and strategic plans aims to attract over 24 million visitors in 2023, as highlighted by recent figures.
Financial and Insurance Activities Lead to Rapid Development
Financial and insurance sector experiences impressive 11.5% growth in Q1 2023. Strong performance in the banking sector has led to significant growth, with several banks reporting net profits exceeding 50% this quarter. Abu Dhabi's financial and insurance sector has contributed 6.3% to the GDP in Q1 2023, according to statistical data. This underscores the strong confidence in the local economy.
Transport and Storage Activities Contributed to Growth
Transport and storage activities have sustained impressive growth rates for more than two years, with a growth rate of 13.6% in Q1 2023 compared to the same period in the previous year. Sector value has substantially increased over the past two years, with quarterly added value approaching five billion dirhams, indicating significant growth. Transportation of passengers and goods through land, air, and sea, along with storage activities, has contributed to the growth.
Wholesale and Retail Trade Sector Develops
Abu Dhabi's wholesale and retail trade sector has experienced significant growth, expanding by 13.9% during Q1 2023 compared to the same period in 2022, according to the latest statistical results released by the Statistics Centre – Abu Dhabi. Sector's Added Value Reaches Highest Quarterly Level in 9 Years, Contributing 6% to GDP in the Emirate
Abu Dhabi's economy has achieved the highest growth rates in the Middle East and North Africa region in 2022. Abu Dhabi's GDP has grown impressively by 9.3%, demonstrating consistent growth and reaffirming its leading position. The Emirate's competitiveness and favorable investment climate continue to attract businesses and investors.