During the ongoing 2023 World Investment Forum at ADNEC, the Association of Chartered Certified Accountants (ACCA) hosted a panel early this week.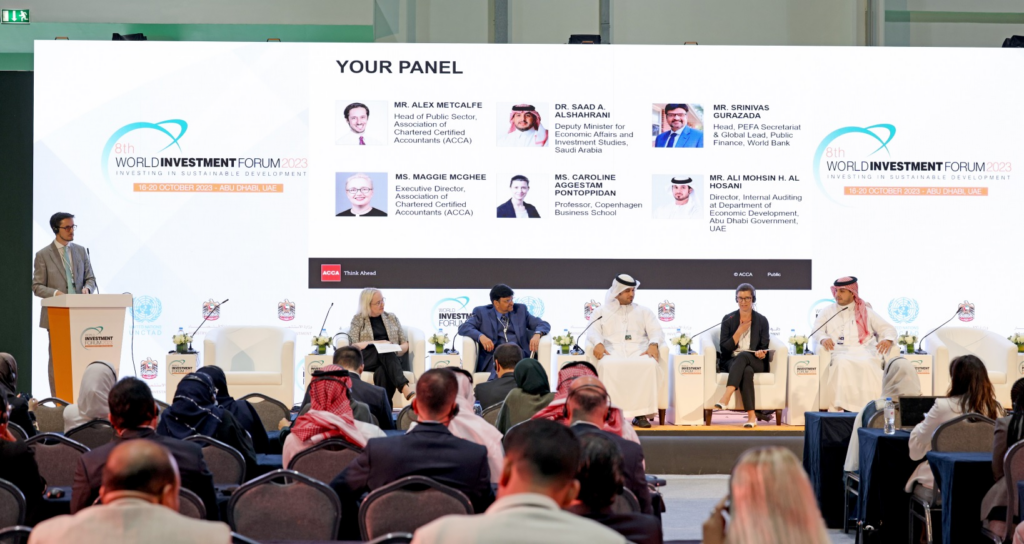 The event featured global experts who shared valuable insights and best practices related to leveraging public sector investment, with a particular focus on catalyzing private investment for climate change mitigation and adaptation.
Chaired by Alex Metcalfe, Head of Public Sector, ACCA, the panelists include Ali Mohsin H. Al Hosani, Director, Internal Auditing at the Department of Economic Development, Abu Dhabi Government; Saad A. Alhahrani, Deputy Minister for Economic Affairs, Ministry of Investment, Saudi Arabia; Srinivas Gurazada, Head of PEFA Secretariat, World Bank; Caroline Aggestam Pontoppidan, Professor, Copenhagen Business School; Maggie McGhee, Executive Director, ACCA; and Wael Abou Zaki, Partner, PwC Middle East.
The symposium concluded that changes in infrastructure governance demand significant improvement. "That includes the ways in which we assess the economic, social and governance arrangements around infrastructure projects. It also includes thinking about project selection and then the maintenance and oversight of projects as well," said Metcalfe.
Limited resources were identified as one of the challenges faced by governments in prioritizing sustainability projects for investment, though there are a huge number of opportunities to support sustainability.
"The idea of value is evolving within the current context of public sector finance. It is broadening beyond economic thinking to encompass the full range of value that needs to be provided to society. Making the right choices that provide a legacy with respect to sustainable investment is absolutely critical. And to do that, you need to have strong information. We need to be able to analyze that information and be able to make predictions in terms of the future," said McGhee.
The panel explored ways in which governments can attract private finance for sustainable development. McGhee suggested, "The right governance arrangements need to be in place, including the proper allocation of risk between parties to maximize what should be a win-win relationship for the public and private sectors."
She continued, "We also need to consider looking at the role of the Supreme Audit Institute—the strength in their control system. It is also about ensuring that their broader governance is fit for purpose. Public financial management is critical for jurisdictions that haven't yet adopted this across accounting, as is having a strong capital investment evaluation to underpin decision-making. There's a strong role for assurance providers, looking at supreme audit institutes to make sure that they're adequately supported."
As the discussion revolved around urging governments to engage in effective, long-term investments, the panel emphasized that the true rewards from these investments often materialize beyond the conventional 3- to 7-year political or budget cycles.
ACCA's participation in this global convention underscores its commitment to advancing sustainability reporting and public sector investment.
The 2023 World Investment Forum is an international platform that aims to address key investment challenges caused by today's multiple global crises ahead of global talks on climate change at COP28. Under the theme of Investing in Sustainable Development, the event focuses on promoting climate finance and investment. It is organized by the United Nations Conference on Trade and Development (UNCTAD), a permanent intergovernmental body established by the United Nations.