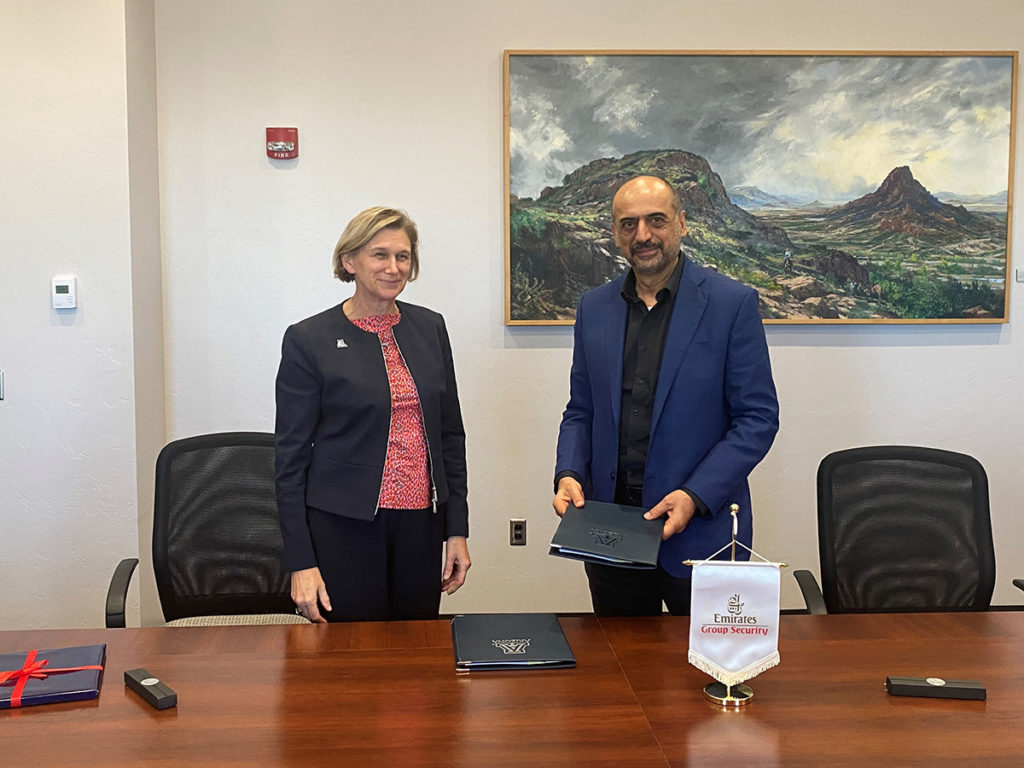 Emirates Group Security (EGS), one of the leading aviation security practitioners and learning and development providers in the region, has signed an agreement with the University of Arizona (UA) located in Tucson, Arizona, USA, to promote collaboration in tertiary education and research on general and security-specific subjects from certificate to postgraduate courses. This new dimension comes in the Customized Degree Paths Programme (CDP). The World Campus Experience Program is delivered online by UA with supplemental on-site services and courses provided by EGS.
Through the agreement, UA and EGS will jointly offer 60 programmes, to be delivered entirely online in English by appointed and qualified faculty members at the University of Arizona. Students will have access to the course materials and virtual lectures through the EGS Centre of Aviation Security Studies' (CASS) campus in Dubai (UAE). They will be able to use the facilities and services of the campus to experience a unique in-person college experience with the convenience of online education.
Mutual collaboration between the two organisations enables incoming students to earn up to two years of direct, undergraduate credits from the University of Arizona through a mix of in-person and online courses offered through EGS and on EGS's campus in collaboration with the University of Arizona. The programme includes multiple academic pathways which will enable students to take courses that will satisfy University of Arizona degree requirements or transfer to other US universities.
Dr Abdulla Al Hashimi, Divisional Senior Vice President of Emirates Group Security, said: "We are delighted to partner with one of the top 100 global universities, repeatedly recognised for its outstanding academic programs and exceptional value, the University of Arizona. This agreement marks another step forward towards our vision of strengthening the global aviation community by providing AVSEC industry professionals with comprehensive, cutting-edge education, research opportunities and training."
"In signing this agreement, the University of Arizona renews our commitment to the original IMOA of 2016 that focused on the master's program in International security, joint training, seminars, conferences, and curriculum development," said University of Arizona's Senior Vice President for Academic Affairs and Provost, Liesl Folks. "This new agreement creates a University of Arizona global location that will provide opportunities for EGS employees and citizens and residents of the UAE to pursue higher education," Folks continued, "and we are pleased to be a part of this initiative."
"We look forward to continuing the collaboration we began with EGS in 2016 as we develop these new customized degree programs that will benefit students in the UAE and positively impact industry standards," said JP Jones, dean of the college of social and behavioral sciences at the University of Arizona.
"Through this agreement with EGS we continue to build our worldwide network, and to prepare graduates to excel globally and provide strong leadership in the 21st century," said Arizona's Daniel Palm, associate vice president for global affairs.
Arizona's Hassan Hijazi, assistant vice president, MENA region, remarked that he is "equally pleased to see the continuation of a strong relationship with EGS," that he has helped to build and that he has been facilitating since its inception.
The agreement is aligned with the International Civil Aviation Organization ICAO's 'Year of Security Culture' initiative that encourages industry stakeholders to support and promote a security-conscious environment. This collaboration aims to create a robust international partnership that will benefit many aviation professionals. By working together and sharing best practices, the organisations will draw strengths to develop a widespread network of well-educated aviation professionals.
The agreement also aligns with the vision and strategy of the UAE leadership and its commitment to further improve its already top global safest city rankings by ensuring the highest safety and security benchmarks, especially in areas of education. Well-established in the aviation security industry for over three decades, EGS provides a comprehensive curriculum of aviation and security-related programmes affiliated with leading local and international certification bodies and educational institutions. The organisation delivers over 30 courses and two diploma programmes in its training institute and has become a beacon for specialised security studies and education in the region.
Want to stay updated on the latest industry news and trends? Subscribe today to receive your monthly news highlights directly in your inbox!