Shippers need to maintain a degree of flexibility over origin sailings, and by tightly controlling and prioritizing cargo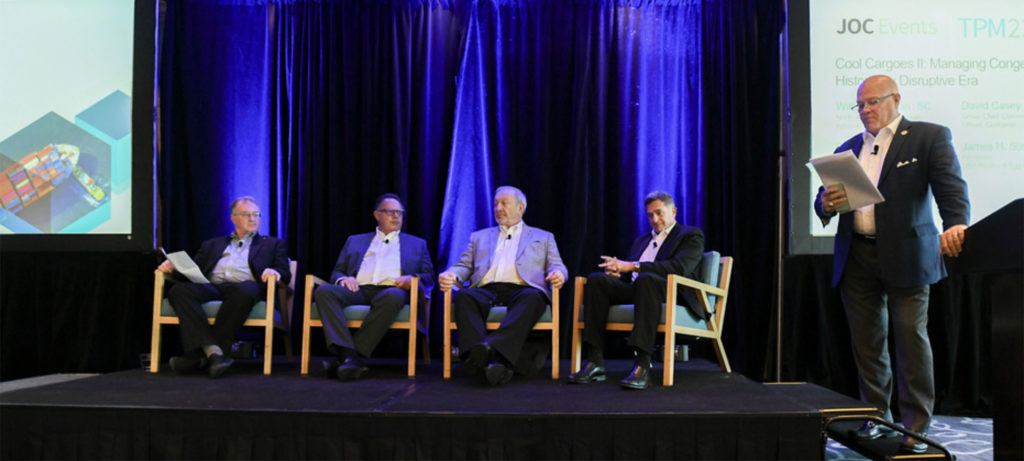 Relentless port congestion and rising freight costs are impacting heavily on global supply chains, with major disruption encountered in sectors such as fast-moving consumer goods, pharmaceutical and agricultural exports.
The focus on larger container vessels serving a dwindling number of mega ports has limited the choices of shippers and receivers and created a rush to ship through traditional major gateway ports, leading to backlogs and displaced containers.
"There needs to be an effort to de-centralize cargo movement or at least reconsider the speed with which industry appears to be centralizing the distribution of goods," Dave Casey, Group Chief Commercial Officer, Gulftainer, told industry leaders during a Cool Cargoes webcast discussing 'Managing Congestion in a Relentlessly Disruptive Era'.
Casey told a panel of industry leaders that whilst larger ports are buckling under the pressure of high levels of congestion, facilities that can handle smaller container ships and general-purpose ships, those such as Hueneme, San Diego, Wilmington, DE and Canaveral FL are generally congestion-free.
Exploring alternative hubs
Major US retailers and midsized companies have seized the opportunity to charter conventional vessels and explore an alternative to hub ports in their quest to regain control over distribution channels.
However, one such area proving problematic is refrigeration containers, which are costing shippers billions of dollars. The global shortage of reefer containers has impacted perishable imports, which due to the seasonal nature of these refrigerated commodities, further exacerbate congestion, Casey explained.
With many stakeholders involved in the sea cargo supply chain, it is difficult to ascertain where the responsibility for control sits. Traders, shipping lines, drivers, feeder vessels and government departments all have a part to play to help reduce an already struggling system, Casey continued. "Shippers need to maintain a degree of flexibility over origin sailings, and by tightly controlling and prioritizing cargo, efficiently handling customs clearance documentation and payment this will give importers the best opportunity to release and advance cargo through the networks," Casey concluded.
Want to stay updated on the latest industry news and trends? Subscribe today to receive your monthly news highlights directly in your inbox!