US$ 790mn strategic investment expands feeder and NVOCC services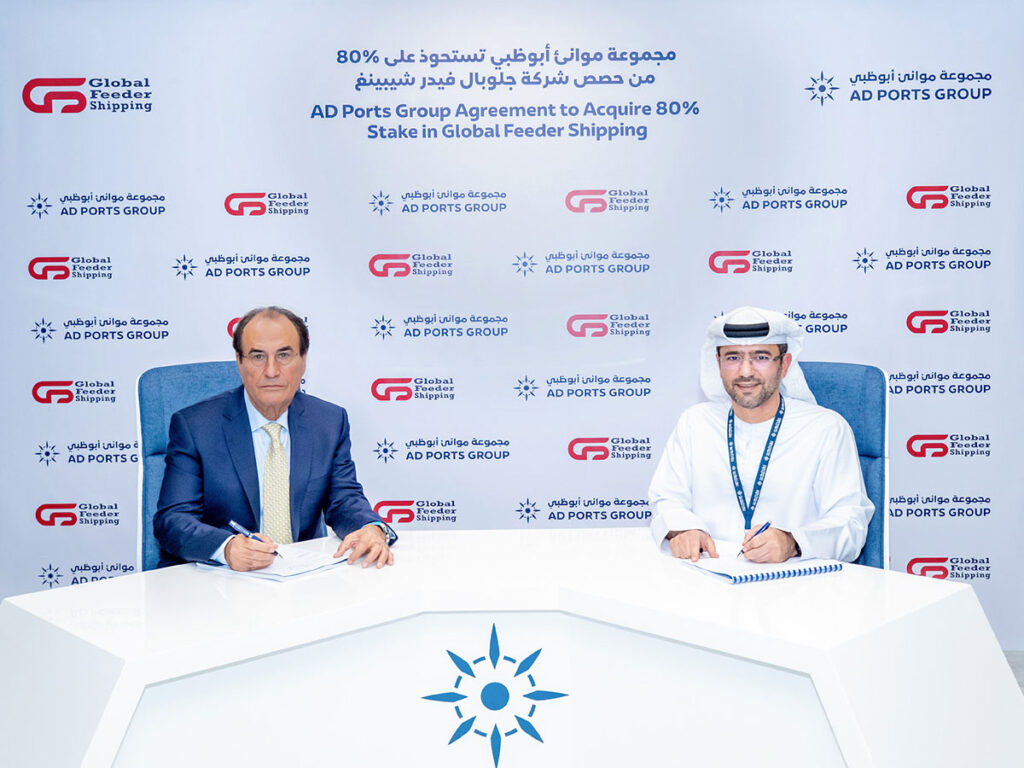 AD Ports Group recently announced that it has signed an agreement to acquire an 80% equity stake in Dubai-based Global Feeder Shipping (GFS), a global container shipping company.
The total purchase consideration for the 80% stake amounts to AED 2.9bn (US$ 790mn), implying a 100% Enterprise Value of AED 3.7bn (US$ 1.0bn), with the acquisition being fully funded through a new acquisition loan.
The company has built one of the largest fleets of container ships globally, featuring 26 owned and operated vessels with a total capacity of 72,500 TEUs, covering the Middle East, Indian Subcontinent and Southeast Asia with services connecting the UAE to India, Pakistan, Sri Lanka, Egypt, Sudan, Djibouti, Yemen, Kingdom of Saudi Arabia, Bahrain, China, South Korea, and Vietnam, among others.
Aligning GFS services with AD Ports Group companies SAFEEN Feeders and Transmar will make AD Ports Group the world's largest independent feeder company by vessels owned, with an owned fleet of 35 vessels, and the third largest globally by volumes carried with a total container capacity of 100,000 TEUs.
Acquisition
The acquisition will boost AD Ports Group's trade activities and connectivity to core markets, as well as enhancing its feedering business, providing significant economies of scale through an expanded route network and fleet.
"Our acquisition of a majority stake in GFS, which is the largest external investment in our company's history, will deliver a step-change in the range of services we can offer and significantly enhance our global connectivity," observed Falah Mohammed Al Ahbabi, Chairman of AD Ports Group.
"GFS offers more than 30 years of experience and excellence in the provision of container feeder services in the Middle East, Asia and Africa, in addition to a diverse and fit-for-purpose fleet," commented Captain Mohamed Juma Al Shamisi, Managing Director and Group CEO, AD Ports Group.
"This is a key moment for GFS, which sees our company become part of AD Ports Group to create the largest single provider of shipping services in the region," remarked Amir Maghami, Chairman, GFS.
Want to stay updated on the latest industry news and trends? Subscribe today to receive your monthly news highlights directly in your inbox!