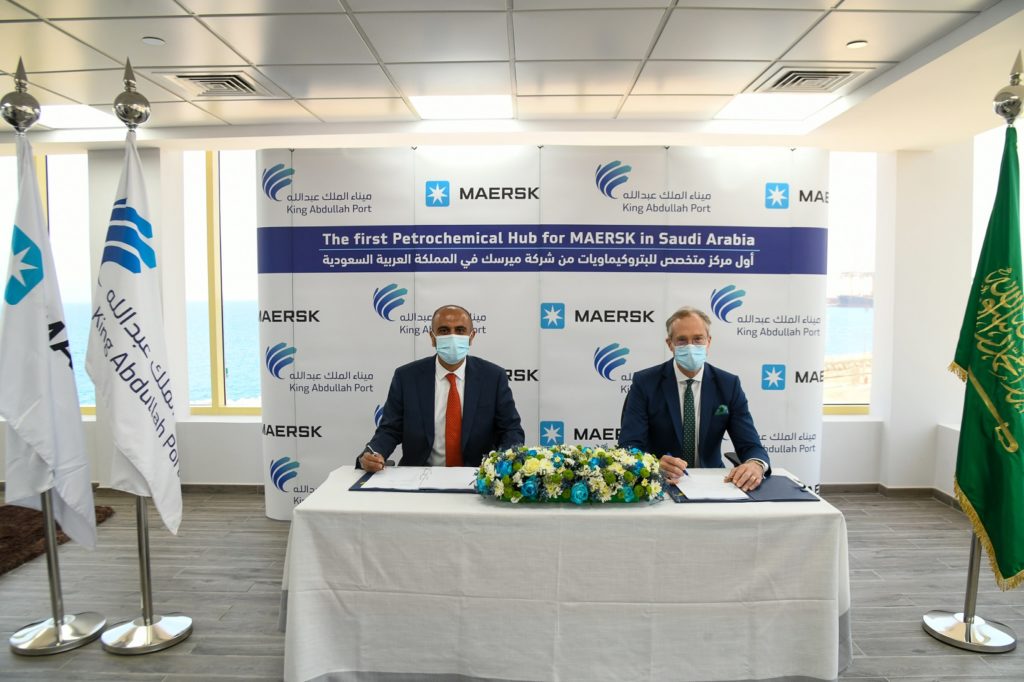 Maersk Saudi Arabia recently announced that it has entered into a strategic partnership with King Abdullah Port, the region's first privately owned, developed and operated port, to enhance the Kingdom's logistics capabilities by adding state-of-the-art services and technologies to the port's offerings.
As part of the partnership, both the entities signed a deal to set up Maersk Integrated Logistics Hub, a non-bonded warehouse, to provide comprehensive logistics services and benefit local petrochemical exporters.
The agreement was signed by Mohammad Shihab, Managing Director, Maersk Saudi Arabia, and Jay New, CEO, King Abdullah Port, in a ceremony held at King Abdullah Port. The signing ceremony was attended virtually by Richard Morgan, Regional Managing Director, Maersk West & Central Asia.
Logistics hub
The Maersk Integrated Logistics Hub at King Abdullah Port will cover an important logistical requirement of exporters who already have access to Maersk's solutions such as landside movement of cargo, customs clearance, and ocean logistics, thus ensuring a truly integrated logistics offering.
The hub will serve as the focal supply chain solution, primarily for Saudi Arabia's petrochemical exporters, through the large space allocated for handling and storing cargo. It will play an important role in facilitating the storage of export cargo and enable pallet handling, stuffing and shuttling.
Major initiative
The establishment of the hub is part of a major initiative aimed at increasing the performance efficiencies and competitiveness of Saudi Arabia's logistics sector. It is also in line with the objectives of Vision 2030, which include transforming the Kingdom into a top global logistics hub connecting Asia, Europe, and Africa, increasing the non-oil exports, and improving the Kingdom's global ranking on the Logistics Performance Index from 49 to 25.
Located within a two-kilometre radius from the terminal yard and directly adjacent to the customs inspection zone, this hub's strategic location will greatly benefit the exporters by saving time. Furthermore, most of the exporters based out of the manufacturing hub of Yanbu have had to truck their cargo almost 350 km to Jeddah for loading onto vessels.
With the Maersk Integrated Logistics Hub at King Abdullah Port, this distance has been drastically reduced to 200 km. Exporters currently require 14 to 18 days from receiving the booking to loading the material on the vessel.
Want to stay updated on the latest industry news and trends? Subscribe today to receive your monthly news highlights directly in your inbox!