The partnership with Bayt Alebba is a decisive, strategic move by the leading brand to reinforce its presence in the Kingdom. LogisticsGulfNews.com reports form the Western, commercial, Red Sea port city of Jeddah in the Kingdom of Saudi Arabia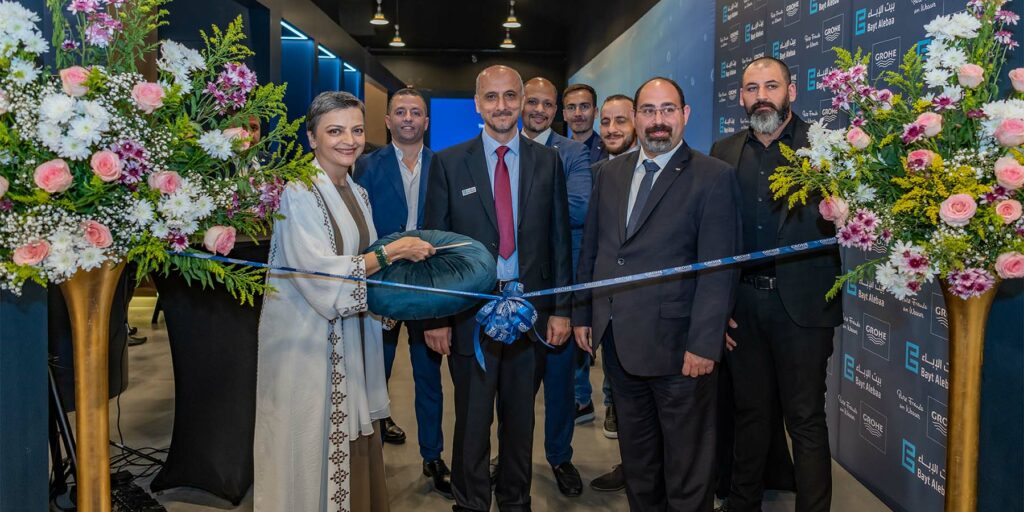 As part of its ambitious growth strategy in the Kingdom of Saudi Arabia, GROHE has partnered with the long-established Bayt Alebaa to showcase its latest breakthroughs, thereby reiterating its commitment to Saudi Arabia's Vision 2030, the strategic framework for commercial growth and transformation, and contributing to its vibrant economic diversification. ​
GROHE, one of the global leaders and high-profile brands to reckon with in complete bathroom and kitchen fittings, has now forged a unique relationship with Bayt Alebaa, Jeddah, the Kingdom's go-to destination for ceramics, marble, kitchens and sanitaryware—the largest ever showroom of its kind in the Kingdom. This is the first-of-its-kind showroom featuring GROHE's exquisite designs, innovative sustainability solutions, and advanced technology.
The partnership with Bayt Alebba is characterized as another strategic move by GROHE as it consolidates both its presence and business involvement in the Kingdom. The showroom will display and highlight GROHE's GET collection of faucets and many other of its iconic products and accessories available exclusively at Bayt Alebba.
Access to the GROHE range
In addition, consumers and businesses in the Kingdom will have access to GROHE's comprehensive range of bestselling bath and kitchen solutions that have been specifically designed to meet sustainability and design standards, with their contemporary design and future-oriented functions.
"We are delighted to announce our partnership with Bayt Alebaa in Jeddah, which will enable our customers to experience the beauty, elegance and cutting-edge innovation that defines GROHE's products. Saudi Arabia's rapid economic progress is spurred by new projects in real estate, hospitality, and public infrastructure," affirmed Fawzi Dernaika, Leader, KSA & LIXIL EMENA.
"We are proud to support this strategic growth with a strengthened product portfolio for consumers as well as the commercial and residential sector, which will be showcased in Jeddah. Our vision is centered on delivering smart and some of the most innovative solutions for our customers in the Kingdom and beyond," he further asserted.
Also present on the well-attended occasion were Shuja El Sibai, Trading Manager, Bayt Alebba; Ali Ragheb, KSA Activation Manager-LIXIL EMENA and Gita Ghaemmaghami, Leader Communications and CR MENA, LIXIL EMENA.
Following the launch of GROHE's partnership with Bayt Alebba, many Saudi consumers can now enjoy access, up close and personal, with GROHE products that champion sustainable and responsible water consumption, a press communique stated.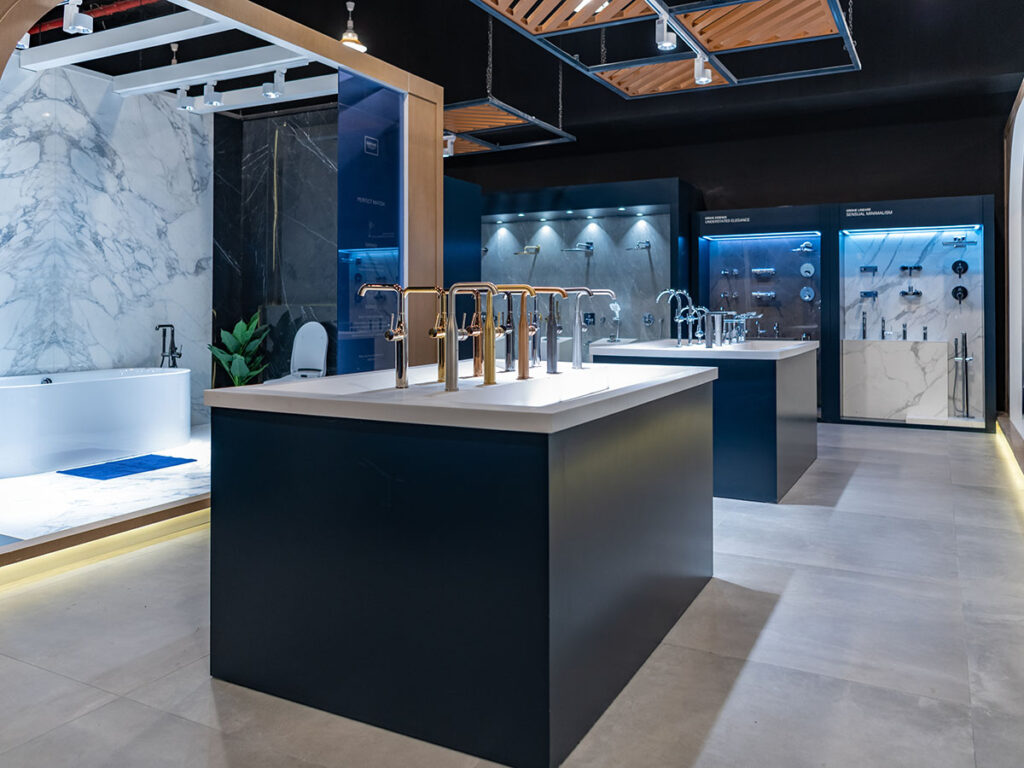 Championing sustainability and zero emissions
GROHE's Saudi expansion is also aligned with the Kingdom's key objectives in Saudi Vision 2030 to reach net zero emissions by 2060 through new investments in energy and water conserving technologies.
GROHE's range of products offers contemporary designs adapted to suit modern lifestyles and sustainability demands – such as touchless faucets that can reduce water consumption by up to 70% and contribute significantly towards green accreditation. In the last ten years alone, GROHE has received over 300 design and innovation awards as well as several top rankings as one of Germany's most sustainable large brands.
Prominent global brand
GROHE is a leading global brand for complete and durable bathroom solutions and kitchen fittings in 150 countries. Since 2014 GROHE has been an eminent part of the strong brand portfolio of LIXIL, the Japanese manufacturer of pioneering water and housing products.
Focused on customer needs, GROHE creates dependable, intelligent, life-enhancing and sustainable product solutions that offer relevant added value and bear the 'Made in Germany' seal of quality, R&D and design—attributes that are firmly anchored and ingrained as an integrated process in Germany.
Bayt Alebaa is a specialized Saudi Arabian company that provides high-quality cladding and finishing solutions since the mid-eighties. The range of products offered by Bayt Alebaa to customers includes sanitary ware, ceramic and porcelain, Italian kitchens, decoration, parquet, wallpaper, installation materials, all under one roof, across its showrooms in the Kingdom.
BOX OUT 1:
Growing GROHE in Saudi Arabia
The Kingdom is a priority market for the pre-eminent German brand
LogisticsGulfNews was especially invited and present at the recent launch of the GROHE flagship store and showroom, the largest in the Saudi Arabia, in Bayt Alebba, the prominent bathroom and kitchen accessory repository in Jeddah, the Kingdom's Red Sea bustling commercial port city.
LogisticsGulfNews conducted an exclusive, one-one-one, with the ebullient and enthusiastic Fawzi Dernaika, Leader, Kingdom of Saudi Arabia, LIXIL MENA and GROHE EMENA, in the glittering and gleaming dedicated GROHE showroom in Bayt Alebba, following the formal inauguration, addresses by officials from GROHE, LIXIL and Saudi architect and designer Khalid Hashim, founder of KH Elite Architecture, a champion of quality local resources and a close collaborator with GROHE.
The following are transcripts of the interview.
LogisticsGulfNews (LGN): Characterize the relationship and partnership between the LIXIL Group and GROHE?
Fawzi Dernaika (FD): LIXIL, the Japanese water technology company and a leader in the field of plumbing fixtures acquired a major shareholding in GROHE in January 2014. GROHE is now listed as a LIXIL subsidiary and an affiliate company. GROHE is a prominent and prestigious brand within the wider LIXIL Group.
The GROHE ethos is centred around our motto to make life better for our customers and to harness technology to the advantage of our users. We enjoy an amicable relationship and reinforce strengths on account of our partnership.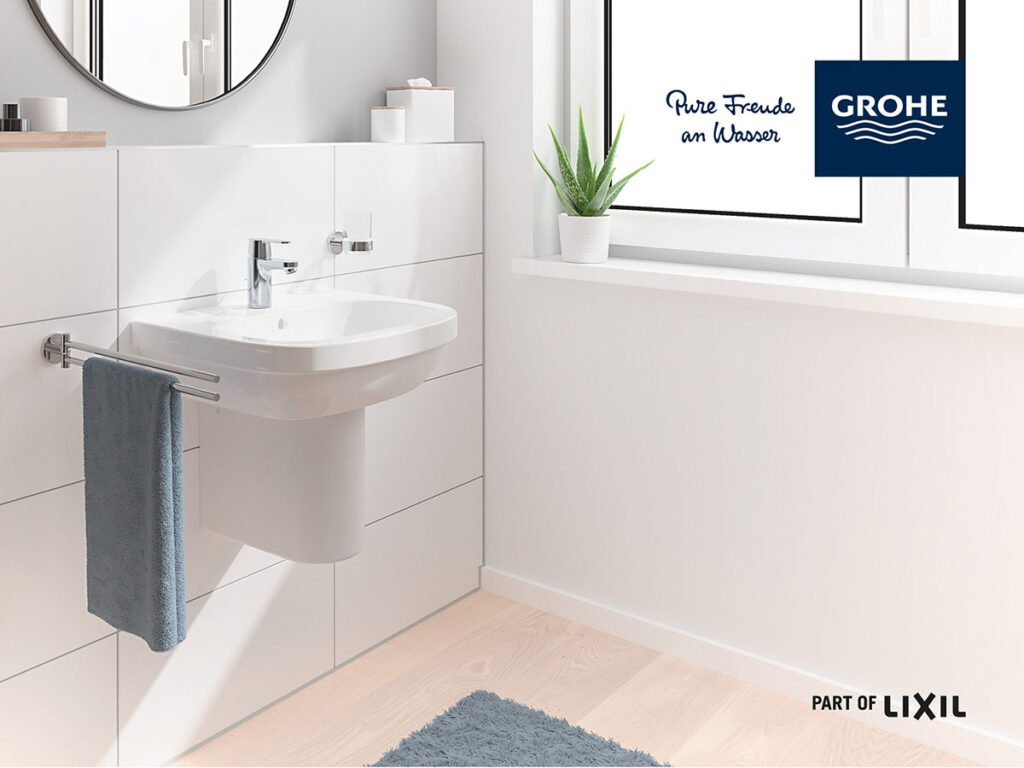 LGN: How significant is the MENA region and the Kingdom of Saudi Arabia particularly for GROHE?
FD: GROHE is well entrenched in the Middle East North Africa (MENA) region with a strong geographical footprint. The region is very significant for us and we foresee good growth potential. We continue to grow from strength to strength.
Saudi Arabia today is a remarkable story of success, vision, and ambition. As a global leader in the sanitaryware industry, GROHE brand is proud to support this transformation, and serve the Kingdom. The Kingdom has always been an integral and important part of GROHE's strategy.
We remain dedicated to fulfilling the goals outlined in Saudi Vision 2030, by supporting its priority sectors, especially hospitality, entertainment and housing and fulfilling the Saudi population's demands for quality, technology, design and sustainability.
As Saudi Arabia is one of the largest consumer markets for sanitary ware, faucets and general sanitary equipment in the world and the largest market in the GCC, GROHE is well positioned to take part in the kingdom's construction. We aim to be the leading bathroom solutions and kitchen fittings provider in Saudi Arabia, with differentiated product lines to meet specific customer demands.
With our recent partnership with leading kitchens and sanitaryware destination Bayt Alebaa, we have expanded our footprint and looking forward to strengthening our connections with our customers.
LGN: What do you attribute the GROHE success to?
FD: Brand GROHE is a household name and regarded as durable and reliable in the business community offering value-for-money propositions. What defines and sets GROHE apart is technology, innovation, sophistication and our deeply embedded GROHE corporate value system, committed to creating the finest products that surpass customer expectations. .
LGN: How are the current market conditions looking for GROHE in Saudi Arabia?
FD: Market potential for GROHE in the Kingdom looks promising and we are optimistic about the future going forward. We anticipate further growth in business going forward.
LGN: In June 2022, GROHE established a new Regional Distribution Centre (RDC) in Dubai Logistics City…in partnership with Kuehne + Nagel. GROGHE currently has three Regional Distribution Centres (RDCs) in Dubai, Egypt and Turkey—do you plan to set up more?
FD: Currently, we do not anticipate setting up additional RDCs in the region or in Saudi Arabia and will professionally evaluate the requirement and viability. Our current network adequately serves us well but we continually monitor and review our processes and evaluate efficiencies in our system. Decisions are made if we can justify the case.
LGN: How did GROHE fare in 2022 relative to 2021, and what is your outlook for 2023?
FD: Our financial numbers for 2022 are good and we are very buoyed by our performance. We fully intend to maintain this momentum going forward in 2023.
LGN: Do you envisage production / manufacturing prospects in the region?
FD: This is an interesting question, and the short answer is I will not commit one way or another. I don't rule out the possibility either for the long term.
As a pioneering company with high production and durability and reliance standards we have to professionally make a good case and carefully examine the ramifications of this move. It is based on multiple parameters including costs, investments, compliance, sustainability regulations, productions processes and a whole host of other considerations.
Suffice to say GROHE always takes these considerations seriously and evaluates and vets all factors before taking decisions of this nature and magnitude. I guess in short we will cross the bridge when we get there…in a manner of speaking.
LGN: Talk to us about GROHE's CSR and Sustainability endeavours including water conservation and UN Sustainability Development Goals (SDGs)?
FD: GROHE is deeply committed to our CSR goals that include adhering to water conservation and the United Nations SDGs. Furthermore, GROHE is constantly developing and improving water technologies that meet our environmental sustainability goals.
GROHE offers a number of opportunities for consumers to reduce their environmental footprint, for instance, GROHE's water-saving EcoJoy technology used in showers delivers the same luxurious showering experience while reducing water consumption.
LGN: What is your vision (short term & long term) for GROHE in Saudi Arabia?
FD: As the official at the helm for GROHE in the Kingdom of Saudi Arabia, I am mindful of the tremendous responsibilities I carry and will do my best to vindicate the trust reposed in me.
One of the top priorities for GROHE is sustainability which is now our corporate credo. We are deeply committed to reducing and even possibly eliminating our carbon footprint in the long run.
Zero carbon emission is our goal and we are confident we will fully comply with the ambitions of the Saudi Vision 2030 to attain these aspiring targets.
LIXIL aims to achieve world-leading technology and innovate to make high quality products that transform homes through meaningful design, an entrepreneurial spirit, a dedication to improving accessibility for all and responsible business growth.
LGN: What distinguishes the GROHE name?
FD: Focused on customer needs, GROHE creates intelligent, life-enhancing, and sustainable product solutions that offer relevant added value, as every product is based on the brand values of quality, technology, design, and sustainability thus mastering breakthroughs in the industry.
As regards quality, GROHE looks for an excellence that goes way beyond the surface of the products. In fact, from design to production and customer service we aim for nothing less than perfection at every stage. GROHE's history of great German engineering, severe internal tests and numerous external certification processes are what gives the customers complete confidence in a name they can trust.
On the technology front, GROHE aims for the best ways of technological innovation, and works to take part in the latest digital advances by creating smart solutions that enhance customers' experiences. GROHE's team of in-house experts looks for ways to make the consumers experiment enjoyable, even when it comes to water.
LGN: What is GROHE's marketing strategy for the GCC markets?
FD: GROHE brand has been committed to creating exceptional experiences for its consumers and to delivering the best with its engineering, innovation and design activities which strengthens the customers' confidence in the brand.
It is GROHE's commitment, to introduce more sustainability in the GCC, as the products work on conserving water, energy, and other natural resources across the value chain from procurement through production, distribution, end use, and product disposal.
GROHE brand is delighted to introduce this practice in the GCC, as they are seeking long-term partnerships within Saudi, to support the nation with products that deliver sustainability, profitability, and efficiency.
GROHE brand also looks forward to increasing the opportunities offered by Saudi Arabia's booming construction sector and pave the way to creating new innovations. GROHE is proud to support the Kingdom's ongoing transformation, guided by the ambitious Saudi Vision 2030, as it sees tremendous potential for growth in Kingdom's federal housing program and its robust hotel supply pipeline.
LGN: What differentiates GROHE from its competitors, and what will it add to the Saudi market?
FD: Construction output growth in Saudi Arabia is anticipated to rise by 3.2 percent in 2022, with a further annual average growth rate of 4 percent between 2023 to 2026 as indicated by Global Data. Quality construction is only possible with high quality specifications.
With GROHE, our Saudi Arabian customers are assured of an exceptional product experience.
As experts in water technology, it is our mission to develop superior products with outstanding features. Just like cars, showers have engines too. The exceptional quality, precision and sheer number of internal parts set GROHE showers and faucets apart from those of our competitors.
All GROHE products come with a seal of exceptional quality, having gone through numerous quality and endurance tests before they go on sale. Our brassware, showers and thermostats and all the components that go with them have to endure the simulated effects of 20 years' daily use – with especially hard water.
LGN: What is GROHE's regional expansion and business outlook for this year? What is in the future for GROHE?
FD: As the global demand for commercial and residential real estate grows, along with government-led efforts to improve sanitation standards, there are ample growth opportunities for the market.
There is a definite trend towards more luxurious products. GROHE are committed to work with regional partners in the upcoming years to deliver seamless and sustainable designs to support sustainability and growth throughout the globe.
BOXOUT 2:
Fawzi Dernaika
Leader, KSA, LIXIL MENA
Fawzi Dernaika has worked with GROHE since 2016. Currently, Leader, KSA, MENA; Fawzi develops, leads, and drives GROHE's channel management strategy, cultivates relationships with customers in the region, manages national accounts, drives new business development, and specializes in full-scale project management, including budgeting, team management and establishing internal processes.
Known for his dynamic leadership style, exceptional problem-solving and analytical skills, Fawzi brings more than 17 years of experience to the role. He has built, led, and inspired teams to succeed and has a deep knowledge of the Saudi Arabia market.
Seasoned business development and project management professional, Fawzi has several milestones to his credit in achieving and exceeding sales forecasts while streamlining operations to increase efficiency, team motivation and profitability.
Fawzi holds a bachelor's degree in Computer Science from the University of Balamand in Lebanon.
BOX OUT 3:
GROHE local collaboration:
To amplify its message of sustainability across the Kingdom and strengthen its relationship with Saudi society, GROHE brand is connecting with influential Saudi talents. The company teamed up with the Saudi architect and designer Khalid Hashim, founder of KH Elite Architecture.
A champion of quality local resources, Khalid is a close collaborator with leading brands that translate important innovations in the best and most efficient way possible. Thus, GROHE's collaboration with him is built on shared values and mission. Khalid is excited to incorporate the latest GROHE technologies and solutions in his designs.
BOX OUT 4:
GROHE
GROHE is a leading global brand for complete bathroom solutions and kitchen fittings and has a total of over 6,500 employees in 150 countries around 2,600 of them are based in Germany.
To offer 'Pure Freude an Wasser' (Pure Joy of Water) every GROHE product is based on the brand values of quality, technology, design and sustainability.
Focused on customer needs, GROHE creates intelligent, life-enhancing, and sustainable product solutions that offer relevant added value and bear the 'Made in Germany' seal of quality: R&D and design are firmly anchored as an integrated process in Germany.
In the past ten years alone, more than 460 design and innovation awards as well as several top rankings at the German Sustainability Award have confirmed GROHE's success: GROHE was the first in its industry to win the CSR Award of the German Federal Government.
BOX OUT 5:
Bayt Alebaa
Bayt Alebaa is a specialized company that provides the best cladding and finishing solutions since the mid eightes as it follows the concept of 'Raising the quality of life in society'. Bait Al Ebaa provides a unique finishing and building experience that gives its customers the space to express themselves and their unique choices based in the latest lines and best materials in the market.
Want to stay updated on the latest industry news and trends? Subscribe today to receive your monthly news highlights directly in your inbox!