Trade hubs overseen by the Saudi Ports Authority (Mawani) have handled a consolidated container volume of 753,496 TEUs across the previous month, outpacing last year's July throughput of 633,921 by 18.86%.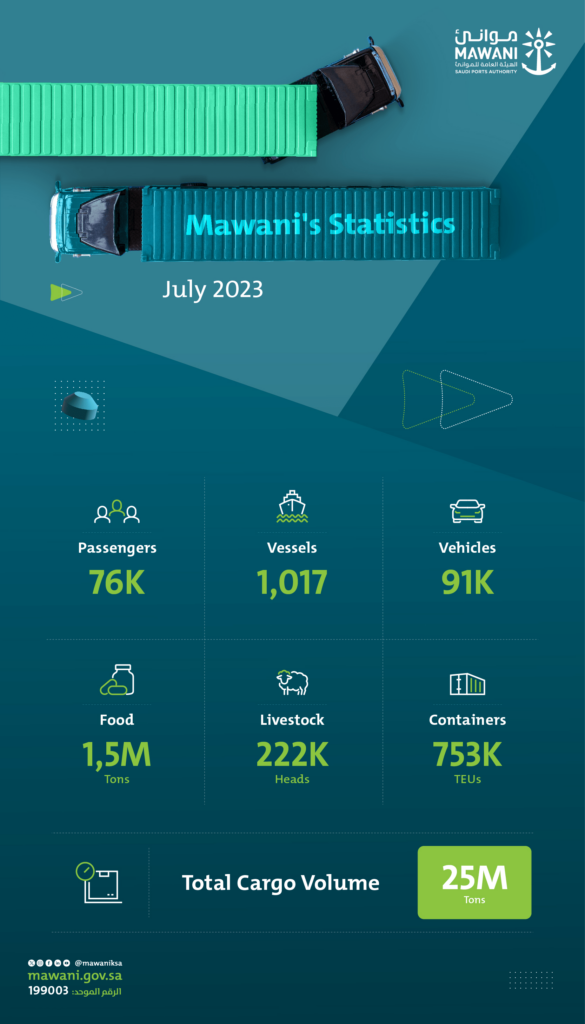 Detailed data published by the national maritime regulator further shows a 34.56% scale-up in exported containers to 250,004 TEUs from 185,791 TEUs in the previous year, alongside a 30.09% growth in imported containers from 180,329 TEUs to 234,592 TEUs in the present year. Transshipments also followed a similar upward trend, ticking up 0.41% over last year's tally of 267,802 TEUs to attain 268,901 TEUs in July 2023.
On the other hand, cargo volumes were down 9.84% from 27,836,906 tons in the prior year to 25,096,888 tons in the current year, contributed in large part by 472,657 tons of general cargo, 4,098,207 tons of dry bulk cargo, and 12,654,361 tons of liquid bulk cargo. Similarly, food commodities processed across the preceding month stood at 1,590,394 tons, a 16.93% decrease in comparison to 1,914,437 tons in July 2022.
Moreover, July vessel traffic was estimated at 1,017 vessels, a 2.94% rise from 988 vessels during the same period last year, with passenger numbers recording a 32.57% yearly gain from 57,730 pax. to 76,532 pax. Likewise, livestock trade equaled 222,327 cattle heads, a 63.84% slump against 614,823 cattle heads in 2022, while vehicle imports hit a total of 91,137 units, up 14.34% year-on-year in contrast to 79,708 units.
With a laser-sharp focus aimed at upgrading productivity and optimizing efficiency, Mawani is currently building a world-class logistics network in the heart of the Kingdom,which forms the core of national economic growth besides functioning as a hub of innovation and sustainability for global trade in step with the ambitions of Saudi Vision 2030.