The survey was launched during LEAP 2023 in Riyadh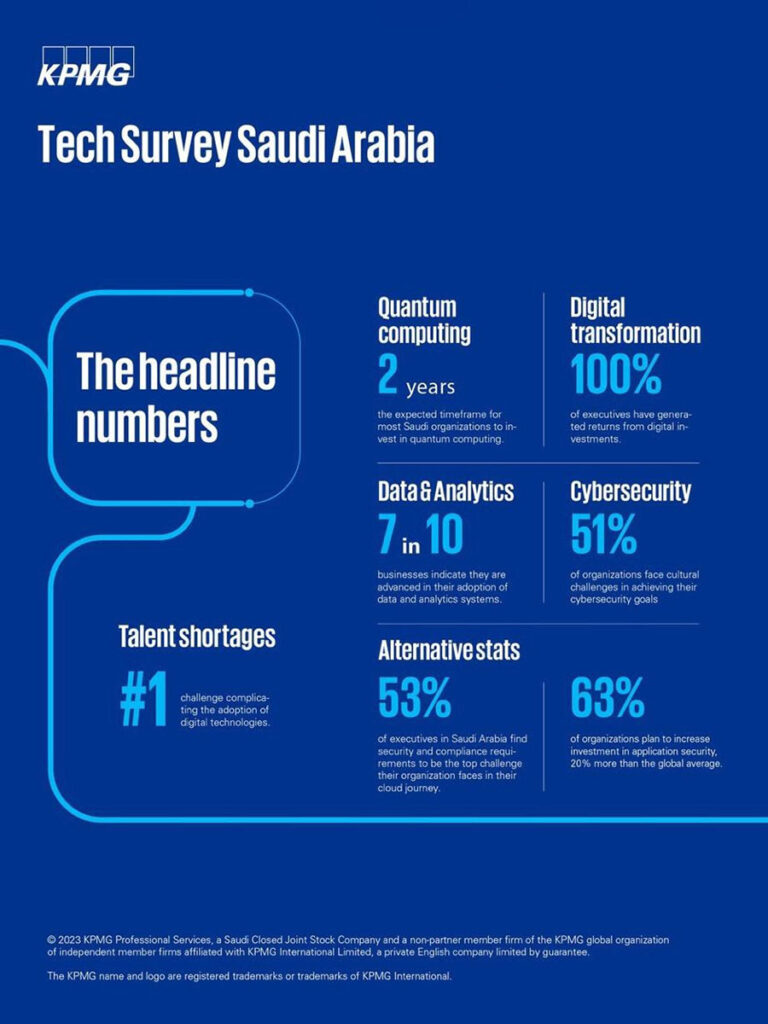 KPMG, a leading provider of audit, tax and advisory services in Saudi Arabia, recently published 'Tech Survey Saudi Arabia 2022', which uncovers the technology strategies businesses are using to help outsmart their competitors in a time of unprecedented global change.
The report surveyed more than 2,200 executives around the world including 51 in Saudi Arabia, and conducted a series of in-depth discussions with industry experts.
The Tech Survey was launched during LEAP 2023, the four-day annual tech convention held in Riyadh, with more than 100,000 tech innovators and leading experts from around the world.
Public and private sector organizations in Saudi Arabia have been investing heavily in digital transformation. Organizations in the Kingdom have set their sights high, inspired by Vision 2030 and digital transformation initiatives set out by the government.
Embracing AI
Saudi companies have quickly embraced artificial intelligence, data transformation and emerging technologies to harness technology to outperform their global counterparts.
"Our latest global tech report finds a resilient, forward-looking attitude among technology professionals in the Kingdom and their peers globally. Moreover, Saudi organizations also demonstrate that they are not risk adverse in adopting tech at the cutting edge, in some cases moving farther and faster than their peers," commented Robert Ptaszynski, Head of Digital & Innovation, KPMG in Saudi Arabia.
Almost 66 percent of Saudi-based respondents believe their organizations are either extremely or very effective at using tech to advance their business strategies. This marks the highest confidence level in this research series, supported by a high return on investment and indicating that effective digital transformation is less of a differentiator than in previous years.
Eighteen percent of the respondent have extremely effective transformation programs that have generated at least an 11 percent uplift in profit or company performance.
Advanced Stages
Eighty percent of organizations in the Kingdom are at an advanced stage of their digital transformation strategies, with the leadership support and funding required to drive their program forward.
Although 41 percent admit that progress is slower than expected, in general, digital transformation programs have put Saudi organizations in the Kingdom in an advantageous position to embrace new technologies.
Moreover, the expected timeframe for most Saudi organizations to invest in quantum computing is two years, with 70% of businesses suggesting they have advanced in their adoption of data and analytics systems.
Almost 53% of executives in Saudi Arabia find security and compliance requirements to be the top challenge their organization faces in their cloud journey. In comparison, 63% of organizations plan to increase investment in application security, which is 20% more than the global average.
Cybersecurity
Cybersecurity teams are under pressure to keep up with evolving threats, with cultural obstacles and limited funding getting in the way of security efforts. Nonetheless, most Saudi organizations are confident of their ability to prevent or mitigate security risks.
The digitalization of customer channels and the adoption of hybrid working are the two biggest cybersecurity challenges faced by Saudi organizations, with almost half of the respondents (47 percent) citing the need to improve customer experience as the top driver of their cybersecurity
"Digital-transformation triumphs are empowering today's businesses to face the uncertainty ahead with a confident spirit. The returns and performance improvements earned to date have branded customer-centric technology strategies as lifesaving tools in any business' survival kit," Ptaszynski concluded.
Want to stay updated on the latest industry news and trends? Subscribe today to receive your monthly news highlights directly in your inbox!