As the Strategic Partners of SAP House at Expo 2020 Dubai, Google Cloud and Deloitte lead the regional SAP tour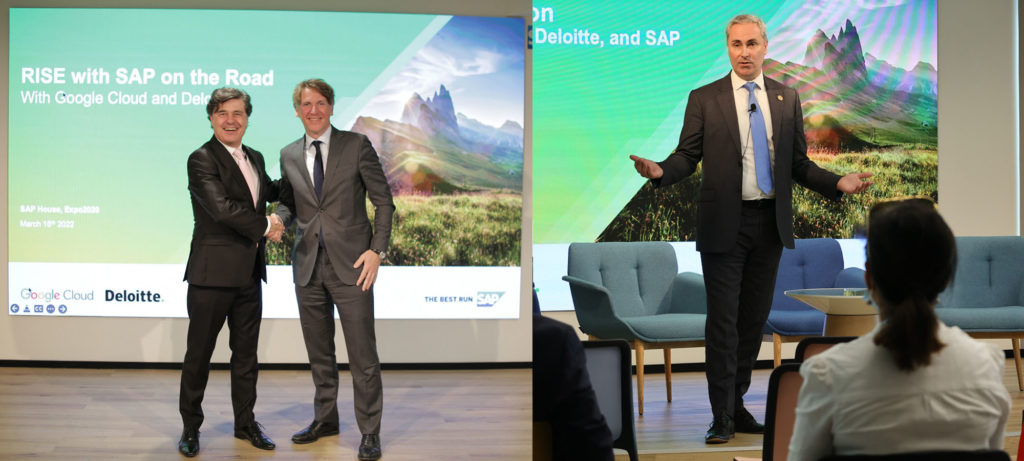 At the recent SAP RISE on the Road event, held at SAP House, Expo 2020 Dubai, SAP highlighted the impact and importance of cloud computing which has taken precedence during the Covid-19 pandemic.
With digital transformation fueling change in today's environment, organizations in the UAE and wider region have seen a demand for agile and scalable IT infrastructures and business solutions that are not only efficient, but quick to adapt to changing scenarios, enabling seamless adoption of new technologies and encouraging new business models.
SAP-YouGov Survey
According to a recent survey by SAP in partnership with YouGov, more than four-fifths (82%) of UAE-based CIOs participating agree that the pandemic has accelerated their digital transformation over the past year.
More than 90% of the UAE decision-makers surveyed said that technology is vital to the improved delivery of customer and citizen services in the country. In terms of the top three priority areas for UAE organizations' digital investment in 2022 and beyond, 71% said enterprise resource planning, 67% said human capital management, 48% said core solutions, 46% said customer experience, 41% said predictive analytics, and 26% said procurement. Almost 80% of CIOs surveyed said that digital skills development is a key priority for their organization this year.
"With SAP's solutions, a growing number of organizations in the Emirates can better modernize, standardize and digitize, resulting in new business models and revenue streams. With this new model, cloud services are the true enablers of tomorrow's highest value solutions, today," affirmed Zakaria Haltout, Managing Director, UAE, SAP.
Rise with SAP
"Google Cloud & SAP are committed through the Rise with SAP programme to maximize the potential of customers migrating to the cloud, where they can run SAP on a fast, secure and reliable cloud, achieving a compelling return on investment," asserted Steve Wainwright, Director of SAP Sales-EMEA, Google Cloud.
"Google Cloud offers world class cloud infrastructure, designed to maximize availability and performance, which is key for mission critical applications like SAP. We offer a suite of industry tailored solutions, while using our infrastructure to deepen insights through artificial intelligence, machine learning, and data analytics, all on the cleanest cloud in the industry," he continued.
Growing clientele
Since Google Cloud joined the RISE program, there has been tremendous momentum in all industries and geographies, with global brands like Siemens Energy, Carrefour, Cisco and Veolia, selecting Google Cloud for their RISE deployment.
In the Middle East region, Ever Fashion Luxury Group in Qatar selected Google Cloud for SAP RISE, a press communique indicated.
"By working with SAP as our partner, Deloitte is delivering cloud solutions today than enable tomorrow's more digital world," noted Yannick Jacques, SAP EMEA Leader, Deloitte. The RISE on the Road tour, which is making a stop at major cities across the Middle East as well as in Europe and Africa, also saw UAE-based leaders across industries and the eco-system coming together, with SAP showcasing its latest technologies and services targeted at organizations to better grow toward a complete digital transformation, the press statement concluded.
Want to stay updated on the latest industry news and trends? Subscribe today to receive your monthly news highlights directly in your inbox!