As SAP House strategic partners, Deloitte and Google Cloud develop the future of business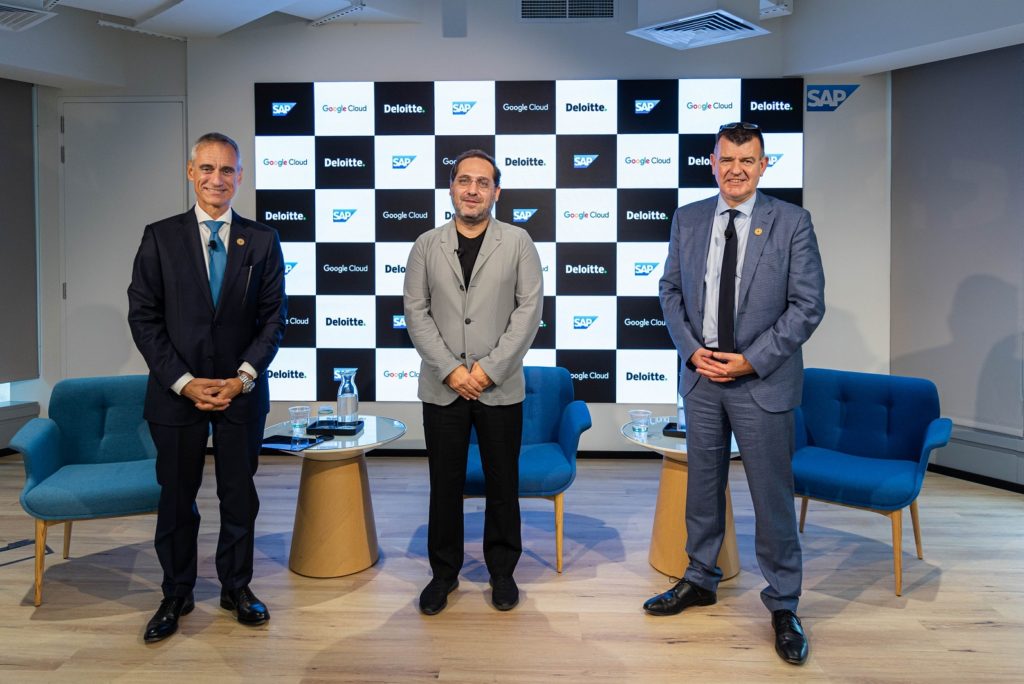 SAP, the Innovative Enterprise Software Partner for Expo 2020 Dubai, launched the SAP House at Expo 2020 Dubai.
The 900sqm SAP House features how real-time customer experience innovations can transform the economy, society, and environment. Inspiring innovative customer experience solutions from SAP and its partners include: an immersive tunnel, an interactive gamification of equestrian sports, the PODway platform for people of determination, and SAP Customer Checkout for retail innovation.
As SAP global partners, Deloitte is revealing what it takes to navigate relentless disruption and the future's uncertainty by becoming an intelligent enterprise, and Google Cloud is showcasing how the cloud is fueling digital transformation.
"Expo 2020 Dubai running in real-time on SAP solutions is a globally-leading example of how mega-events can transform exhibitor and visitor experiences, as well as operations," affirmed Claudio Muruzabal, SAP President, Southern Europe, Middle East, and Africa.
Connecting Minds, Creating the Future
"In line with the Expo 2020 Dubai theme of 'Connecting Minds, Creating the Future,' our SAP House is a showcase of how SAP and our partners are providing the latest innovations in cloud and emerging technologies to develop the future of business," he continued.
"The SAP House at Expo 2020 Dubai is an unparalleled immersive zone for real-time technology to solve the current era's most pressing challenges, including supporting people of determination," asserted Sergio Maccotta, Senior Vice President, SAP Middle East South.
"With 94 percent of GCC government IT decision-makers agreeing that technology can transform citizen experiences, enabling the future of a Networked Economy is vital. Together with our partners Deloitte and Google Cloud, we are showcasing how cloud-based digital transformation can create the future through new levels of innovation," he added.
SAP powers end-to-end Expo experiences
SAP is powering end-to-end Expo experiences with the SAP S/4HANA real-time business suite and the SAP Analytics Cloud for real-time operations. The SAP Customer Checkout application is already processing an expected 300,000 daily sales transactions from 500 retailers and more than 1,000 points of sale. SAP Ariba solutions are digitizing and automating procurement for more than 25,000 local and global suppliers, who have already transacted more than AED 1bn (US$ 272.25mn) in spend on the platform.
SAP is also marking the debut of PODway, a platform that provides people of determination or those with disabilities an offering to safely navigate the Expo and ask for assistance as needed and provide feedback on their journey at Expo 2020.
PODway also enables Expo 2020 to understand and work on the feedback and requests from the people of determination visiting the event and provide them a unique experience tailored to them.
Partnership to accelerate digital transformation on the Cloud
Leveraging the power of SAP's global partnerships; Deloitte, a global services partner, and Google Cloud, a global cloud hyperscaler, are the SAP House Partners at the heart of Expo 2020 Dubai. Over the course of six months, SAP, Deloitte, and Google Cloud will be co-hosting a myriad of thought-provoking workshops and events in line with the Expo-themed weeks on Sustainability, Health, Tolerance, and inclusivity, amongst others.
Global showcase
"The SAP House at Expo 2020 Dubai is the ideal global showcase to demonstrate how Deloitte is helping transform organizations enabled by technology to become Kinetic Enterprises that can reimagine everything, innovate rapidly, and evolve with confidence," observed Tim Parr, Managing Director and CEO for the Consulting Practice at Deloitte Middle East
Visitors to the SAP House can also experience Google Cloud's business transformation solutions. Worldwide, Google Cloud serves as a global strategic cloud partner for the RISE with SAP offering, and also offers organizations the latest advancements in artificial intelligence and machine learning.
"At the SAP House at Expo 2020 Dubai, Google Cloud is demonstrating to a global audience how organizations can digitally transform in a future-proof, secure, innovative, and low-latency environment on the industry's cleanest cloud," commented Tarek Khalil, Director Middle East and North Africa, Google Cloud.
During Expo, SAP University Alliances and SAP Next-Gen are hosting several academic and innovation sessions to explore the future of work, education, diversity and inclusion, and how youth will contribute to the UN Sustainable Development Goals.
Want to stay updated on the latest industry news and trends? Subscribe today to receive your monthly news highlights directly in your inbox!