The carrier surpassed its 85 per cent DAP target, achieving 86.6 percent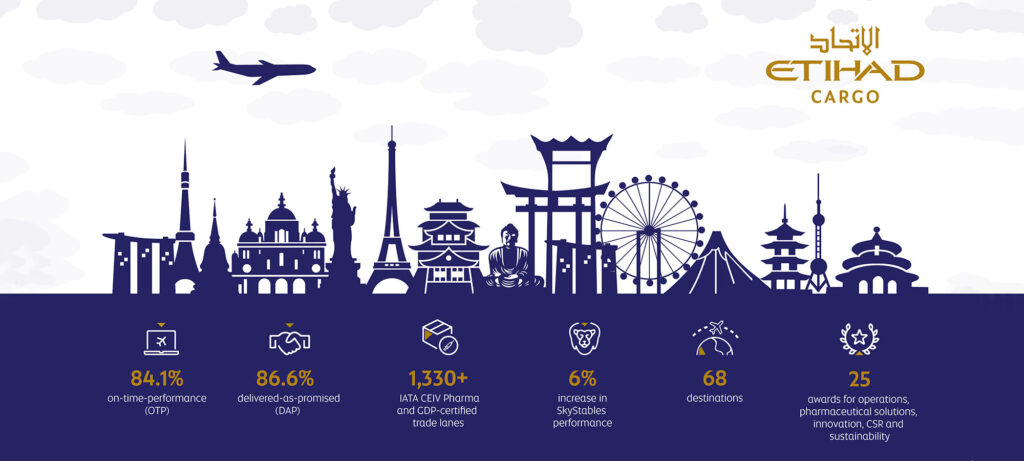 Etihad Cargo exceeded its operational performance targets in 2022.
The carrier achieved 80.5 per cent on-time-performance (OTP) for freighter departures and 84.1 per cent OTP for freighter arrivals, ahead of its 80 per cent target.
The carrier has also maintained a delivered-as-promised (DAP) rate of 86.6 per cent, a 2.6 per cent improvement compared to the previous year and over its target of 85 per cent, according to a press statement issued by the carrier.
"Exceeding OTP and DAP targets, which measure the carrier's ability to deliver cargo at the agreed time and the punctuality of its freighter fleet against schedule, demonstrates Etihad Cargo's strong commitment to reliability, building trust and being the air cargo partner of choice," remarked Martin Drew, Senior Vice President, Global Sales & Cargo, Etihad Aviation Group.
Reconfiguration
2022 saw Etihad Cargo retire the last of its aircraft reconfigured to carry cargo-in-cabin. While a surge in passenger demand impacted capacity, Etihad Cargo maintained a strong belly-to-freighter load factor, recording a 58 per cent belly and 42 per cent freighter load mix at the end of 2022. The carrier has also achieved a load factor of 91 per cent and a freighter utilisation rate of 14.3 hours.
Etihad Cargo has also achieved growth across a number of its eight-strong premium products. The carrier's award-winning PharmaLife product, which is dedicated to the safe and reliable transportation of pharmaceuticals and life science products, has achieved continuous growth despite a decrease in the movement of Covid-19 vaccines.
Etihad Cargo achieved IATA CEIV Pharma recertification in 2022, demonstrating the carrier's full compliance with specific pharmaceutical regulations in terms of Good Distribution Practices (GDP), a quality system for warehouses and distribution centres dedicated to medicines.
GDP-certified trade lanes
To further strengthen connections between Abu Dhabi and the rest of the world, Etihad Cargo has developed over 1,330 IATA CEIV Pharma and GDP-certified trade lanes, which ensure the integrity of products during transportation.
The carrier also moved 6 per cent more horses via its SkyStables product in 2022 compared to the previous year. Contributing to this increase was a six-month peak season for east-to-west and then west-to-east travel to coincide with major equine events and the horse-racing season.
The expansion of Etihad Cargo's global network was a priority for the carrier in 2022. The airline offered additional cargo capacity with the introduction of new routes and increased frequencies.
Etihad Cargo's customers have benefited from increased belly capacity on widebody passenger flights to key destinations.
Wide network
Etihad Cargo has built depth into its network and operates services to 68 destinations around the world. Via its expansive road feeder services network, the carrier further connects 132 origin stations with 290 destination stations across the UAE, GCC, Europe, North America, Japan, India and Australia via a fleet of over 30,000 trucks.
The carrier also reinforced its commitment to customer service excellence in 2022, launching a new CRM system for its Customer Contact Centre to empower customer service agents with more customer-focused data.
Another core focus for Etihad Cargo during 2022 was sustainability, and the carrier launched several initiatives and programmes that will help its customers meet their sustainability targets and benefit the wider air cargo industry.
IATA partnership
For example, Etihad Cargo partnered with IATA to co-develop and trial a cargo-specific carbon dioxide emission calculation tool, which will provide a valuable proof of concept for the cargo component of the IATA CO2 Connect carbon calculator. Etihad Cargo was also the first middle eastern carrier to join TIACA's BlueSky sustainability verification programme.
To make the transportation of pharmaceuticals more sustainable, the carrier entered into an MOU with B Medical Systems to develop and launch the world's first airline-specific passive temperature-controlled container, which will significantly reduce carbon emissions through an innovative design in terms of packaging type and size while still mitigating the main risks of potential breaks in the airline pharma supply chain.
Want to stay updated on the latest industry news and trends? Subscribe today to receive your monthly news highlights directly in your inbox!