After setting the bar high on its previous edition, nominations is now extended for the 'Landmarks in Logistics UAE Awards 2023' through October 17, 2023. Glittering Awards ceremony is al set to take place on October, 26, 2023 at the DoubleTree by Hilton, M Square, Dubai-United Arab Emirates. Organisations, individuals from the regional Logistics and Supply Chain are requested to nominate their organisation / individuals for the relevant categories. Finalists to be announced by a high-integrity jury panel which carefully will review all entries.
Link to Awards website and to nominate: https://www.logisticsgulfnews.com/landmarks-in-logistics-uae-awards-2023/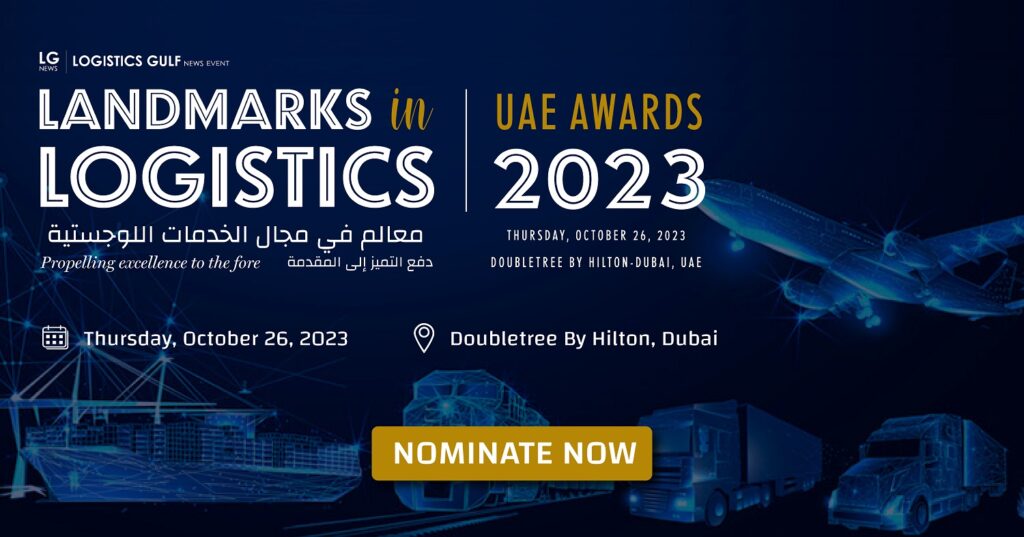 Following months of intense involvement and commitment to industry interests, LogisticsGulfNews.com has always had a ringside view of the sector up close and personal. After much thought and deliberations, the Landmark in Logistics Awards 2023 will be repeated, with the bar set high to propel excellence to the fore and foster a culture of meritocracy.

Landmarks in Logistics UAE Awards 2023, is all set to take place in the opulent Double Tree by Hilton, will reflect and be a tribute to the exceptional range of organisations and outstanding individuals in Gulf's vibrant Logistics and Supply Chain sector.
Do you know of an individual professional with an exceptional track record or organisation that has exceeded performance expectations and deserves recognition? We invite you to nominate the individual, company, projects, and facilities across the respective, carefully crafted categories.

The entries will be judged by a high integrity jury panel that has been instituted to impartially sieve and vet nominations. Recognition and honour will be the outcome of this meticulously and rigorously monitored process.

Nominations has been extended and will close on October, 17, 2023, nominate today! Visit https://www.logisticsgulfnews.com/landmarks-in-logistics-uae-awards-2023 for more information, for the online and manual nominations. Contact editor@logisticsgulfnews.com for more details.